Best Baking Quotes To Make Life Even Sweeter
If you're anything like me, than you love spending time in the kitchen baking up something sweet. And what's even better than eating delicious baked goods? Reading Baking Quotes, of course! In this article, I've compiled a list of some of my favorite baking quotes. So whether you're in the mood for a little inspiration or a good laugh, be sure to check out this article.
Baking is the process of cooking food in an oven using dry heat. This is a common method of cooking for many types of food, including breads, cakes, pies, and pastries. Baked goods are often cooked at high temperatures, which can result in a crisp and flaky texture.
Looking for some inspiration in the kitchen? Check out our collection of baking quotes that will have you ready to whip up something sweet in no time!
Best Baking Quotes To Make Life Even Sweeter
"It looked like the world was covered in a cobbler crust of brown sugar and cinnamon."
― Sarah Addison Allen, First Frost
"Baking is… Life. So when you describe what you're making, you must describe life. Do you see? It's not just recipes." – Jenny Colgan
"If baking is any labor at all, it's a labor of love. A love that gets passed down from generation to generation." – Regina Brett
"This was why she enjoyed baking. A good dessert could make her feel like she'd created joy at the tips of her fingers. Suddenly, the people around the table were no longer strangers. They were friends and confidantes, and she was sharing with them her magic."
― Marissa Meyer, Heartless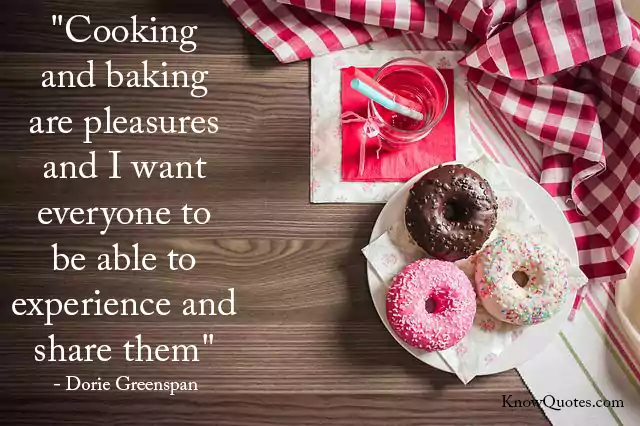 Baking Quotes Funny
"Cooking and baking is both physical and mental therapy." – Mary Berry
"Baking makes me focus. On weighing the sugar. On sieving the flour. I find it calming and rewarding because, in fairness, it is sort of magic – you start off with all this disparate stuff, such as butter and eggs, and what you end up with is so totally different. And also delicious." – Marian Keyes
"The measuring and mixing always smoothed out her thinking processes – nothing was as calming as creaming butter – and when the kitchen was warm from the oven overheating and the smell of baking chocolate, she took final stock of where she'd been and where she was going. Everything was fine."
― Jennifer Crusie, Maybe This Time
"You know, little one, baking and love are the same – a question of freshness, and that all the ingredients, even the most bitter, turn out delicious." – Christian Bobin
"Baking happens with ingredients that last for months and come to life inside a warm oven. Baking is slow and leisurely." – Regina Brett
"God gives us the ingredients for our daily bread, but he expects us to do the baking!" – Chip Ingram
Baking Quotes for Instagram
"Mrs Forrester … sat in state, pretending not to know what cakes were sent up, though she knew, and we knew, and she knew that we knew, and we knew that she knew that we knew, she had been busy all the morning making tea-bread and sponge-cakes."
― Elizabeth Gaskell, Cranford
"More recently, I learned another hobby: baking. It's so much fun to mix all the ingredients together and watch the cake come out great. It's so rewarding when the cake is great and tastes great." – Yani Tseng
"I like the idea of baking. I'd like to be good at it. But I feel like I'm young and one day I can be." – Thu Tran
Baking Quotes Love
"If you bake a cupcake, the world has one more cupcake. If you become a circus clown, the world has one more squirt of seltzer down someone's pants. But if you win an Olympic gold medal, the world will not have one more Olympic gold medalist. It will just have you instead of someone else."
― Steven E. Landsburg, The Big Questions: Tackling the Problems of Philosophy with Ideas from Mathematics, Economics and Physics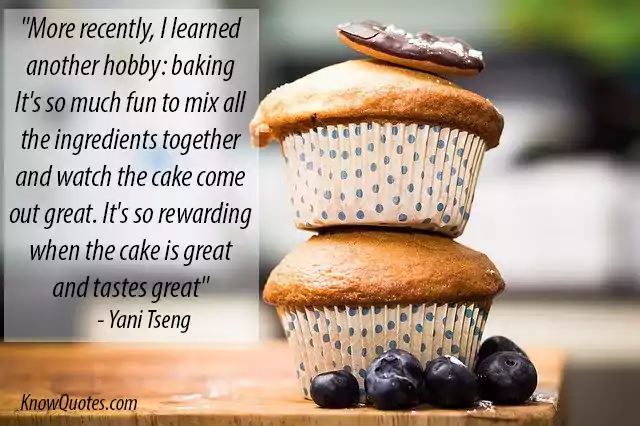 "Baking is how you start kids at cooking in the kitchen." – Sandra Lee
"I want to work on some more complicated baking… and it would be interactive!" – Lisa Loeb
"I could have used the money real well. But it's not like they cost me any-thing except the baking. I can tell him that anybody is likely to make a miscue, but it's not all of them that can get out of it without loss, I can tell him. It's not everybody can eat their mistakes, I can tell him."
― William Faulkner, As I Lay Dying
Baking Quotes and Sayings
"Cooking and baking are pleasures and I want everyone to be able to experience and share them." – Dorie Greenspan
"Baking is both an art and a science." – Sherry Yard
"It's all about a balancing act between time, temperature and ingredients: That's the art of baking." – Peter Reinhart
What Are Some Baking Quotes?
There are many memorable baking quotes that have been said over the years. Here are just a few of them:
"A balanced diet is a cookie in each hand." –Barbara Johnson
"Baking is like good conversation. The more you put into it, the more you get out of it." -Rose Levy Beranbaum
"Baking is a science, but it's the heart that makes the home." -Terri Guillemets
"Cookies are like friends: you never have too many!" -Unknown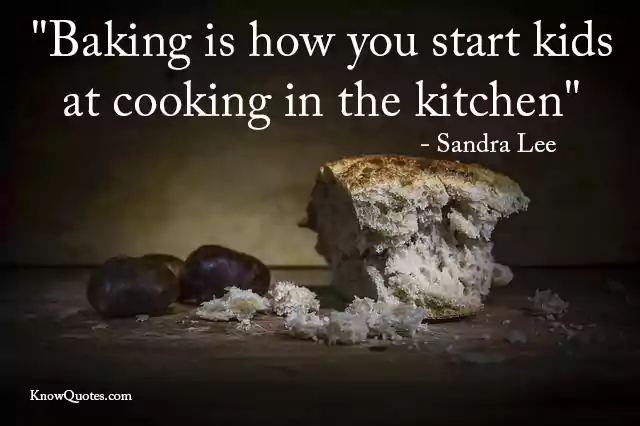 How do you caption in baking?
In baking, a caption is a short description or title that is placed above a photo or graphic. Captions help to explain what is happening in the photo or graphic, and can also provide additional information about the subject.
How Is Baking a Hobby?
Baking can be a fun and rewarding hobby. It can be a great way to spend time with family and friends, and it can also be a way to show your creative side. There are many different things you can bake, from simple cookies to elaborate cakes. Baking can also be a great way to relax and de–stress.
Why Baking Is an Art?
Baking is an art because it is a creative process that involves transforming simple ingredients into something delicious and beautiful. Baking is also a science, requiring precision and attention to detail in order to produce perfect results. The combination of creativity and precision makes baking an enjoyable and challenging pursuit for many people.
The blog post "Baking Quotes" is a collection of quotes about baking. The quotes are all positive and highlight the joy that baking can bring. They also emphasize the importance of taking the time to enjoy the process of baking, and not just the final product.