When it comes to exams, everyone has different ways of preparing and different outlooks on the whole process. Some people study incessantly and others choose to relax and go with the flow. Some people are confident and others are nervous. No matter what your approach or attitude is, there is always someone who has been there and can relate. These exam quotes come from a variety of sources and cover a wide range of topics related to exams.
An examination is an assessment, typically written, to test someone's knowledge, understanding or skills.
Exam quotes to help you get through your exams!
Exam Quotes
"Of course, it is very important to be sober when you take an exam. Many worthwhile careers in the street-cleansing, fruit-picking and subway-guitar-playing industries have been founded on a lack of understanding of this simple fact."
― Terry Pratchett, Moving Pictures
"What do you resist examining up close?
How can you ground yourself so you feel safe enough to try?"
― Gina Greenlee, Postcards and Pearls: Life Lessons from Solo Moments on the Road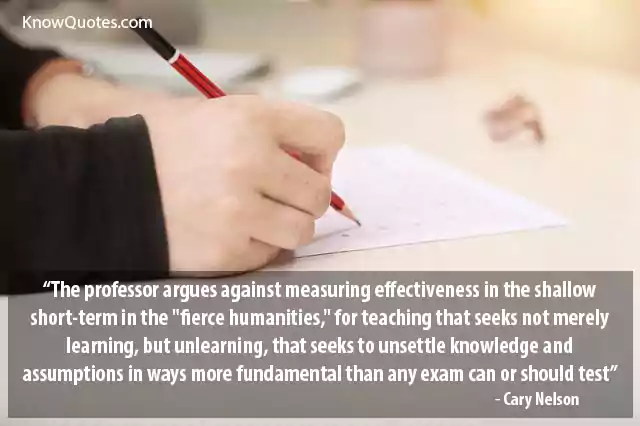 Exam Quotes Motivation
"Given a test question, every wrong answer you eliminate from options A – E increases your chances of getting the right answer by 20percent.
The more you identify what you should not be doing, the closer you get to the things you should do."
― Olaotan Fawehinmi, The Soldier Within
"School exams are memory tests, in real-world no one is going to stop you from referring a book to solve a problem."
― Amit Kalantri, Wealth of Words
Exam Quotes for Students
"It's very easy to be number one: find the guy who is number one, and score one point higher than he does."
― Paul Kalanithi, When Breath Becomes Air
"Mama anaweza kufa ili mwanawe aishi, anaweza kufunga na kuomba ili mwanawe Mungu amsaidie ashinde mtihani wake, anaweza kulala njaa ili mwanawe ale, anaweza kujitolea vitu vingi au mambo mengi katika maisha yake ili mwanawe aishi vizuri, anaweza kuingia dhambini ili mwanawe asamehewe."
― Enock Maregesi
Exam Quotes Funny
"Exams make the students tired and exam-duties make the teachers exhausted. So, there should be an official vacation for at least 15 days after the end of mid-term & final exams in private universities so that the students and teachers can relax and freshen themselves up!"
― Md. Ziaul Haque
"A great professor considers his student's success as a reflection of his own. He will not remain indifferent in the case of continuous poor exam results, but will do as much as possible to overcome such a situation."
― Eraldo Banovac
"The professor argues against measuring effectiveness in the shallow short-term in the "fierce humanities," for teaching that seeks not merely learning, but unlearning, that seeks to unsettle knowledge and assumptions in ways more fundamental than any exam can or should test."
― Cary Nelson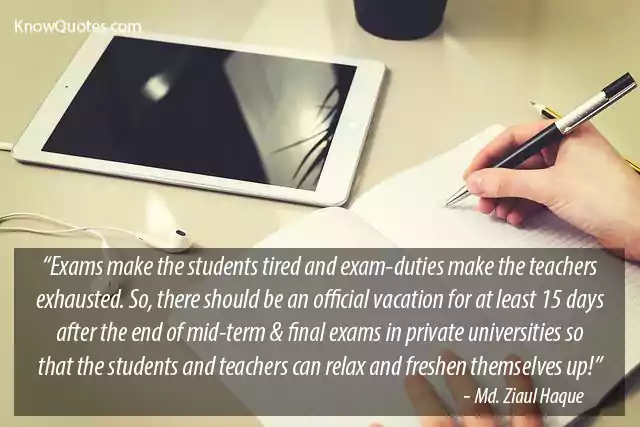 Exam Quotes Good Luck
"Education is not merely meant for you to write and pass exams, get a good job and a good spouse, and settle down for survival."
― Israelmore Ayivor, Leaders' Frontpage: Leadership Insights from 21 Martin Luther King Jr. Thoughts
Exam Quotes for Students Funny
"If a student commits suicide because they couldn't bear the pressure of education, it's not a sign of their weakness, but that of the system of education."
― Abhijit Naskar, Every Generation Needs Caretakers: The Gospel of Patriotism
"Traditionally, education was restricted to Muslim women, so If those housewives had any children to nurture, guess how their futures had been determined? The issue became more complicated when they had set a seal upon their hearings! The illiterate and ear sealed women, only heard what their husbands had injected deep into them, but today their literate and fully veiled girls do not hear well in the classroom, but they clearly hear the under veil wireless voice during the exams."
― Jahanshah Safari
Exam Quotes in English
"They say life is a test and this is a ridiculous idea! There is neither examination nor examinant! You encounter problems in life either because you are stupid or your path just crosses with the problems' path by luck! Nobody is sending you problems to test you! Stay loose and chuck out the irrational idea of 'test' at once!"
― Mehmet Murat ildan
"A large number of students don't read to understand, they read because an examination is around the corner."
― Michael Bassey Johnson, Before You Doubt Yourself: Pep Talks and other Crucial Discussions
Exam Quotes Images
"LOVE the hideous in order to find the sublime core of it."
― Mina Loy, The Lost Lunar Baedeker: Poems of Mina Loy
"I am so tired of waiting.
Aren't you,
for the world to become good
and beautiful and kind?
Let us take a knife
and cut the world in two—
and see what worms are eating
at the rind."
― Langston Hughes, Good Morning, Revolution: Uncollected Social Protest Writings
Exam Quotes for Students in English
"If you fail an examination, it means you have not yet master the subject. With diligent study and understanding, you will succeed in passing the exams."
― Lailah Gifty Akita, Pearls of Wisdom: Great mind
"A pure heart does not demean the spirit of an individual, it, instead, compels the individual to examine his spirit."
― Criss Jami, Killosophy
Do Your Best Exam Quotes?
There's no need to stress over exams! Just do your best and you'll be fine. Here are some inspirational quotes to help you remember that.
What to Say About Exams?
Exams can be a stressful time for students, but there are some things that can be said to help ease the tension. For instance, try saying something like "Exams are just a small part of our overall grade, so we shouldn't stress too much about them" or "It's okay to feel nervous about exams, but just remember that we've been preparing for them all semester". Additionally, try to be encouraging and positive by saying things like "I know we can do this!" or "I'm confident that we'll all do great on our exams".
How Do You Motivate Someone for Exams?
There is no one answer to this question as everyone is motivated by different things. However, some general tips that may help include setting realistic goals, studying with a friend or in a group, and breaking up studying into smaller chunks. Additionally, offering rewards for meeting goals can be a great motivator for some people. Ultimately, it is important to find what works best for the individual as different things will work for different people.
This blog post provides a collection of exam quotes that can be used for inspiration and motivation during exams. The quotes range from humorous to serious and provide a variety of perspectives on exams. Overall, the blog post provides a positive message about exams and encourages readers to do their best.