If you're looking for a little inspiration in your faith journey, these loving God quotes are just what you need. Uplifting and motivating, they'll remind you of just how much the Lord loves you. So read on, and be encouraged!
Loving God is the most important thing we can do in our lives. It is the very foundation upon which our relationship with God is built. When we love God, we are motivated to obey Him and keep His commandments. We also show our love for God by serving others and sharing the gospel with them.
Looking for some inspiration? Check out our collection of Loving God Quotes.
Loving God Quotes
"One thing that a person should understand in this life that everything comes from the Almighty God even our destiny whether we consider it fortunate or unfortunate."
― Ahmed Guillermo Letrondo
"Our faith will always have flaws in this life. But God save us based on Jesus perfection, not our own." – John Piper
"God loves us NOT because we're lovable, because He is love. Not because He needs to receive, because He delights to give." C. S. Lewis
"But the only thing that is important is, Am I loving God and growing holy every day?"
― Mother Angelica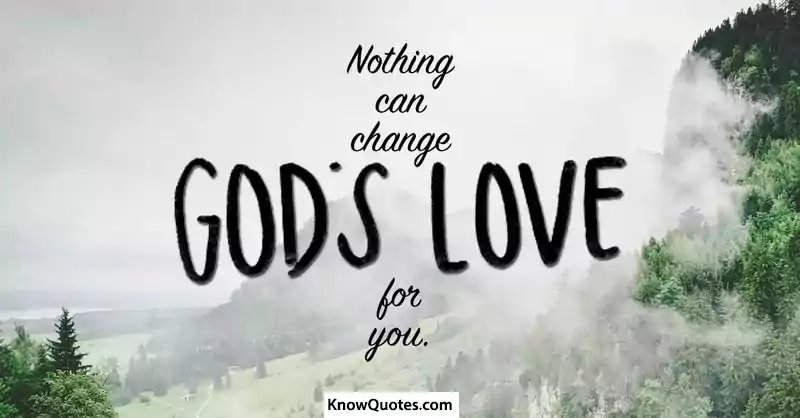 Loving God Quotes
"They that love God live their daily lives to show their true love for God; in truth and in spirit!"
― Ernest Agyemang Yeboah
"I have given God countless reasons not to love me. None of them has been strong enough to change Him." – Paul Washer.
"No man knows how bad he is till he has tried very hard to be good." C.S. Lewis
"God's love for me is perfect because it's based on Him not on me. So even when I failed He kept loving me."
"Be open to GOD's graces, and live your life as a hymn of praise to our Creator."
― Pamela Mandela Idenya, Under the Watchful Eye of Mary: Living the Mysteries of the Holy Rosary
Loving God Quotes Images
"The constant struggle to have an intimate relationship with God exists because we are unwilling to accept God as is."
― E'yen A. Gardner, Man Cannot Live By Bread Alone: How The Power of Your Words Can Change Everything
"I can't brag about my love for God, because I fail Him daily, but I can brag about His love for me because it never fails."
"God's love is the love that never fails. The unfailing love that we desire comes from Him. His love runs toward me, even when I am unlovely. His love comes to find me when I am hiding. His love will not let me go. His love never ends. His love never fails."
"Life shouldn't be about survival alone but about living"
― Sunday Adelaja
Loving God Quotes and Sayings
"Stop trying to make a living and begin to live"
― Sunday Adelaja
"God is unchanging in His love. He loves you. He has a plan for your life. Don't let the newspaper headlines frighten you. God is still sovereign; He's still on the throne." Billy Graham
"God's unfailing love for us is an objective fact affirmed over and over in the Scriptures. It is true whether we believe it or not. Our doubts do not destroy God's love, nor does our faith create it. It originates in the very nature of God, who is love, and it flows to us through our union with His beloved Son." Jerry Bridges
"Love hides in the island of your body waiting to be Discovered, Loved and not just worship"
― Syed Sharukh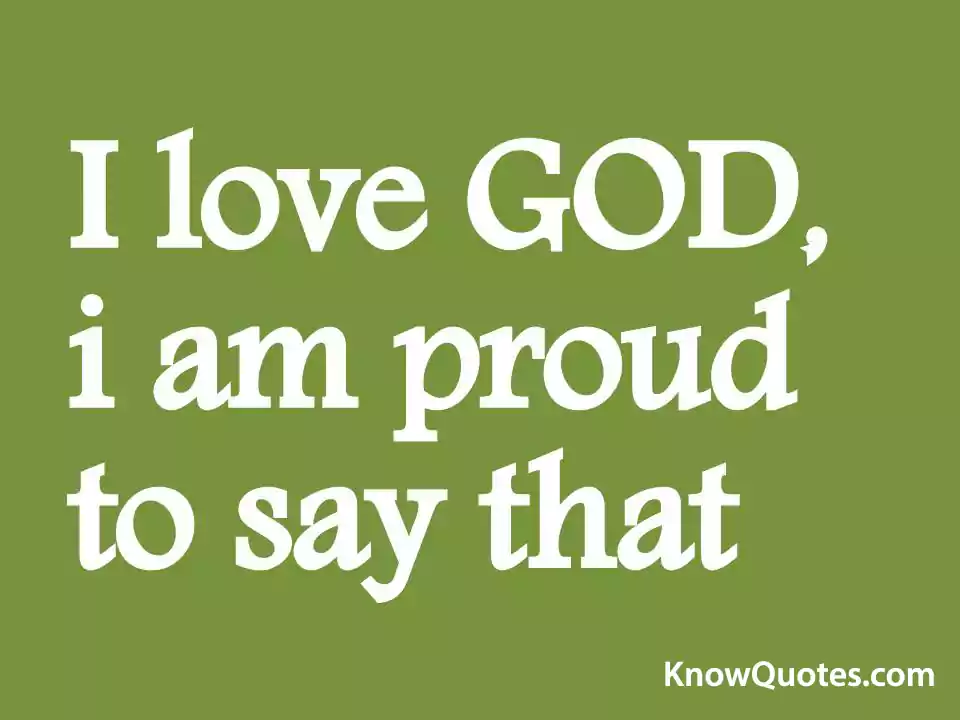 A Loving God Quotes
"The Axiom of spirituality demands that
you're not alone it's the beauty and the
'Love' of God"
― Syed Sharukh
"The nature of God's love is unchangeable. Ours alternates all to readily. If it is our habit to love God with our own affection we shall turn cold towards Him whenever we are unhappy." Watchman Nee
God Is a Loving God Quotes
"God's unconditional love is a very difficult concept for people to accept because, in the world, there's always payment for everything we receive. It's just how things work here. But God is not like people!" Joyce Meyer
"It's NOT that hard but hard to 'Believe' to Live a life based on Love and Kindness."
― Syed Sharukh
"God is Love so am I, God is Compassion so am I, God Is Benevolent So am I, God is Kindness so am I."
― Syed Sharukh
Bible Verses for Love
"On the whole, God's love for us is a much safer subject to think about than our love for Him." C. S. Lewis
"The love of God is not created- it is His nature." Oswald Chambers
"God's love for us is proclaimed by each sunrise."
"Let the other search for God the way they wish and bless them on their journey never judge what they do or what they think let them find the love their own way"
Thankful Quotes to God
"God remains great, even when others refuse to recognize, know or seek after Him. He never stops loving, caring and protecting humanity."
― Gift Gugu Mona, Daily Quotes about God: 365 Days of Heavenly Inspiration
"When the time comes for you to die, you need not be afraid, because death cannot separate you from God's love." Charles H. Spurgeon
"Nothing binds me to my Lord like a strong belief in His changeless love." Charles H. Spurgeon
"Our vision is so limited we can hardly imagine a love that does not show itself in protection from suffering. The love of God is of a different nature altogether. It does not hate tragedy. It never denies reality. It stands in the very teeth of suffering."
― Elisabeth Elliot, Passion and Purity: Learning to Bring Your Love Life Under Christ's Control
Bible Quotes About Love
"If we hear, in our inner ear, a voice saying we are failures, we are losers, we will never amount to anything, this is the voice of Satan trying to convince the bride that the groom does not love her. This is not the voice of God. God woos us with kindness. He changes out of character with the passion of his love."
― Donald Miller, Blue Like Jazz: Nonreligious Thoughts on Christian Spirituality
"God's love is just like the sun, constant and shining for us all. And just as the earth rotates around the sun, it is the natural order for us to move away for a season, and then to return closer, but always within the appropriate time."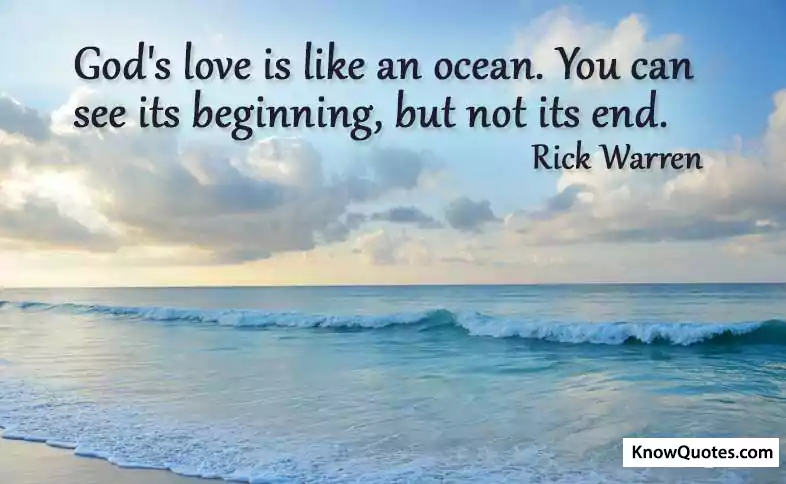 God Is Love Bible Verse
"Think of the purest, most all-consuming love you can imagine. Now multiply that love by an infinite amount-that is the measure of God's love for you." Dieter F. Uchtdorf
"What happens when we acknowledge the sovereignty and power of God without trusting in His goodness and faithfulness? A pitcher who saw God's power behind his extremely unlikely rise to the big leagues wondered if, at any difficulty he encountered there, God might be taking his ability away."
― Michael Lewis, Moneyball: The Art of Winning an Unfair Game
What Is God's Love Quote?
God's love is an unending, never–ending love. It's a love that is always there, even when we don't realize it or feel it. It's a love that is always there for us, no matter what we do or where we go.
Where Is the Quote God Is Love From?
The quote "God is love" is from the Bible. It is found in the book of 1 John, chapter 4, verse 8.
What Is the Best Caption for God?
There is no one answer to this question as it is a matter of personal opinion. Some possible captions for God could include "The Almighty", "The Creator", "The Most High", or simply "God". Ultimately, the best caption for God is the one that resonates most with the individual.
What Is the Great Love of God?
The great love of God is unending and ever present. It is a love that is never quenched, never wanes, and is never extinguished. It is a love that is as strong as death, as unyielding as the grave. It is a love that is as fierce as the flames of hell, and as gentle as a mother's caress. It is a love that is as vast as the universe and as intimate as a whisper. It is a love that is always giving, always forgiving, and always hoping. It is the love of God.
The blog post contains a collection of Loving God Quotes. The quotes come from a variety of sources, including the Bible, religious leaders, and famous people. The quotes show that there is no one right way to love God, but that it is important to do so with all of our heart.