Sister Quotes and Sayings
When it comes to sisterhood, there's no one quite like your sister. She's been there for you through thick and thin, and knows you better than anyone else. So show your appreciation for her with some of these Sister Quotes and Sayings.
Looking for the perfect sister quote? Look no further! We've gathered a collection of the best Sister Quotes and Sayings, perfect for showing your appreciation to your sister.
Sister Quotes and Sayings
"Acquaintances were always on their best behavior, but sisters loved each other enough to say anything."—Lauren Weisberger
"A sister is a special type of angel on earth who brings out your best qualities." – Anonymous
"A sister is both your mirror—and your opposite." – Elizabeth Fishel
"Sisters help make the hard times easier and the easy times more fun." – Anonymous
"As you're growing up and you're close, you can't trust anyone the way you trust your sister, but also they have the power to wound you in ways no one else really does."—Ally Condie
Loving Sister Quotes and Sayings
"Of two sisters one is always the watcher, one the dancer." —Louise Glück
"Even if the world crashes, you are and will forever be my sister." —Unknown
"I could never love anyone as I love my sister!" —Unknown
"Our roots say we're sisters, our hearts say we're friends." —Unknown
"If your sister is in a tearing hurry to go out and cannot catch your eye, she's wearing your best sweater."—Pam Brown
"A sister can be seen as someone who is both ourselves and very much not ourselves—a special kind of double." – Toni Morrison
Like a Sister Quotes and Sayings
"Having a sister is like having a best friend you can't get rid of. You know whatever you do, they'll still be there." – Amy Li
"Sisters function as safety nets in a chaotic world simply by being there for each other." – Carol Saline
"We'll always fight, but we'll always make up as well. That's what sisters do: we argue, we point out each other's frailties, mistakes, and bad judgment, we flash the insecurities we've had since childhood, and then we come back together. Until the next time."—Lisa See
"I'm the big sister. I want to make sure she has everything, even if I don't have anything. It's hard. I love her too much. That's what counts."—Venus Williams
Friend Sister Quotes and Sayings
"Sister. She is your mirror, shining back at you with a world of possibilities. She is your witness, who sees you at your worst and best, and loves you anyway. She is your partner in crime, your midnight companion, someone who knows when you are smiling, even in the dark. She is your teacher, your defense attorney, your personal press agent, even your shrink. Some days, she's the reason you wish you were an only child."—Barbara Alpert
"A true sister is a friend who listens with her heart." —Unknown
"Sisters are for sharing laughter and wiping tears." —Unknown
"A sister shares our childhood memories and our grownup dreams." —Unknown
"A sister is a gift to the heart, a friend to the spirit, a golden thread to the meaning of life." – Isadora James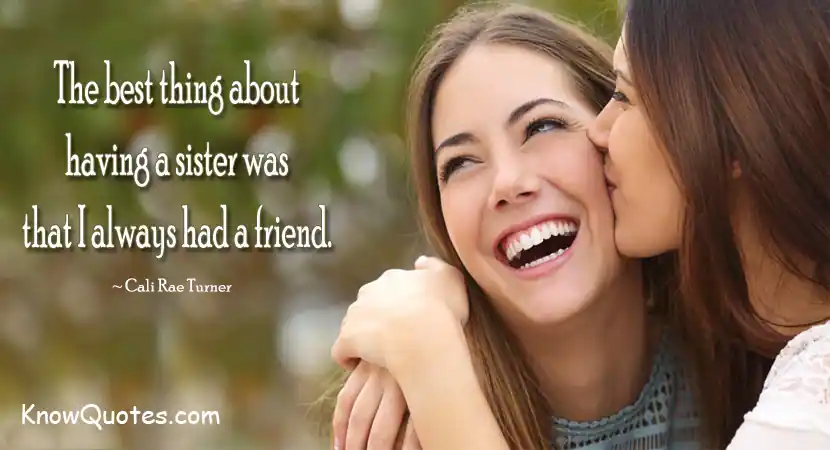 Brother and Sister Quotes and Sayings
"You may be as different as the sun and the moon, but the same blood flows through both your hearts. You need her, as she needs you."—George R.R. Martin
"When my sister, Joan, arrived I asked if I could swap her for a rabbit. When I think what a marvelous friend she's been, I'm so glad my parents didn't take me at my word."—Maeve Binchy
"Brothers and sisters are as close as hands and feet." —Unknown
"When mom and dad don't understand, a sister always will." —Unknown
"Nothing can replace the relationship I have with my sister." —Unknown
"My sister is mess. I love her to death, but she is a mess." —Unknown
Big Sister Little Sister Quotes and Sayings
"I grew up believing my sister was from the planet Neptune and had been sent down to Earth to kill me. I believed this because my sister Emily convinced me of it when I was a toddler…There's a part of me that still believes it. I have moments when I think, 'Hmm, could that be true?' Occasionally I ask my sister about it and she responds by pulling an alien face, which only confuses matters."—Zooey Deschanel
"Being sisters means you always have backup." —Unknown
"A sister is a friend who will love you no matter what." —Unknown
"There's nobody in the world that knows me better than my sister." —Tia Mowry
"Friends change, lovers leave, sisters are eternal." —Unknown
Funny Sister Quotes and Sayings
 "Growing up with you was wonderful and I can't wait for opening new facets of this life together with you." —Unknown
"A sister is a little bit of childhood that can never be lost." —Marion Garretty
"You mess with my sister, you're messing with me!" —Loretta Livingstone
"A sister is both your mirror – and your opposite." —Elizabeth Fishel
"Is solace anywhere more comforting than in the arms of a sister." —Alice Walker
"Sisterhood is powerful." —Robin Morgan
"A sister is both your mirror – and your opposite." —Elizabeth Fishel
What Is the Best Message for Sister?
There is no definitive answer to this question as everyone's best message for their sister will be different. However, some thoughtful and heartfelt messages that could be suitable for a sister include expressing gratitude for her presence in your life, telling her how much you love and appreciate her, or simply wishing her happiness and success in whatever she does. Ultimately, the best message for sister will be one that comes from the heart and conveys the unique bond that you share with her.
What Is the Sweetest Thing to Say to Your Sister?
There is no one definitive answer to this question. It depends on your sister's personality and relationship with you. However, some possible sweet things to say to your sister include expressing your love and appreciation for her, telling her how proud you are of her, or simply telling her that you are always happy to see her. Whatever you say, make sure it is heartfelt and genuine to ensure that your sister knows just how much you care about her.
What Is a Little Sister Quote?
A little sister quote is a quote that is said by a little sister. These quotes can be about anything, but they are typically about the special bond between sisters. They can also be about the funny things that little sisters do.
What Can I Say to My Sister?
It can be difficult to know what to say to a sister when she is going through a tough time, but there are some things that can help to show your support. First, try to be understanding and listen to what she has to say. It can also be helpful to offer advice or resources if you have any, but ultimately let her know that you are there for her and she can come to you with anything.
Sisterhood is a beautiful thing, and these Sister Quotes and Sayings perfectly capture the special bond between sisters. Whether you have a little sister who you love and protect, or an older sister who is your best friend and confidante, your sister is someone who will always be there for you. These sister quotes celebrate the special bond between sisters and the amazing ways they enrich our lives.