When you adopt a child, you not only change that child's life – you change your own. Adoptive parenting is one of the most rewarding experiences you can have, and these Adoptive Child Quotes, children, and other experts capture that fact beautifully.
Looking for inspiring Adoptive Child Quotes and adoption? Look no further! This collection of quotes will warm your heart and remind you of the beauty of adoption.
Adoptive Child Quotes
"You know your children are growing up when they stop asking where they came from and refuse to tell you where they're going."
"Adopting one child won't change the world: but for that child, the world will change" – Unknown
"There are no unwanted children, just unfound families" – Unknown
"Adoption is a journey of faith, from beginning to end" – Johnny Carr
"I didn't give you the gift of life. Life gave me the gift of you."
"Our family is like a big, beautiful patchwork quilt. Each of us different, yet stitched together by love."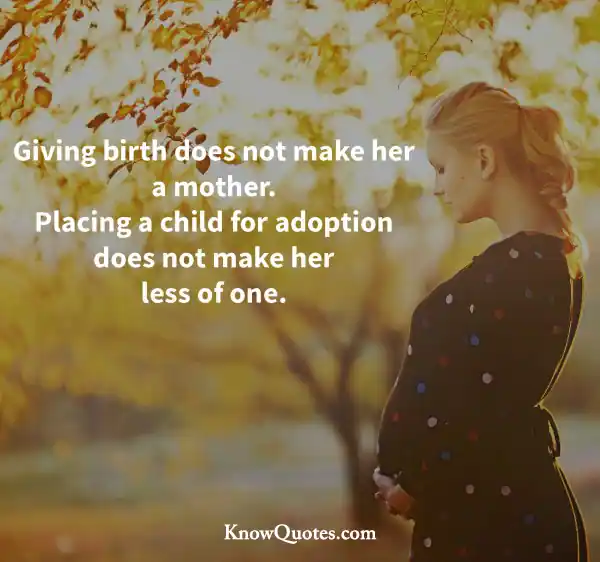 What to Say to Adoptive Parents
"Family is not defined by our genes, it is built and maintained through love" – Amalia G.
"Adoption is not about finding children for families, it's about finding families for children" – Joyce Maguire Pavao
"Adopting any child is a walk into the unknown. It takes Faith" – Unknown
"They may not have my eyes, they may not have my smile, but they have all my heart."
"Adopting one child won't change the world: But for that child, the world will change."
"Biology is the least of what makes someone a mother." -Oprah Winfrey
"You don't have to give birth to someone to be family. We're all family – extended family" – Sandra Bullock
Adoptive Child Quotes
"However motherhood comes to you, it's a miracle" – Valerie Harper
"Parenthood requires love, not DNA" – Unknown
"Every child deserves a home and love. Period" – Dave Thomas
"I think adoption is a blessing all around when it's done right." -Hugh Jackman
"I have four children. Two are adopted. I forget which two." – Bob Constantine
"It has been said that adoption is more like a marriage than a birth: two (or more) individuals, each with their own unique mix of needs, patterns, and genetic history, coming together with love, hope, and commitment for a joint future. You become a family not because you share the same genes, but because you share love for each other."
Adopted Child Quotes and Sayings
"Adoption carries the added dimension of connection not only to your own tribe but beyond, widening the scope of what constitutes love, ties, and family. It is the larger embrace" – Isabella Rossellini
"If the standard route for creating a family had worked for me, I wouldn't have met this child. I needed to know her. I needed to be her mother. She is, in every way my daughter" – Nia Vardalos
"Little souls find their way to you, whether they're from your womb or someone else's." – Sheryl Crow
"Family isn't always blood. It's the people in your life who want you in theirs; the ones who accept you for who you are. The ones who would do anything to see you smile and who love you no matter what."
What Not to Say to Adoptive Parents
"Families don't have to match. You don't have to look like someone else to love them" – Leigh Anne Tuohy
"Adoption is not the call to have the perfect rosy family. It is the call to give love, mercy, and patience"
"He is mine in a way that he will never be hers, yet he is hers in a way that he will never be mine, and so together, we are motherhood" – Desha Wood
"If a mother and father can love more than one child, then why is it so hard to understand that a child can love more than one mother and father?"
Sayings for Adopted Child
"When you honor the birth family, you honor the child. When you don't honor the birth family, the child will believe something is inherently wrong with him/her."
"If you have the heart for adoption, don't let fear stand in the way" – Doug Chapman
"We loved you before we even knew you, even when there was just a hope for you, we loved you" – Unknown
"Somehow destiny comes into play. These children end up with you and you end up with them. It's something quite magical" – Nicole Kidman
What Happens When a Child Is Adopted
"It's important to realize that we adopt not because we are rescuers. No. We adopt because we are rescued" – David Platt
"Adoption is when a child grew in its mommy's heart instead of her tummy" – Unknown
"Biology is the least of what makes someone a mother" – Oprah Winfrey
"Being a mother is an attitude, not a biological relation" – Robert A. Heinlein
"God knew that it doesn't matter how your children get to your family. It just matters that they get there" – Kira Mortenson
What to Say to Someone Who Adopted a Child?
There are a few things you can say to someone who has just adopted a child. First, you can express your congratulations and tell them how happy you are for them. You can also ask them about their new child and what they think of him or her. Finally, you can tell them that you think they will make great parents.
How Do You Write an Adoption Caption?
When you're writing an adoption caption, it's important to be clear, concise, and compelling. You want to make sure that your caption accurately reflects the child you're hoping to adopt, as well as the kind of family you are. In addition, you'll want to include any relevant information that might help a potential adopter make a decision, such as the child's age, interests, and special needs (if any).
What Is Adoption Easy Words?
Adoption is the legal process of adding a new member to your family. It can be a very rewarding experience, but it can also be a lot of work. Adoption is not always easy, but it can be worth it.
What Do You Call the Day You Were Adopted?
The day you are adopted is a special day. It is a day when you become a part of a family. It is a day when you have a new beginning. It is a day when you are loved.
Adoptive Child Quotes shares a number of quotes about adoption and parenting. The quotes emphasize the importance of love, patience, and understanding in the adoptive parent-child relationship. The author concludes by saying that adoptive parents need to be prepared for the challenges that come with adoption, but that the rewards are worth it.