Famous Quotes About Light
There is something about light that has always captured the imagination of humankind. Perhaps it is because light is essential to life, or because it is one of the few things that can be seen and enjoyed in both the natural and man–made world. Whatever the reason, there are many Famous Quotes About Light that reflect its importance in our lives.
If you're looking for some inspiring Famous Quotes About Light, you've come to the right place. These quotes will remind you of the power of light and how it can make a difference in your life.
Famous Quotes About Light
"If only one keeps loving faithfully what is truly worth loving and does not squander one's love on trivial and insignificant and meaningless things then one will gradually obtain more light and grow stronger." ― Vincent van Gogh, The Letters of Vincent van Gogh
"No one lights a lamp in order to hide it behind the door: the purpose of light is to create more light, to open people's eyes, to reveal the marvels around." ― Paulo Coelho, The Witch Of Portobello
"You often feel tired, not because you've done too much, but because you've done too little of what sparks a light in you."
― Alexander Den Heijer, Nothing You Don't Already Know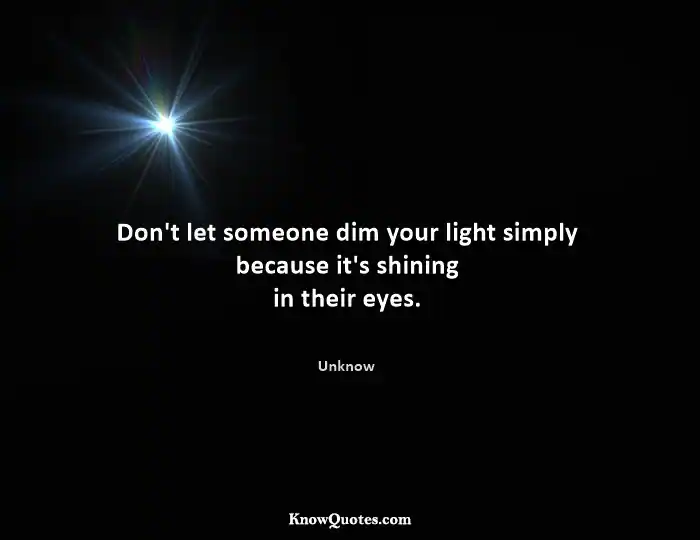 Famous Quotes About Lighthouses
"The most precious light is the one that visits you in your darkest hour!"
― Mehmet Murat ildan
"We awaken by asking the right questions. We awaken when we see knowledge being spread that goes against our own personal experiences. We awaken when we see popular opinion being wrong but accepted as being right, and what is right being pushed as being wrong. We awaken by seeking answers in corners that are not popular. And we awaken by turning on the light inside when everything outside feels dark."
― Suzy Kassem, Rise Up and Salute the Sun: The Writings of Suzy Kassem
Relates: Quotes About Light and Darkness
Famous Quotes About Lightning
"When he shall die, Take him and cut him out in little stars, And he will make the face of heaven so fine. That all the world will be in love with night. And pay no worship to the garish sun." ― William Shakespeare, Romeo and Juliet.
"Those who love much, do much and accomplish much, and whatever is done with love is done well…. Love is the best and noblest thing in the human heart, especially when it is tested by life as gold is tested by fire. Happy is he who has loved much, and although he may have wavered and doubted, he has kept that divine spark alive and returned to what was in the beginning and ever shall be."
"There'll be guys who were in wars hearing what we did and thinking, 'Whoa.' You and me, we can say, 'You got yourself some medals solider? Yeah, well, I lived through the FAYZ."
― Michael Grant
Famous Quotes About Light in Darkness
"Light to a tree is food, to a star is honor, to a sage is truth, and to a universe is life."
― Matshona Dhliwayo
"Light is the symbol of truth." – James Russell Lowell
"Learn to light a candle in the darkest moments of someone's life. Be the light that helps others see; it is what gives life its deepest significance." ― Roy T. Bennett, The Light in the Heart
"If there is ever a magical beauty that can be watched hours with great admiration, and that is the beauty of a strong light falling from the everlasting skies into the heart of the dimness!"
― Mehmet Murat ildan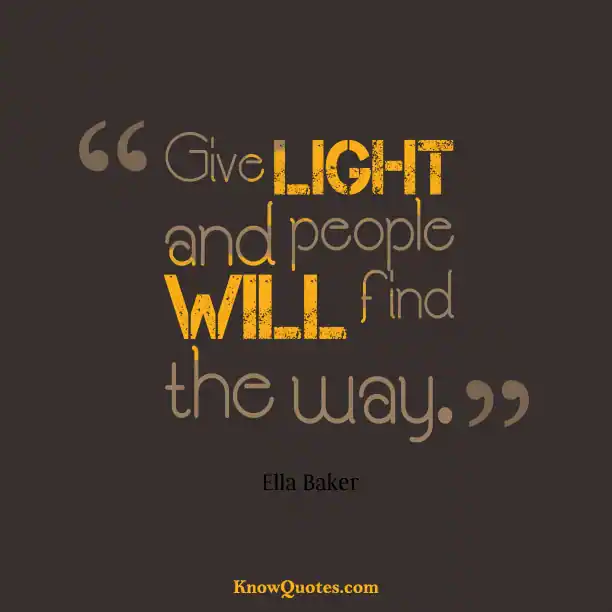 Inspirational Quotes on Light
"Stars cannot rise higher than their own light, nor can shadows descend deeper than their own darkness."
"Light is to darkness what love is to fear; in the presence of one the other disappears." – Marianne Williamson
"Light must come from inside. You cannot ask the darkness to leave; you must turn on the light." – Sogyal Rinpoche
"Stars cannot rise higher than their own light, nor can shadows descend lower than their own darkness."
― Matshona Dhliwayo
Inspirational Quotes About Light
"You must know that some people need only a little light to get out of their darkness! So when seeing such people, never spare your light, just a little bit will be enough!"
― Mehmet Murat ildan
"Travel light, live light, spread the light, be the light." – Yogi Bhajan
"Give light, and the darkness will disappear of itself." – Desiderius Erasmus
"Your path is illuminated by the light, yet darkness lets the stars shine bright." – J.L.W. Brooks
Inspirational Lighthouse Quotes
"Some sit in the dark saying 'the light didn't come and find me', some just go and find it where the light is! But there is another category, they neither expect nor seek light, they create the light themselves!"
― Mehmet Murat ildan
"Darkness cannot drive out darkness: only light can do that. Hate cannot drive out hate: only love can do that."
― Martin Luther King Jr., A Testament of Hope: The Essential Writings and Speeches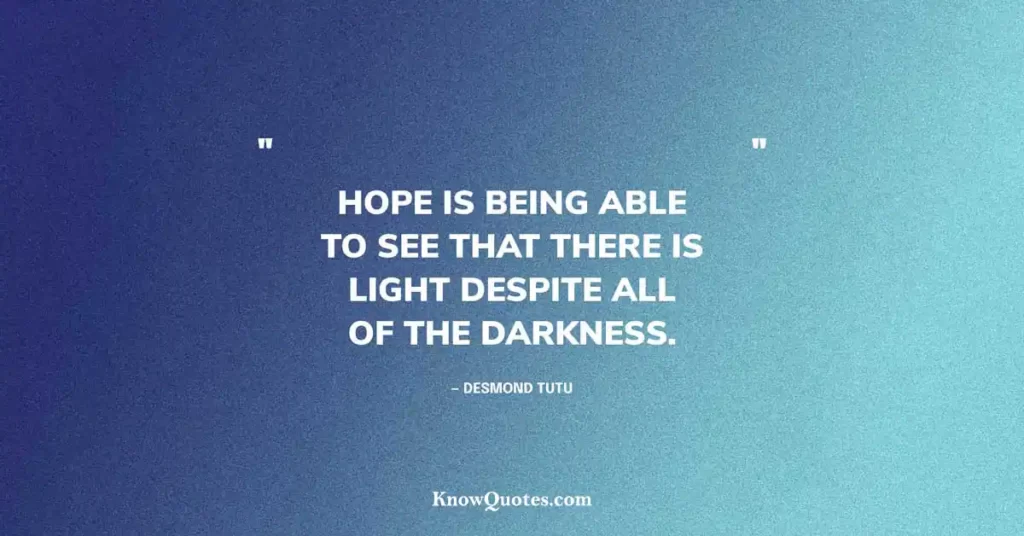 Funny Quotes About Christmas Lights
"In order for the light to shine so brightly, the darkness must be present." – Sir Francis Bacon
"When you possess light within, you see it externally." – Anas Nin
"As we work to create light for others, we naturally light our own way." – Mary Anne Radmacher
"There are two ways of spreading light; to be the candle or the mirror that reflects it." – Edith Wharton
"In the right light, at the right time, everything is extraordinary." – Aaron Rose
What Is the Most Famous Quote?
The most famous quote is undoubtedly "I think, therefore I am" by Rene Descartes. This simple statement has been interpreted in a variety of ways and has been a source of inspiration for many people. It is a reminder that we all have the power to think for ourselves and that our thoughts can lead to meaningful action.
How Is Light Related to Life?
Light is essential to life. It is the energy that drives photosynthesis, the process that produces the oxygen we breathe and the food we eat. It is also the cue that tells plants when to grow, bloom and bear fruit. Animals use light to find mates, migrate and avoid predators. Even humans use light to regulate their circadian rhythms and sleep cycles.
What Is the Quote About Darkness and Light?
The quote is about how darkness cannot exist without light, and vice versa. This is because they are two sides of the same coin, and without one, the other cannot exist. This quote is often used to describe the yin and yang, which is the balance of light and dark in the universe.
What Are Quotes About the Sky?
There are many quotes about the sky, from poets to presidents. Here are a few of our favorites:
"The sky is the daily bread of the eyes." -Ralph Waldo Emerson
"For my part, I know nothing with any certainty, but the sight of the stars makes me dream." -Vincent Van Gogh
"You can't help but look up." -LeBron James
"We are all in the gutter, but some of us are looking at the stars." -Oscar Wilde
There are many Famous Quotes About Light. Some people see light as a positive force, while others see it as a more negative force. However, there are also those who see light as a neutral force.