38 Best Inspirational Dental Quotes
We all know that going to the dentist isn't the most fun thing in the world. But it's important to take care of our teeth, and sometimes we need a little inspiration to help us remember to do so! Here are some of our favorite Inspirational Dental Quotes to help keep you motivated.
Looking for some inspiration for your dental care routine? Check out these inspirational dental quotes!
37+ Best Inspirational Dental Quotes
"Blessed are those who can hold lively conversations with the helplessly mute, for they shall be called dentists."– Ann Landers.
"Listen to the wisdom of the toothless ones"-Fijian proverb.
"A smile remains the most inexpensive gift…"– Og Mandino.
"No one can take our smiles away when dental decay is kept miles away."- Prof. Dr. Ninad Moon.
Funny Inspirational Dental Quotes
"I didn't want to be an actress. I wanted to be a dentist, but you never know what life will bring you."- Sofia Vergara.
"Dentistry is the science and art of preventing and controlling the dental disease."– Vijay Tare.
"Some old women and men grow bitter with age; the more their teeth drop out, the more biting they get."- George D Prentice.
"My dentist is actually a highly technical specialist, constantly experimenting with the latest dental research. The equipment he has makes my old dentist look prehistoric."- Joelle Carter.
Inspirational Quotes for Dentists
"I  was created to create beautiful smiles."― Mosman Dental Clinic.
"The role of a dentist is to preserve and prevent oral diseases of teeth, gum and jaws and supporting structures."-   Vijay Tare.
"But I often think if I had had my dental work done early on, well, maybe."- Morgan Freeman.
"His smile bore the same relation to a real smile as false teeth do to real teeth."- Rebecca West.
"There is no weaponry in the feminine armoury to which men are so vulnerable as they are to a smile."– Dorothy Dix.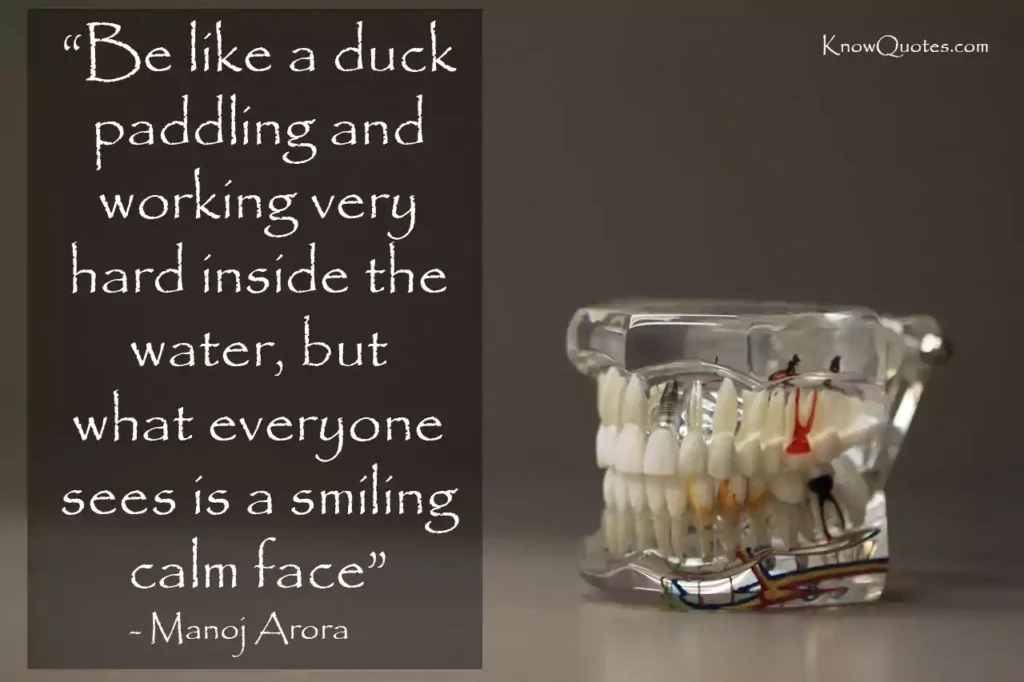 Positive Dental Inspirational Quotes
"Love conquers all things except poverty and toothache."- Mae West.
"Hair is the first thing. And teeth the second. Hair and teeth. A man got those two things, he's got it all."– James Brown.
"If you've put a smile on someone's face today, you've done more good than you know."- Richelle E. Goodrich.
"When I was in sixth grade… I wrote my first sketch, 'The Dentist.' I played the dentist… what can go wrong at the dentist…"– Trey Parker.
Inspirational Crown Quotes
"Poor dental hygiene can be fatal."- Rand C. Capp.  
"In diagnosis, think of the easy first."- Martin H Fischer.
"I was a left-handed dentist who made people cry."– Casey Stengel.
"When he smiles it's as if you've just told him the first joke on earth."- Mitch Albom.
"A man begins cutting his wisdom teeth the first time he bites off more than he can chew."- Herb Caen.
"No one would disagree that it would be better to maintain oral health throughout life…"- Wiley-Blackwell.
Dental Motivational Quotes
"If Alien was my friend, I'd like to be with him when he went to the dentist…"– Jack Handy.
"I find that most men would rather have their bellies opened for five hundred dollars than have a tooth pulled for five."- Martin H Fischer.
"She laughs at everything you say. Why? Because she has fine teeth."– Benjamin Franklin
"You should avoid sweets. After all, you just signed away your dental insurance."- Tony Kushner.
Inspirational Dental Hygiene Quotes
"I always notice a person's smile. I'm a dental hygienist."- Winifred Hervey.
"Good dental care doesn't make you a good student, but if your tooth hurts, it's hard to be a good student."– Geoffrey Canada.  
"Dental hygiene is the study of preventive oral healthcare including the management of behaviors to prevent oral disease…"- Michele Leonardi Darby.
"Don't take life too seriously! Nobody gets out alive anyway. Smile."- Dawn Gluskin.
"Every time you smile at someone, it is an action of love, a gift to that person, a beautiful thing."– Mother Teresa.
Motivational Quotes for Dental Students
"Be like a duck, paddling and working very hard inside the water, but what everyone sees is a smiling calm face."- Manoj Arora.
"Some people who can skirt precipices without a tremor have a strong dread of the dentist's chair."- C.C. Gaither.
"If a patient cannot clean his teeth no dentist can clean them for him."- Martin H. Fischer.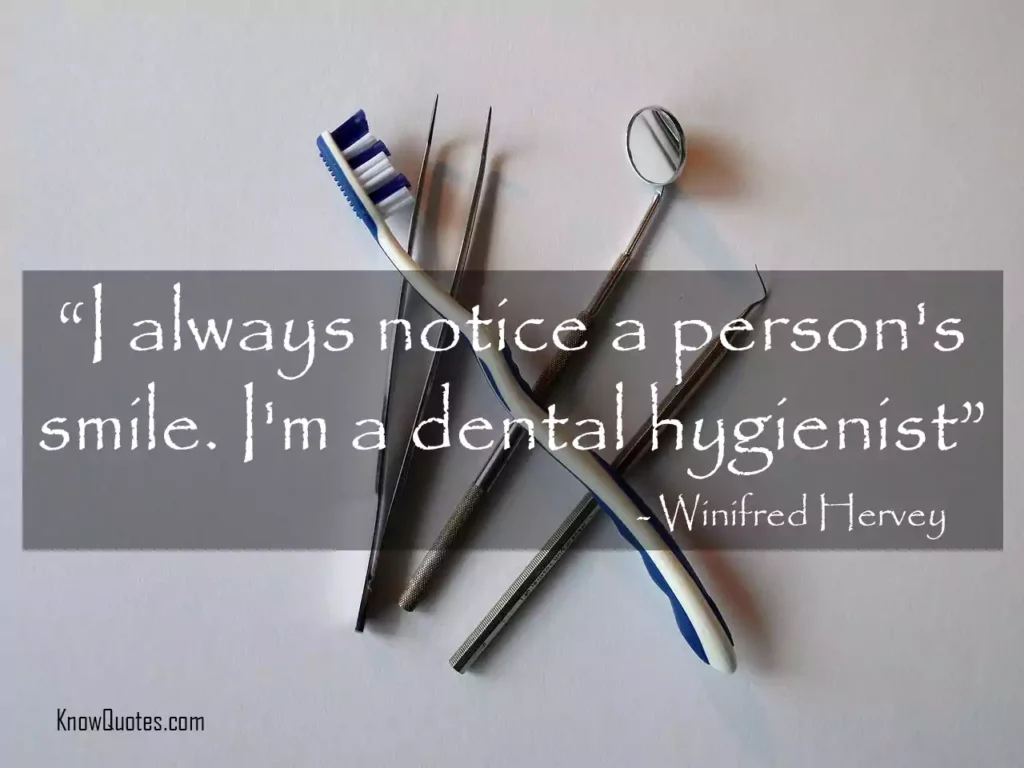 Motivational Quotes for Dental Team
"You're never fully dressed without a smile."– Martin Charnin.
"… old men without teeth. Old men with no teeth… strong for them after all."– William Shakespeare, 'Much Ado About Nothing'.
"Whether you have teeth or not, smile! Because our world always needs a smile!"- Mehmet Murat İldan.
What Is Dentistry Quotes?
Dentistry quotes are often used by dental professionals to provide motivation or inspiration to their patients. They can also be used to remind patients of the importance of oral hygiene. Some popular dentistry quotes include: "A smile is the prettiest thing you can wear.", "You're never fully dressed without a smile.", and "An ounce of prevention is worth a pound of cure."
How Do You Praise a Good Dentist?
A good dentist is someone who is gentle with their patients, has a great bedside manner, and is able to put their patients at ease. When you find a dentist like this, it's important to let them know how much you appreciate their care. There are a few different ways you can do this.
One way to praise a good dentist is to write a review on a website like Google or Yelp. This is a great way to let others know about your positive experience and to help spread the word about a great dental practice.
Another way to show your appreciation is to refer your friends and family to the dentist. This is the ultimate compliment and will help to ensure that the dentist's business stays strong.
Finally, you can simply tell the dentist how much you appreciate their care. A sincere compliment can go a long way and will be appreciated by the dentist.
How Do You Encourage Someone to Go to the Dentist?
It's important to encourage people to go to the dentist for regular checkups and cleanings to maintain oral health. Some ways to encourage someone to go to the dentist include making appointments for them, going with them to their appointments, or paying for their dental care. Additionally, it's important to educate people on the importance of dental care and how it can impact their overall health.
What Is Oral and Dental Health?
Oral and dental health is the study and practice of preventing, diagnosing, and treating conditions and diseases of the mouth and teeth. It is a branch of medicine that is concerned with the oral cavity, the teeth, gums, and jaws. Oral and dental health care providers include dentists, dental hygienists, and dental assistants.
There are many inspirational dental quotes that can motivate people to take better care of their teeth. These quotes can also inspire people to pursue a career in dentistry.