Lead by Example Quotes is a blog post that explores the idea of leadership through quotes from a variety of people. The quotes range from famous leaders like Nelson Mandela to more modern day leaders like Sheryl Sandberg. The blog post looks at what it takes to be a leader and how important it is to lead by example.
In order to lead by example, you must first be an example worth following. This means that you must be honest, hardworking, and reliable. People will not follow someone who they do not respect, so it is important to always conduct yourself in a manner that is worthy of respect. Additionally, leading by example requires you to be a good communicator and motivator. You must be able to clearly articulate your vision and goals, and then inspire others to help you achieve them.
Looking for some inspiration on how to lead by example? Check out our collection of Lead by Example Quotes.
Lead by Example Quotes
"Always do right. This will gratify some people and astonish the rest." Mark Twain
"The day you accept a position or promotion under the handshake of quid pro quo in exchange to look the other way you forfeit the duty to lead by example."
― Donavan Nelson Butler, Master Sergeant US Army
"Martyrdom, the fanaticism of being willing to die for one's beliefs, is the essential ingredient in making others want to follow the code left behind by that sacrificial example."
― Stewart Stafford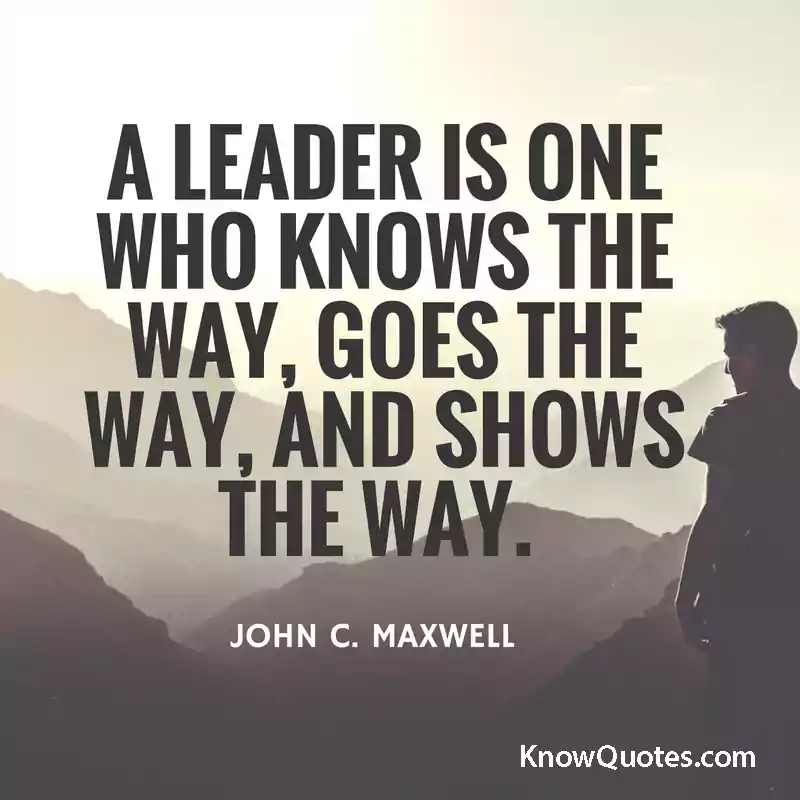 Lead by Example Quotes and Sayings
"People may teach what they know, but they reproduce what they are." John C. Maxwell
"What you are speaks so loudly, I can't hear what you are saying." Ralph Waldo Emerson
"The three most important ways to lead people are… by example… by example… by example." Albert Schweitzer
"It is our job as parents, to instill principles and values in our children. So that when they depart from you, those principles and values won't depart from them. Mallory Bullard, a street soldier from the old school."
― Drexel Deal, The Fight of My Life is Wrapped Up in My Father
Lead by Example Quotes Military
"The real power of a leader is in the number of minds he can reach, hearts he can touch, souls he can move, and lives he can change."
― Matshona Dhliwayo
"A true leader has the confidence to stand alone, the courage to make tough decisions, and the compassion to listen to the needs of others. He does not set out to be a leader, but becomes one by the equality of his actions and the integrity of his intent." Douglas MacArthur
"Never separate the life you live from the words you speak." Paul Wellstone
"Their greatest fear is you may step forward without fear.
Because your courage may become contagious."
― Tom Althouse, The frowny face cow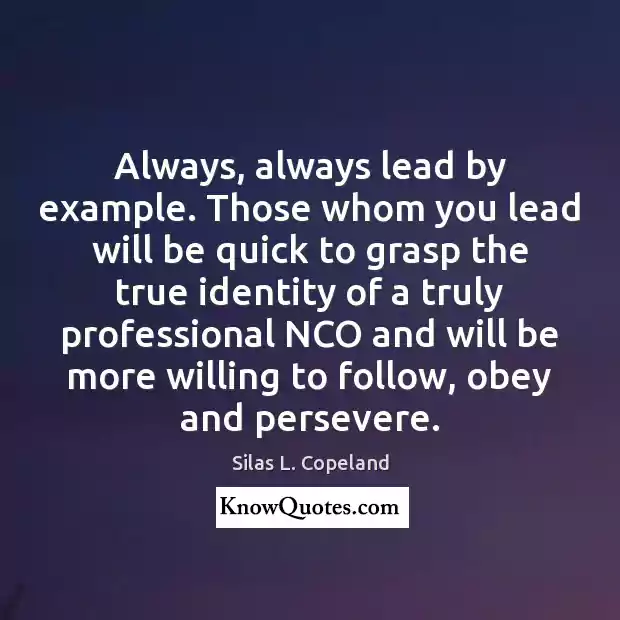 Lead by Example Quotes Work
"When you realize you've evolved from the mentored to the Mentor it gives much more to the meaning and lessons learned in life as well as untimely death. -CPT Dominic Garcia-"
― Donavan Nelson Butler, Master Sergeant US Army
"The leader sees things through the eyes of his followers. He puts himself in their shoes and helps them make their dreams come true. The leader does not say, 'Get going!' Instead he says, 'Let's go!' and leads the way. He does not walk behind with a whip; he is out in front with a banner." Wilfred Peterson
"Setting an example is not the main means of influencing others, it is the only means." Albert Einstein
"True leadership is a picture, not just words. If you're not leading by example, you're not leading!"
― Jonathan Nettles, Shine Little Light: Bittersweet Memories of Miracles & Wonders
Leaders Lead by Example Quotes
"The world is changed by your example not your opinion." Paul Coelho
"Courage is contagious. When a brave man takes a stand, the spines of others are often stiffened." Billy Graham
"Leaders dramatically influence the culture of their organizations through their own work habits. Being a leader does not mean one has 'made it' and is now exempt from hard work. Rather, leaders should set the pace for others. Few things discourage employees and volunteers any more than lazy leaders. Leaders should not ask their people to undertake tasks they are unwilling to perform themselves."
― Henry T. Blackaby, Spiritual Leadership: Moving People on to God's Agenda
Parents Lead by Example Quotes
"Before we ask where the leaders are, we should look in a mirror and ask the person we see "Why are you not leading"?"
― Carlos Wallace
"Nothing so conclusively proves a man's ability to lead others, as what he does from day to day to lead himself." Thomas J. Watson
"Make it your business to draw out the best in others by being an exemplar yourself." Epictetus
"A friend is not the shadow that mimics you, but the one who casts all shadows away."
― Shannon L. Alder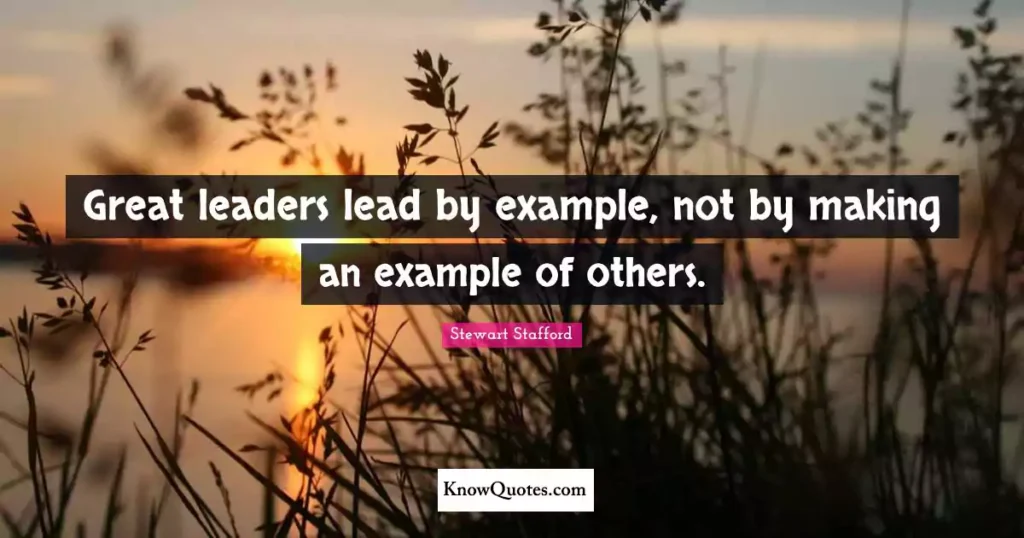 Role Model Lead by Example Quotes
"We are no longer in the dispensation of age and experience. We are in the era of knowledge and information. Information leads a true leader and a true leader leads others."
"The challenge of leadership is to be strong, but not rude; be kind, but not weak; be bold, but not bully; be thoughtful, but not lazy; be humble, but not timid; be proud, but not arrogant; have humor, but without folly." Jim Rohn
"If your actions inspire others to dream more, learn more, do more and become more, you are a leader." John Quincy Adams
"The deeds you do may be the only sermon some persons will hear today"
― St. Francis Of Assisi
Managers Lead by Example Quotes
"Not the cry, but the flight of a wild duck, leads the flock to fly and follow." Chinese Proverb
"Waste no more time arguing about what a good man should be. Be one." Marcus Aurelius
Who Said the Quote Lead by Example?
The quote "Lead by Example" is attributed to multiple people, including John Quincy Adams, John C. Maxwell, and George S. Patton. All three of these men were leaders in their respective fields, and all three believed that the best way to lead others was by setting the example and leading from the front. This quote is often used to inspire others to be leaders in their own lives, and to show that leading by example is the best way to get results.
What Does It Mean to Say to Lead by Example?
In order to lead by example, one must first set a good example for others to follow. This means being a role model in both words and actions, and setting the standard for others to aspire to. It also means being authentic and honest, and living up to your own values and beliefs. When you lead by example, you inspire others to be their best selves and to reach their full potential.
How Do You Lead a Quote by Example?
In order to lead by example, you must first be an exemplary person yourself. This means that you must live your life in such a way that others can see you as a role model. You must also be willing to share your knowledge and experience with others, so that they can learn from you. Finally, you must be able to motivate and inspire others to follow your lead.
What Is a Good Leadership Quote?
A good leadership quote is one that motivates and inspires others to be their best selves. A good leader is someone who is able to motivate and inspire others to be their best selves. A good quote should be something that speaks to the leader's ability to do this.
The blog post discusses various Lead by Example Quotes. The author argues that leading by example is the best way to lead others, and that it is important to be a good role model for those you want to lead. The quotes support the author's argument and provide encouragement for those in leadership positions.