Mother Death Anniversary Quotes
On the anniversary of her mother's death, a daughter reflects on the lessons she learned from her and how they've shaped her life.May you be surrounded by people who love you and support you on your darkest days.
Mother Death Anniversary Quotes
''In my memory, you will live as long as I do. I pray for your eternal peace, mom.''
''You have always kept the family tied with love, care, and affection. I pray to almighty that he gives you eternal peace in return. Your place is in heaven.''
''My biggest regret is not telling you how much I love you while you were with me, mother.''
''Losing you, I lost the most unconditional love I will ever get. May your soul find peace.''
''A mother is a daughter's best friend. With your death, I lost both my mother and best friend at once.''
Remembrance Messages Death Anniversary
''I can't find words to describe how valuable you were to me. The death of you will always remain to be the greatest loss in my life. May God grant you eternal peace.''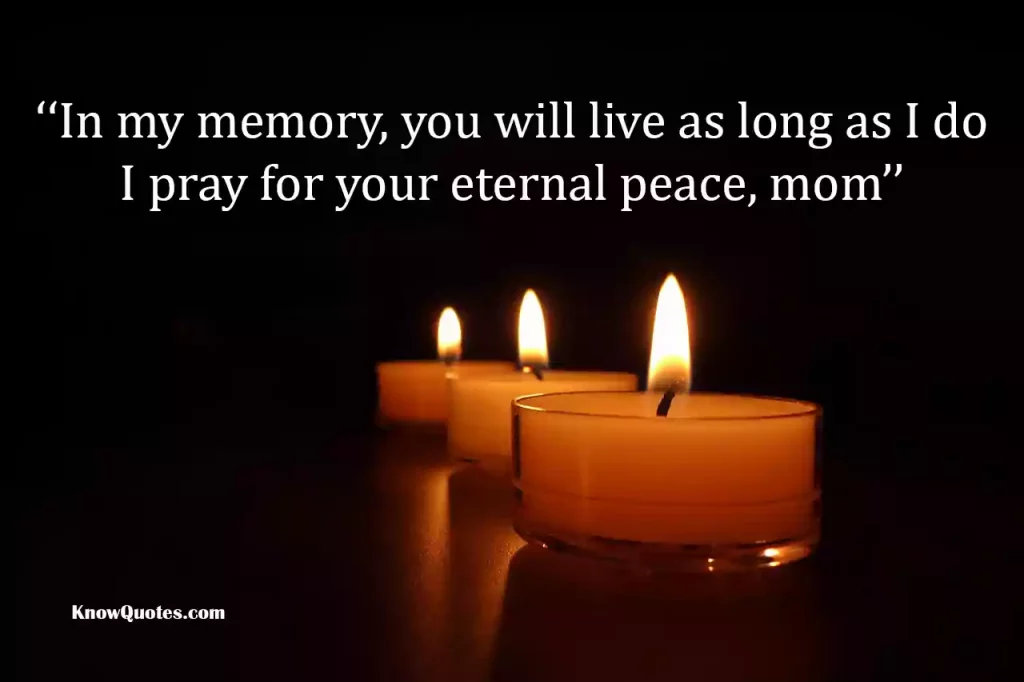 ''I've searched everywhere but never did I find the comfort of your arms. See you on the other side.''
''I wish there were secret stairs somewhere so I could climb up to where you are. I have many stories to tell you, mom. Missing you so much on this day!''
''Your presence used to make every place feel like home. Now I wander around feeling homeless.''
5th Death Anniversary of Mother
''I have realized that I cannot bring you back to us no matter what I do. So, I am praying to god that he keeps you in the most peaceful and beautiful place in heaven. Amen!''
''I grew up the day you left us. But yet, every night your lullabies hum in my head.''
''You loved me even before I started breathing. Now I will miss you till my last breath.''
''People say that time heals every pain. But even after years, every day I'm carrying the pain of losing you. Rest in peace, mom.''
''I have learned many things from you but I have not learned how to live without you. But now, I need to learn how to live with your memories.''
Death Anniversary Quotes for Mother in Law
''I want to go to heaven, not to avail myself of the luxuries in there; but just to see and hug you again.''
''If only you could see how your teachings are reflected in everything I do! Miss you, mom.''
''You taught me to be strong. Never knew I would have to use this strength to live without you.''
''Your memories give me comfort and inspire me to tackle every trouble. I hope you're watching, mom.''
Related Post: Father Death Anniversary Quotes
''I would trade everything I have just to see you once more, mom. You are missed deeply.''
Anniversary of Death of Mother Poem
''I sometimes wear your clothes because it feels as if they still smell like you. Miss you, mom.''
''Dear mother, you were the first woman I have loved and I will love for eternity. Miss you.''
''I look back to the days you were with us and I can't help myself crying. I still miss you so much, mom. You were and always will remain the greatest mom ever.''
''Since you died, I have forgotten what happiness really means in life. Every year when this day comes, I cannot hold back my tears anymore. Rest in peace forever Mom!''
Related Post: Death Anniversary Quotes for Brother
''From sunrise to sunset, every moment would have been more wonderful if you were with us today. Your memories will never be forgotten.''
Mother Death Anniversary Quotes in English
''Everything I am today is what you always dreamt of for me. I wish you were alive to see your son living up to your dreams. I miss you!''
''I think of you in every moment of my life. But sometimes, the pain becomes so heavy to control. Life without you seems meaningless. I miss you so much!''
''I pray that someday in heaven, I will be your little boy again.''
''Sometimes I close my eyes and see your face, mom. I swear I can feel your love around me.''
''Without your support and inspiration, I would never have achieved all these successes in life. But what hurts me most is the fact that you are not any more to see all these. I miss you, mom!''
Related Post: Husband Death Anniversary Quotes
''I think about the memories and realize what a wonderful childhood I had. The love and care of a mother are truly incomparable to anything else. I miss you in every moment of my life.''
''You were not just a perfect mother but also an amazing teacher. All the good things I have in me are because I saw them in you. You will be remembered forever dear mom.''
''Every step I take is to make you proud of me, mom. I wish you were here to see it.''
''If I could live more than once in every life, I'd want to be your daughter. Rest in peace.''
To remember our mothers is to remember the day they left us. It is a day of both sadness and reflection. We remember all the good times, and we vow to make sure that we continue to honor their memory.