Quotes About Being Strong
When life gets tough, it's important to remember that we are all capable of enduring hardship and coming out the other side stronger than before. These Quotes About Being Strong remind us that even in the darkest of times, we have the power to persevere.
When life gets tough, these Quotes About Being Strong will help you get through anything. Whether you're facing a personal challenge or dealing with a difficult situation, these quotes will give you the strength you need to keep going.
Quotes About Being Strong
"The weak fall, but the strong will remain and never go under!" – Anne Frank
"You never know how strong you are until being strong is the only choice you have." – Cayla Mills
"If someone is strong enough to bring you down, show them you're strong enough to get back up." – Unknown
"You were given this life because you are strong enough to live it." – Unknown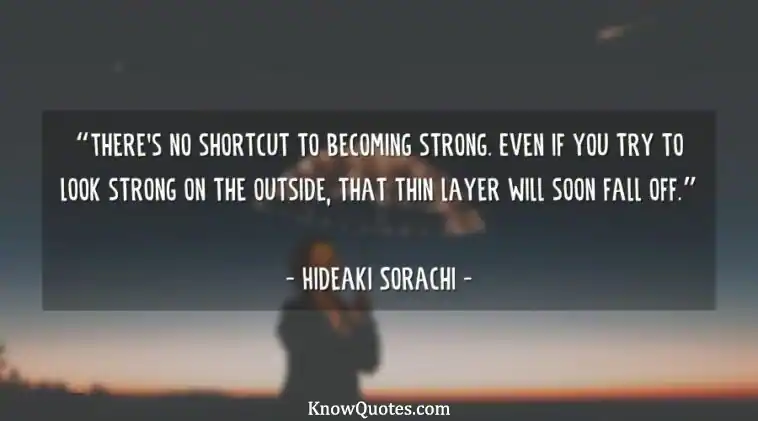 Quotes About Being Strong
"Be strong, be fearless, be beautiful. And believe that anything is possible when you have the right people there to support you." – Misty Copeland
"Winners never quit, and quitters never win." – Vince Lombardi
"Courage doesn't always roar. Sometimes courage is the quiet voice at the end of the day saying, "I will try again tomorrow." Mary Anne Radmacher
"There are two ways of exerting one's strength: one is pushing down, the other is pulling up." Booker T. Washington
"When I'm competing, I need to be strong." –  Ashley Wagner
Quotes About Being Strong Through Hard Times
"Failure will never overtake me if my determination to succeed is strong enough." – Og Mandino
"Strength does not come from winning. Your struggles develop your strengths. When you go through hardships and decide not to surrender, that is strength." Arnold Schwarzenegger
"Most of the important things in the world have been accomplished by people who have kept on trying when there seemed to be no hope at all." Dale Carnegie
Quotes About Being Strong and Happy
"Be strong & face the life. Because sometimes Life keeping nothing but only one option. Be strong anyway." – Bharat Zanvar
"A truly strong person does not need the approval of others any more than a lion needs the approval of sheep." —Vernon Howard
"You may have to fight a battle more than once to win it." Margaret Thatcher
"Realize your true strength when people reject you. In actual fact, they do not reject you. They only show you your real strength." Ernest Agyemang Yeboah
Quotes About Being Strong in Life
"If one dream should fall and break into a thousand pieces, never be afraid to pick one of those pieces up and begin again." Flavia Weedn
"Don't wait for extraordinary opportunities. Seize common occasions and make them great. Weak men wait for opportunities; strong men make them."~ Orison Swett Marden
"You've got to stay strong to be strong in tough times." – Tilman J. Fertitta
"Sometimes you don't realize your own strength until you come face to face with your greatest weakness." Susan Gale
Quotes About Being Strong Alone
"Sometimes you discover you're lost. And sometimes as you're lost you discover yourself." Wesam Fawzi
"People with strong willpower will always have the bigger picture in mind. They will be able to forgo small pleasures in order to help attain bigger goals." – Bryan Adams
"Sometimes you don't realize your own strength until you come face to face with your greatest weakness." – Susan Gale
"Your strength doesn't come from winning. It comes from struggles and hardship. Everything that you go through prepares you for the next level." Germany Kent
Quotes About Being Strong in Hard Times
"Character is higher than intellect. A great soul will be strong to live as well as think." Ralph Waldo Emerson
"Life is full of happiness and tears; be strong and have faith." – Kareena Kapoor Khan
"The world is the great gymnasium where we come to make ourselves strong." – Swami Vivekananda
"The world breaks everyone, and afterward, some are strong at the broken places." Ernest Hemingway
Quotes About Being Strong and Independent
"The most beautiful people I've known are those who have known trials, have known struggles, have known loss, and have found their way out of the depths." Elisabeth Kübler-Ross
"Promise me you'll always remember: You're braver than you believe and stronger than you seem, and smarter than you think." – A. A. Milne
"Be strong, be fearless, be beautiful. And believe that anything is possible when you have the right people there to support you." Misty Copeland
"Tough times never last, but tough people do." Robert H. Schuller
What Are the Strongest Quotes?
There are many strong quotes out there that can provide motivation and inspiration. However, there are a few that stand out above the rest. These are some of the strongest quotes that can provide the power you need to make positive changes in your life.
What Are 5 Positive Quotes?
1. "You are never too old to set new goals or to dream a new dream." – C.S. Lewis
2. "The best way to find out if you can trust somebody is to trust them." – Ernest Hemingway
3. "It is never too late to be what you might have been." – George Eliot
4. "Don't be afraid to give up the good to go for the best." -John D. Rockefeller
5. "You can't help everyone, but everyone can help someone." – Ronald Reagan
What Is the Strongest Short Quote?
There are many short quotes that pack a powerful punch, but the strongest short quote is probably "Go big or go home." This quote is often used to encourage people to take risks and go for their dreams. It's a reminder that life is too short to play it safe all the time. So, if you want something, go for it!
What Is Be Strong in Life?
In order to be strong in life, you need to have a positive outlook and be determined to achieve your goals. You also need to be able to handle adversity and setbacks, and continue to move forward despite challenges. It is important to be resilient and have a strong support system to help you through tough times. Ultimately, being strong in life means being able to overcome obstacles and create a life that you are proud of.
The author of the blog post "Quotes About Being Strong" has compiled a list of quotes about strength and resilience. The quotes come from a variety of sources, including famous people, athletes, and everyday people. The author writes that the quotes are meant to inspire readers to be strong in the face of adversity. The quotes remind readers that they are not alone in their struggles and that others have faced and overcome similar challenges.