Sheila Walsh is a Christian author, singer, and speaker who has written numerous books, including The Heartache No One Sees and In the Name of Love. Walsh has also released several music albums, including Love Will Be Our Home and Give Yourself Away. In addition to her work as an author and musician, Walsh is also a popular speaker, having given talks at events such as the Women of Faith conference and the National Day of Prayer. Sheila Walsh Quotes are often inspirational and uplifting, and she is known for her ability to connect with her audience.
Sheila Walsh is a world–renowned speaker, teacher, and bestselling author with a passion for helping women discover their God–given purpose and potential. For over 30 years, Sheila has been sharing her message of hope and freedom with women all over the world, and her message continues to touch lives and change hearts.
Sheila Walsh Quotes: Sheila Walsh is a Scottish–American television host, author, and singer. She is best known for her work with the Christian Broadcasting Network.
Sheila Walsh Quotes
"If you find yourself right now in a place where you are heartbroken, I want to remind you that Christ is very close to the broken. Our culture throws broken things away, but our Savior never does. He gently gathers all the pieces, and with His love and in His time, He puts us back together."
― Sheila Walsh, The Storm Inside: Trade the Chaos of How You Feel for the Truth of Who You Are
"It takes deliberate and continuous effort to carve out time in our overfull schedules to listen to the voice of God."  -Sheila Walsh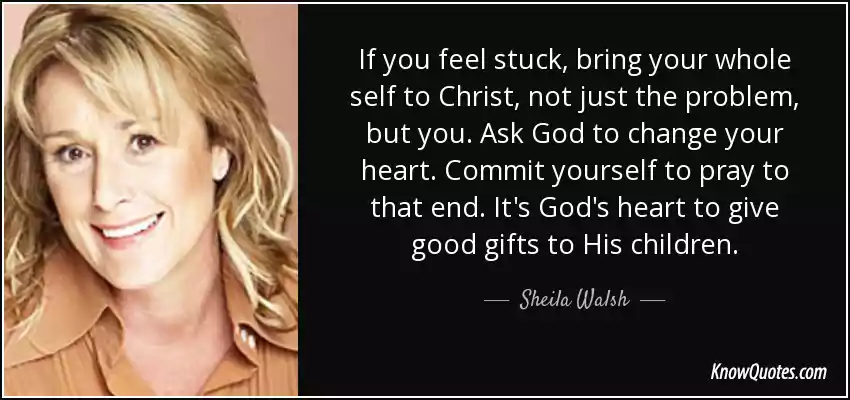 "When depression or suicidal thoughts weigh heavily, the hardest thing to do is to fight. My battle weapons are the Word of God, meditation, confession, community, and worship. But each evening I take my medication with a prayer of thanksgiving that God has provided this kind of help for those of us who need it." -Sheila Walsh
Quotes by Sheila Walsh
"Whether Jesus calms the storm or calms us in the storm, His love is the same, and His grace is enough."
― Sheila Walsh, Extraordinary Faith: God's Perfect Gift for Every Woman's Heart
"What I think we as the church lack, though, is a place to talk about how things really are right now. In our desire to be an inspiration to one another we often veil what is true, because what is true is not always inspirational. It's not easy to watch or personally experience a marriage on the verge of divorce, or a child battling cancer, or a betrayal of the worst kind, or dreams lost in the dust, or overwhelming feelings of despair or emptiness. But these things are real. And hurting believers whose lives are in tatters need real help. If we were able to put aside our need for approval long enough to be authentic, then, surely, we would be living as the church."
Sheila Walsh Life Today
― Sheila Walsh, Loved Back to Life: How I Found the Courage to Live Free
"We live in a culture of quick fixes. We want to feel better and we want to feel better now. I believe that's why many turn to alcohol and drugs because they want to numb the pain of life. In my life I have a choice. I can sit with my depression and look at Jesus or I can sit with Jesus and look at my depression. What I mean by that is I can focus on what's broken and wonder where God is or I can sit in the companionship of Christ who suffered for us and worship him in the middle of the mess. That gives my pain meaning and context." -Sheila Walsh
"If we mistake God's silence for indifference, we are the most miserable of people. If we give up when we no longer understand, we reject His caring, steadfast love and cut ourselves off from our only real hope."-Sheila Walsh
"While walking through a dark season, if we attempt to navigate our lives by what we feel, we will run aground onto the rocks. We must navigate by what we know is true no matter what we feel."
― Sheila Walsh, The Storm Inside: Trade the Chaos of How You Feel for the Truth of Who You Are
Sheila Walsh Family
"In these uncertain times, I know 100 percent that I can stake my life on the unshakeable, unchanging promises of God!"-Sheila Walsh
"Suffering is seldom an item on our list of requests to the Lord. But when it crosses our path and we are able by his grace to keep on walking, our lives become messages of hope to the world and to the church." -Sheila Walsh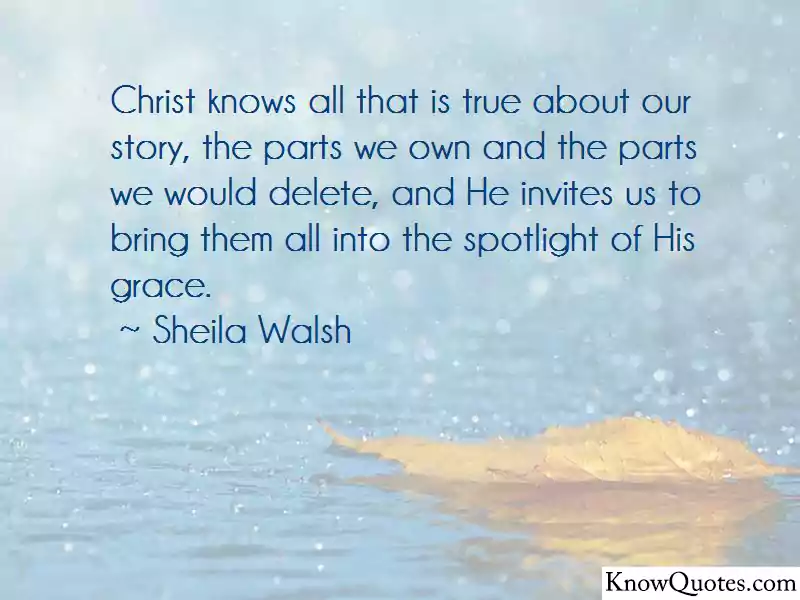 "Christ knows all that is true about our story, the parts we own and the parts we would delete, and He invites us to bring them all into the spotlight of His grace."
― Sheila Walsh, The Shelter of God's Promises
"Can't you tell when you're with someone who's listening? She hears you, really hears you. He hears the sadness in your tone or catches your joy. Be a listener, to music, to life, to others, to God. Life is noisy, but there is music in every heartbeat. God is waiting to bring joy and peace to the confusion of our days."-Sheila Walsh
Sheila Walsh Net Worth
"If guilt tells us that we've done something wrong, then shame tells us that we are something wrong. So many people feel isolated, not good enough, defined by the labels they wear rather than the identity they have in Christ. The love of Christ tells us that we're accepted; that we belong."  –Sheila Walsh
"God has promised that whatever you face, you are not alone. He knows your pain. He loves you. And He will bring you through the fire." -Sheila Walsh
"My times of silence before God are very important to me now. I put everything else down, every word away, and I am with the Lord. When I'm quiet, life falls into perspective for me. I have a very active mind and I'm a worrier, but in those moments when I choose to put that away, I rest beside the Shepherd in still places. Why don't you give yourself a gift today? Turn off the television or the car stereo, put down the newspaper or the business plan, and in the quietness, rest for a while beside the Shepherd of your soul."  -Sheila Walsh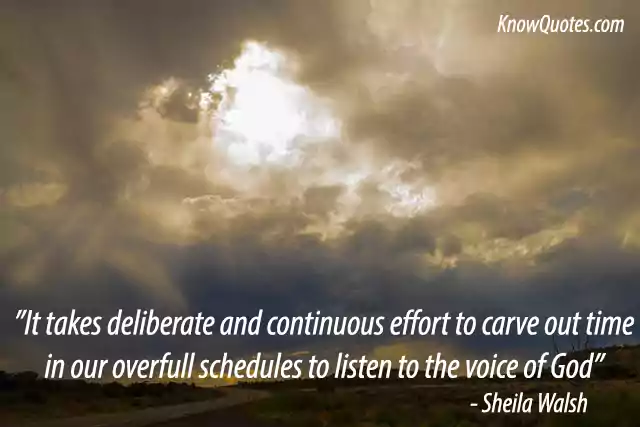 What Nationality Is Sheila Walsh?
Sheila Walsh is a Scottish singer, songwriter, television personality, and author. She was born in Glasgow, Scotland, and raised in a small town outside of the city. Walsh has been a part of the Christian music scene since the early 1980s, when she released her first album. She has since released over a dozen albums, including several live and compilation albums. In addition to her music career, Walsh has also written several books, including her autobiography, and hosted a number of television shows, both in the United States and United Kingdom.
Does Sheila Walsh Sing?
Yes, Sheila Walsh does sing. She is a contemporary Christian music singer and songwriter from Scotland. Walsh has released several solo albums and has also sung backup vocals for other artists.
What Age Is Sheila Walsh?
Sheila Walsh is a Scottish singer, songwriter, television personality, and author. Born on July 5, 1956, in Glasgow, Scotland, she is currently 63 years old. Sheila Walsh is best known for her work as a presenter on The 700 Club, a Christian television program. She has also written numerous books, including her autobiography, Stories from the Heart.
Sheila Walsh is a popular Christian author and speaker. Her quotes are often inspirational and uplifting. In this blog post, we've compiled some of our favorite Sheila Walsh quotes. We hope you're encouraged by her words and that they help you in your faith journey.