Short Quotes About Happiness
If you're looking for a little bit of happiness in your life, look no further than this collection of Short Quotes About Happiness. From well-known authors and philosophers to everyday people, these quotes capture the essence of what happiness is and why it's so important.
Looking for a little inspiration? Check out our collection of Short Quotes About Happiness. From famous authors, to everyday people, these quotes will surely put a smile on your face.
Short Quotes About Happiness
"For every minute you are angry you lose sixty seconds of happiness."
― Ralph Waldo Emerson
"I, not events, have the power to make me happy or unhappy today. I can choose which it shall be. Yesterday is dead, tomorrow hasn't arrived yet. I have just one day, today, and I'm going to be happy in it." —Groucho Marx
"If someone bases his/her happiness on major events like a great job, huge amounts of money, a flawlessly happy marriage or a trip to Paris, that person isn't going to be happy much of the time. If, on the other hand, happiness depends on a good breakfast, flowers in the yard, a drink or a nap, then we are more likely to live with quite a bit of happiness." —Andy Rooney
"Love is that condition in which the happiness of another person is essential to your own."
― Robert A. Heinlein, Stranger in a Strange Land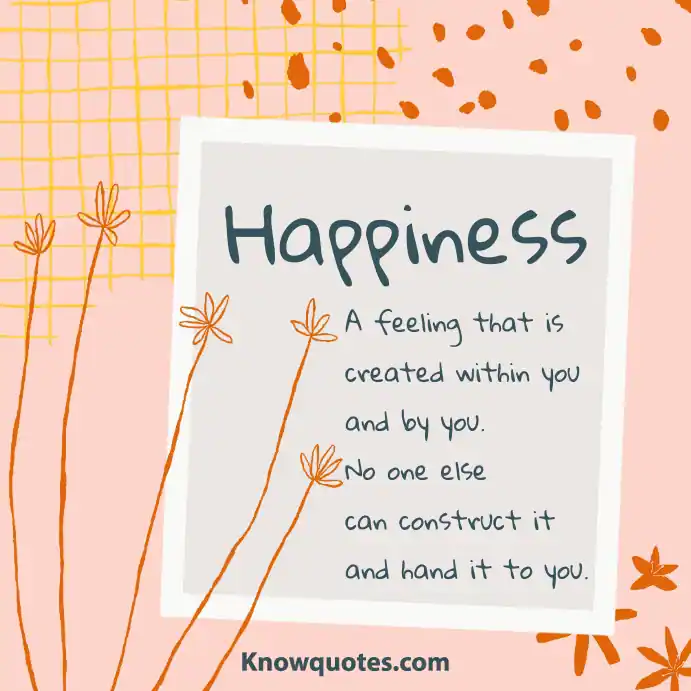 Short Quotes About Happiness and Love
"It's so hard to forget pain, but it's even harder to remember sweetness. We have no scar to show for happiness. We learn so little from peace."
― Chuck Palahniuk, Diary
"Very little is needed to make a happy life; it is all within yourself, in your way of thinking." —Marcus Aurelius Antoninus
"I'd far rather be happy than right any day." —Douglas Adams
"The foolish man seeks happiness in the distance, the wise grows it under his feet." —James Oppenheim
Short Quotes About Happiness and Smiling
"Happiness is nothing more than good health and a bad memory." —Albert Schweitzer
"You will never be happy if you continue to search for what happiness consists of. You will never live if you are looking for the meaning of life."
― Albert Camus
"Every man has his secret sorrows which the world knows not; and often times we call a man cold when he is only sad."
― Henry Wadsworth Longfellow
Short Quotes About Happiness and Life
"There's nothing like deep breaths after laughing that hard. Nothing in the world like a sore stomach for the right reasons."
― Stephen Chbosky, The Perks of Being a Wallflower
"Happiness is not in the mere possession of money; it lies in the joy of achievement, in the thrill of creative effort." —Franklin D. Roosevelt
"It's been my experience that you can nearly always enjoy things if you make up your mind firmly that you will." —L.M. Montgomery
"Since you get more joy out of giving joy to others, you should put a good deal of thought into the happiness that you are able to give." —Eleanor Roosevelt
"Attitude is a choice. Happiness is a choice. Optimism is a choice. Kindness is a choice. Giving is a choice. Respect is a choice. Whatever choice you make makes you. Choose wisely."
― Roy T. Bennett, The Light in the Heart
Short Quotes About Happiness in Life
"They say a person needs just three things to be truly happy in this world: someone to love, something to do, and something to hope for."
― Tom Bodett
"Don't underestimate the value of Doing Nothing, of just going along, listening to all the things you can't hear, and not bothering." —Winnie the Pooh
"Some cause happiness wherever they go; others whenever they go." —Oscar Wilde
"The most important thing is to enjoy your life—to be happy—it's all that matters."
― Audrey Hepburn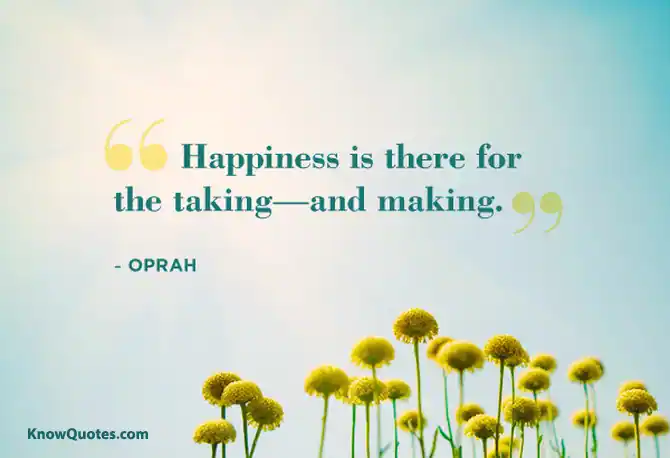 Short Quotes About Happiness Com
"It isn't what you have or who you are or where you are or what you are doing that makes you happy or unhappy. It is what you think about it."
― Dale Carnegie, How to Win Friends and Influence People
"Even if you cannot change all the people around you, you can change the people you choose to be around. Life is too short to waste your time on people who don't respect, appreciate, and value you. Spend your life with people who make you smile, laugh, and feel loved."
― Roy T. Bennett, The Light in the Heart
Short Quotes About Happiness in English
"If you want happiness for an hour—take a nap. If you want happiness for a day—go fishing. If you want happiness for a year—inherit a fortune. If you want happiness for a lifetime—help someone else." —Chinese Proverb
"It's a helluva start, being able to recognize what makes you happy." —Lucille Ball
"Happiness depends upon ourselves." —Aristotle
"To be kind to all, to like many and love a few, to be needed and wanted by those we love, is certainly the nearest we can come to happiness." —Mary Stuart
"Happiness is not something ready-made. It comes from your own actions." —Dalai Lama
What Are Good Short Quotes?
There are many good short quotes that can be used to motivate and encourage others. Some of my favorites include:
"The best way to find out if you can trust somebody is to trust them." – Ernest Hemingway
"It is never too late to be what you might have been." – George Eliot
"Do not go where the path may lead, go instead where there is no path and leave a trail." – Ralph Waldo Emerson
"The only way to do great work is to love what you do." – Steve Jobs
All of these quotes emphasize the importance of taking risks, being yourself, and doing what you love. They are all great reminders that it is never too late to pursue your dreams and that the best way to find success is to follow your heart.
What Is the Best Quote for Happiness?
There are many great quotes about happiness, but one that really resonates with me is from Ralph Waldo Emerson: "Happiness is a perfume you cannot pour on others without getting a few drops on yourself." This quote is special to me because it reminds me that in order to be truly happy, we need to focus on our own happiness first. We can't pour from an empty cup, so it's important to take care of ourselves and make sure our own happiness is full before we try to share it with others.
What Are 5 Quotes About Happiness?
There are many different interpretations of happiness, but here are five quotes that may offer some insight into what happiness means to different people.
"The greatest happiness you can have is knowing that you do not necessarily require happiness." – William Saroyan
"The greatest happiness of life is the conviction that we are loved; loved for ourselves, or rather, loved in spite of ourselves." – Victor Hugo
"Most people are about as happy as they make up their minds to be." – Abraham Lincoln
"There is no happiness like that of being loved by your fellow creatures, and feeling that your presence gives happiness to all." – George Bernard Shaw
"Happiness is when what you think, what you say, and what you do are in harmony." – Mahatma Gandhi
This article explored a variety of Short Quotes About Happiness. The quotes came from a variety of sources, including famous authors, musicians, and even a cartoon character. What they all had in common was that they each had something interesting and insightful to say about happiness.
Overall, the quotes suggested that happiness is something that comes from within. It is not necessarily about having material things or being in a certain place. Rather, it is about finding contentment and peace in the present moment. It is also about having positive relationships and doing things that bring joy. Happiness is a state of mind that can be cultivated through intentional effort.