Whether you're looking for the perfect Instagram caption to accompany your latest selfie with your significant other, or you're searching for some heartwarming words to text your crush, we've got you covered. Check out our list of Sweet Quotes for Her, guaranteed to make her swoon.
Looking for some Sweet Quotes for Her? We've got you covered! Whether you're looking for something cheesy or something heartfelt, we've got you covered.
Sweet Quotes for Her
"Do I love you? My God, if your love were a grain of sand, mine would be a universe of beaches." – William Goldman, The Princess Bride
"The deeper I dive into your love, the more it feels like I'm entering a different world. Your love is like the fragrance of fresh flowers and the beauty of a thousand butterflies. I love you beyond the stars."
"I prayed for you day and night. And I knew those prayers were answered when I first saw you. Now, I see you in my dreams all the time. I know you are the special one for me."
"I love you right up to the moon—and back." – Sam McBratney, Guess How Much I Love You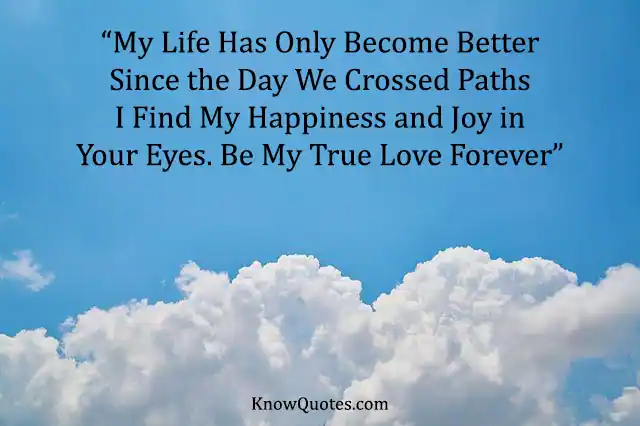 Short Sweet Quotes for Her
"I've never had a moment's doubt. I love you. I believe in you completely. You are my dearest one. My reason for life." – Ian McEwan, Atonement
"You have bewitched me, body and soul, and I love, I love, I love you. I never wish to be parted from you from this day on." – Pride and Prejudice
"My life has only become better since the day we crossed paths. I find my happiness and joy in your eyes. Be my true love forever."
"My love for you, my treasure, will never fade. You complete my world with your special friendship. I love you."
Sweet Quotes for Her to Make Her Smile
"You are the entire world to me. You are my happiness, my universe. I will always support and cherish you. I love you."
"I love you more than I have ever found a way to say to you." – Ben Folds, "The Luckiest"
"I do know some things. I know I love you. I know you love me." – Game of Thrones
"I love you the way a drowning man loves air. And it would destroy me to have you just a little." – Rae Carson, The Crown of Embers
"Ask me what I can do for you. I can walk a thousand miles to see your smile. I love you."
Love Sweet Quotes for Her
"Falling in love with you was not easy; I neglected every negative thought my mind had. But you are the queen of my heart, not a heartbreaker."
"If it's true what they say about reincarnation, I wish to have you as my love in every birth and every world. I want to make our love known to the whole universe."
"So, I love you because the entire universe conspired to help me find you." – Paulo Coelho, The Alchemist
"Storm clouds may gather and stars may collide, but I love you until the end of time." – Moulin Rouge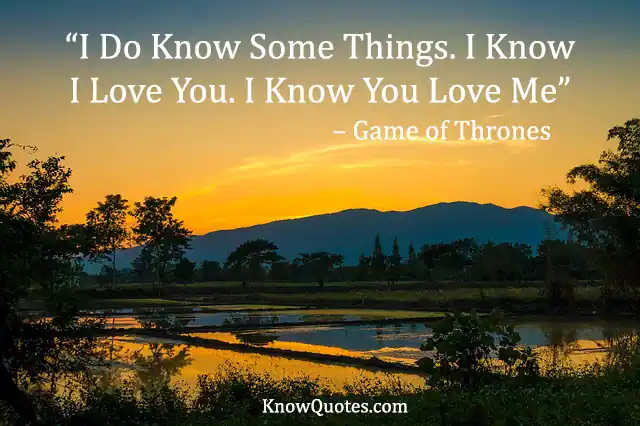 Funny Sweet Quotes for Her
"Since I first met you, my life has changed from black and white to color. So please accept my love and make my life complete."
"After knowing you, I can't imagine a single day without you, as you have stolen my every heartbeat. I love you."
"It was a heavenly feeling when we first met. I am thrilled to have you in my life and yearn to keep this love alive forever in our hearts. You are my life, my entire world."
"Whatever happens tomorrow, or for the rest of my life, I'm happy now…because I love you." – Groundhog Day
I Love You Sweet Quotes for Her
"I love you. I knew it the minute I met you. I'm sorry it took so long for me to catch up. I just got stuck." – Silver Linings Playbook
"But the you who you are tonight is the same you I was in love with yesterday, the same you I'll be in love with tomorrow." – Gayle Forman, If I Stay
"We are made of particles that existed since the moment the universe began. I like to think those atoms travelled 14 billion years through time and space to create us so that we could be together and make each other whole. – The Big Bang Theory
You Are Sweet Quotes for Her
"For all the things my hands have held, the best by far is you." – Andrew McMahon in the Wilderness, "Cecilia and the Satellite" lyrics
"You should know how great things were before you. Even so, they're better still today. I can't think of who I was before you ruined everything in the nicest way." – Jonathan Coulton, "You Ruined Everything" lyrics
"You think you're one of millions but you're one in a million to me." – Brad Paisley, "The World" lyrics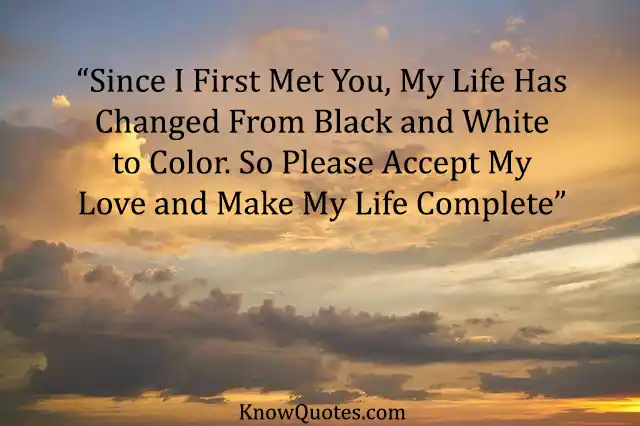 What to Say to Make Her Feel Special?
There is no one answer to this question, as what will make one woman feel special may not have the same effect on another. However, some thoughtful and heartfelt things you could say to make her feel special include expressing your gratitude for her presence in your life, telling her how much you appreciate her, or simply telling her that you love her. Whatever you say, make sure that your words are genuine and spoken from the heart, as this will be the most effective way to make her feel truly special.
How Do I Express My Love to Her Quotes?
When it comes to expressing your love to her, sometimes a simple quote can be the best way to do it. Whether you want to write it down in a card, say it in person, or post it on social media, these quotes will help you get your message across. And who knows, maybe she'll even have a favorite that she'll want to share with you, too.
What Are Some Cute Short Quotes?
There are many cute short quotes that can be used in a variety of situations. "A smile is the prettiest thing you can wear." – Unknown "You're never fully dressed without a smile." – Annie "I wake up every day with a smile on my face, because life is just that good." – Unknown
These are just a few of the many cute short quotes that are out there. No matter what situation you are in, there is bound to be a quote that will fit perfectly. So go ahead and spread some smiles today!
What Are Some Sweet Quotes?
There are many sweet quotes that can be used to express love and affection. Some of these quotes are:
"I love you more than anything in the world."
"I would be nothing without you."
"You are my everything."
"I cannot imagine my life without you."
The blog post Sweet Quotes for Her is a collection of quotes that can be used to express love and appreciation for the special woman in your life. Whether she is your wife, girlfriend, mother, daughter, or friend, these quotes will let her know how much she means to you.