A 30th birthday is a special milestone in one's life. It is a time to reflect on the past, present, and future. To celebrate this special day, we've compiled a list of 30TH Birthday Quotes. These quotes capture the essence of what it means to be 30 years old. They are perfect for sharing with friends and family on this special occasion.
Celebrate the 30TH Birthday Quotes that will make you feel grateful, happy, and excited for this new decade.
30TH Birthday Quotes
"At 30 you finally start to catch up on those dreams you've been chasing for the last 10 plus years." — Bonidette Lanz
"Turning thirty is the moment when you are old enough to understand life's bigger responsibilities but young enough to shirk some of them while you still can. Happy 30th."
"One of the most inspirational ways to usher in your thirtieth, is to face one of your fears and do something that takes away your breath. Happy birthday."
30TH Birthday Quotes Funny
"At 20 years of age, the will reigns; at 30, the wit; and at 40, the judgment." — Benjamin Franklin
"After 30, a body has a mind of its own." — Bette Midler
"Everything I know I learned after I was 30." — Georges Clemenceau
"Life before thirty is for making mistakes and life after thirty is to repent for all of them. Happy birthday."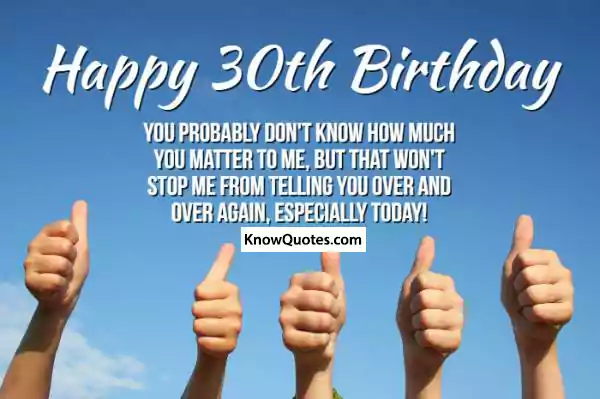 30TH Birthday Quotes for Myself
"Being thirty is when you can be an adult in the world of youngsters who are in their teens and twenties, and a youngster in the world of adults who are in their forties and fifties. Enjoy the best of both worlds. Enjoy, happy birthday."
"When you turn 30, a whole new thing happens: you see yourself acting like your parents." — Blair Sabol
"Time and tide wait for no man, but time always stands still for a woman of thirty."
— Robert Frost
30TH Birthday Quotes for Me
"Inside every 30 year old is an 18 year old asking what happened?" — Ann Landers
"Stop worrying about your age. There will be many other problems to worry about in life after you turn thirty. Happy birthday."
"Nothing changes when you cross thirty except that you have to replace your moisturizer with an anti-aging cream. Happy birthday."
30TH Birthday Quotes for Woman
"Thirty is the time to really start living your life to the fullest, so that by the time you are old you would have experienced life's best. Happy 30th."
"The only time you really live fully is from thirty to sixty. The young are slaves to dreams; the old servants of regrets. Only the middle-aged have all their five senses in the keeping of their wits." — Hervey Allen
"Age is strictly a case of mind over matter. If you don't mind, it doesn't matter." — Jack Benny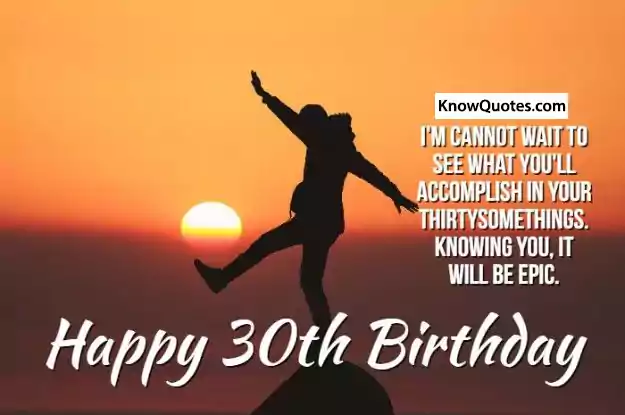 30TH Birthday Quotes for Her
"Turning thirty gives you the perfect bird's eye view of your life. You know exactly what mistakes you made in the past and exactly how to correct them in the future. Happy 30th birthday."
"It doesn't matter how you have lived your life so far. What matters is how you are going to live it from now on. Happy 30th birthday."
"The excess of our youth are checks written against our age, and they are payable with interest 30 years later." — Charles Caleb Colton
30TH Birthday Quotes for Self
"Thirty was so strange for me. I've had to come to terms with the fact that I'm now a walking and talking adult." — C.S. Lewis
"I'm turning thirty this year. And you know the saying, a woman over thirty is more likely to get hit by a bomb than find a man." — Fanny Fink
"Farewell to your youth – it was good while it lasted. Happy 30th."
"Turning thirty is life's way of telling you that the most beautiful phase of your life has just begun. Happy 30th birthday."
30TH Birthday Quotes for Daughter
"If you weren't my best friend, I would tell you how dreadful it is to turn thirty. But since you are, I don't want to spoil the party. Happy birthday."
"The best part about being thirty is that there are no uncertainties in life. You are sure that it's all going to go downhill from here. Happy 30th birthday."
"When you were twenty, you felt like growing up and becoming thirty. When you will be forty, you will wish you could go back to being thirty. So to conclude, being thirty is just perfect. Happy birthday."
30TH Birthday Quotes for Him
"The countdown to your midlife crisis has just begun. Tick tock tick tock. Happy 30th birthday."
"Live life doing what YOU love, not what impresses others. Happy birthday."
"Congratulations for turning thirty. From here on, life is less about knowing how old you are and more about believing how young you feel. Happy birthday."
"Life is too short to be lived counting the years. Just enjoy the ride and make awesome memories. Happy birthday."
30TH Birthday Quotes for Best Friend
"Your body may have turned thirty today but the way you look like a hot twenty one year old suggests that your beauty will never be able to catch up with your age. Happy 30th birthday."
"There is one thing worth looking forward to when you turn thirty – you are almost halfway to retirement benefits. Happy birthday."
"The secret of being happy in your thirties is quite simple – take each day as it comes. Happy birthday."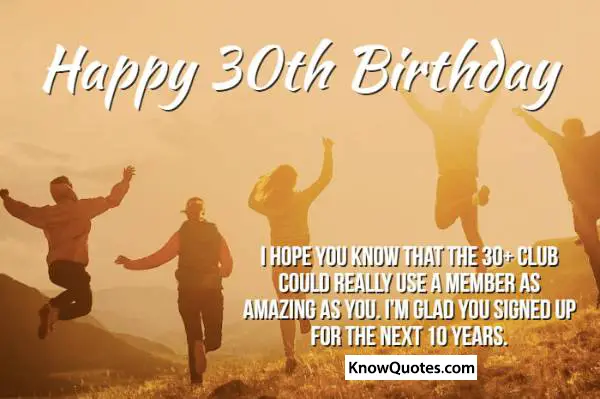 What Do You Say for a 30TH Birthday?
For a 30th birthday, you can say "happy birthday" as usual, or you can say something more specific like "happy 30th birthday." You can also say something like "all the best on your 30th birthday."
Why Is 30 an Important Birthday?
30 is an important birthday for many people because it marks the transition from young adulthood to middle age. For some, it is a time to reflect on their accomplishments and set new goals for the future. For others, it is a time to celebrate the fact that they have made it through another decade of life. Regardless of how you feel about turning 30, it is definitely an important milestone.
What Is a Good Quote for a Birthday?
A birthday is a special day to celebrate the gift of life. It is a day to reflect on the past year and to set goals for the coming one. A good quote for a birthday can help to inspire and motivate. Here are some of our favourites:
"The more you praise and celebrate your life, the more there is in life to celebrate." – Oprah Winfrey
"Your birthday is a special day, so let yourself be a little selfish and do something that makes you happy." – Unknown
"Every day is a new beginning. Take a deep breath, smile and start again." – Unknown
"On your birthday, I wish you happiness and all the good things life has to offer." – Unknown
The blog post provides a collection of 30TH Birthday Quotes that are both humorous and inspirational. The quotes provide a range of perspectives on aging, including the importance of staying young at heart and appreciating the wisdom that comes with age. Ultimately, the quotes remind us that life is precious and should be celebrated.