Prayer is a central part of many people's lives. It can provide comfort in times of trouble, act as a source of strength in difficult times, and help us to find peace. While there are many different ways to pray, some people find that using quotes can be helpful. In this blog post, we will explore some of the Best Quotes for Prayer.
Looking for the best quotes for prayer? Look no further! We've gathered some of the most popular and inspiring quotes about prayer, from a variety of sources.
Best Quotes for Prayer
"Our prayers may be awkward. Our attempts may be feeble. But since the power of prayer is in the one who hears it and not in the one who says it, our prayers do make a difference." – Max Lucado
"There are parts of our calling, works of the Holy Spirit, and defeats of the darkness that will come no other way than through furious, fervent, faith-filled, unceasing prayer." – Beth Moore
"The reality is, my prayers don't change God.  But, I am convinced prayer changes me.  Praying boldly boots me out of that stale place of religious habit into authentic connection with God Himself." – Lysa TerKeurst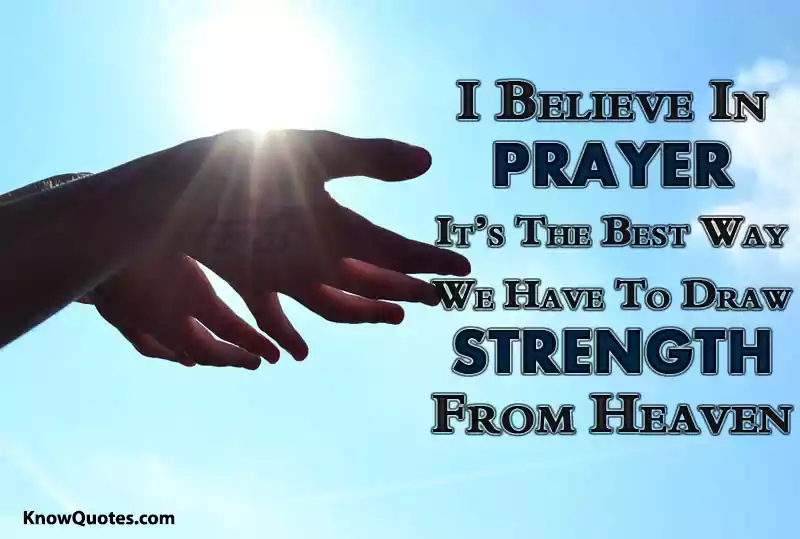 Good Morning Blessings Quotes
"To be a Christian without prayer is no more possible than to be alive without breathing." – Martin Luther
"True prayer is neither a mere mental exercise nor a vocal performance. It is far deeper than that – it is a spiritual transaction with the Creator of Heaven and Earth." – Charles Spurgeon
"She (my mother) became a warrior far superior to any epic hero. She became a giant on her knees. With a sword in one hand she battled the enemies of death and disease, and with her other hand stretched toward heaven she kept beseeching God's help and His mercy." – Bishop T.D. Jakes 
Good Morning Prayer Quotes
"Prayer lays hold of God's plan and becomes the link between his will and its accomplishment on earth. Amazing things happen, and we are given the privilege of being the channels of the Holy Spirit's prayer." – Elisabeth Elliot
"If you believe in prayer at all, expect God to hear you. If you do not expect, you will not have. God will not hear you unless you believe He will hear you; but if you believe He will, He will be as good as your faith." – Charles Spurgeon
Good Night Prayer Quotes
"Prayer makes a godly man, and puts within him the mind of Christ, the mind of humility, of self-surrender, of service, of pity, and of prayer. If we really pray, we will become more like God, or else we will quit praying." – E.M. Bounds
"Our prayers may be awkward. Our attempts may be feeble. But since the power of prayer is in the one who hears it and not in the one who says it, our prayers do make a difference." – Max Lucado
Thankful Good Night Prayer Quotes
"True prayer is a way of life, not just for use in cases of emergency. Make it a habit, and when the need arises you will be in practice." – Billy Graham
"Prayer should not be regarded as a duty which must be performed, but rather as a privilege to be enjoyed, a rare delight that is always revealing some new beauty." – E.M. Bounds
"God can handle your doubt, anger, fear, grief, confusion, and questions. You can bring everything to him in prayer." – Rick Warren
Inspirational Quotes About Prayer
"I have been driven many times upon my knees by the overwhelming conviction that I had no where else to go. My own wisdom and that of all about me seemed insufficient for that day."
― Abraham Lincoln
"Why must people kneel down to pray? If I really wanted to pray I'll tell you what I'd do. I'd go out into a great big field all alone or in the deep, deep woods and I'd look up into the sky—up—up—up—into that lovely blue sky that looks as if there was no end to its blueness. And then I'd just feel a prayer."
― L.M. Montgomery, Anne of Green Gables
Inspirational Quotes of Prayer
"Prayers outlive the lives of those who uttered them; outlive a generation, outlive an age, outlive a world." – E.M Bounds
"Prayer delights God's ear; it melts His heart." – Thomas Watson
"Prayer is not asking. Prayer is putting oneself in the hands of God, at His disposition, and listening to His voice in the depth of our hearts."
― Mother Teresa
Inspirational Quotes on Prayer
"Let us never forget to pray. God lives. He is near. He is real. He is not only aware of us but cares for us. He is our Father. He is accessible to all who will seek Him."
― Gordon B. Hinckley, Standing for Something: 10 Neglected Virtues That Will Heal Our Hearts and Homes
"It is possible to move men, through God, by prayer alone." – Hudson Taylor
"To get nations back on their feet, we must first get down on our knees." – Billy Graham
"Prayer is not monologue, but dialogue; God's voice is its most essential part. Listening to God's voice is the secret of the assurance that He will listen to mine." – Andrew Murray
"Do not pray for an easy life, pray for the strength to endure a difficult one"
― Bruce Lee
Inspirational Quotes for Prayer
"Forgive me my nonsense as I also forgive the nonsense of those who think they talk sense."
― Robert Frost
"To desire revival… and at the same time to neglect (personal) prayer and devotion is to wish one way and walk another." – A.W. Tozer
"I saw more clearly than ever, that the first great and primary business to which I ought to attend every day was, to have my soul happy in the Lord." – George Mueller
"The function of prayer is not to influence God, but rather to change the nature of the one who prays."
― Soren Kierkegaard
Pray for Good Health Quotes
"Our praying, however, needs to be pressed and pursued with an energy that never tires, a persistency which will not be denied, and a courage which never fails." – E. M. Bounds
"Prayer is not asking. It is a longing of the soul. It is daily admission of one's weakness. It is better in prayer to have a heart without words than words without a heart."
― Mahatma Gandhi
What Is a Good Short Prayers?
There is no definitive answer to this question as it depends on individual preferences and beliefs. Some people might find traditional prayers to be suitable, while others might prefer more modern or personalised ones. Ultimately, the best short prayers are those that offer comfort, hope and strength in times of need.
What Are the Best Inspirational Quotes?
There are many inspirational quotes that can motivate and encourage people. Some of the best ones are:
"The best way to find out if you can trust somebody is to trust them." -Ernest Hemingway
"It is never too late to be what you might have been." -George Eliot
"Don't judge each day by the harvest you reap but by the seeds you plant." -Robert Louis Stevenson
"You can't help everyone, but everyone can help someone." -Ronald Reagan
"No one can make you feel inferior without your consent." -Eleanor Roosevelt
"Believe you can and you're halfway there." -Theodore Roosevelt
"What lies behind us and what lies before us are tiny matters compared to what lies within us." -Ralph Waldo Emerson
"Everything you've ever wanted is on the other side of fear." –George Addair
How Do You Say Powerful Prayer?
There is no one answer to this question as everyone's understanding and practice of prayer is unique. However, some tips on how to say powerful prayer may include being specific in what you are asking for, having faith that your prayers will be answered, and being persistent in your practice. Additionally, it is important to be humble and thankful in your prayer, as this can help to open your heart and mind to receiving guidance and strength from a higher power. Ultimately, the most important thing is to listen to your heart and follow its guidance on how to pray.
What Are Some Powerful Prayers?
Prayer is an incredibly powerful tool that can help us to connect with our higher power, whatever that may be. There are many different types of prayers, and each one can be used in different situations. Some powerful prayers that can be used in times of need are as follows:
"Dear God, please help me to find the strength to get through this difficult time. I am feeling so lost and alone right now, and I need your guidance. Please help me to find the courage to face whatever challenges lie ahead. Thank you for always being there for me. Amen."
" Heavenly Father, I come to you in prayer asking for strength and wisdom. I am feeling so overwhelmed right now and I need your help. Please give me the guidance I need to make the decisions that are best for me and my family. I thank you for your loving care and protection. Amen."
"Lord, I come to you feeling broken and lost. I need your healing touch in my life right now. Please help me to let go of the pain and hurt that I am holding onto. I need your love and light in my life. Thank you for being my constant source of strength. Amen."
The blog post "Best Quotes for Prayer" is a great resource for anyone looking for inspiration or motivation when it comes to prayer. The quotes provide a deep insight into the power of prayer and its ability to change lives.