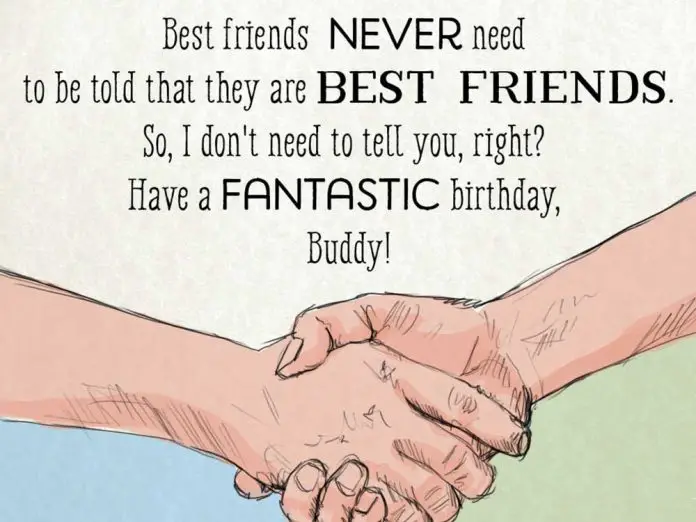 If your best friend is celebrating his birthday soon, you need to make them feel special on that day. Yes, you can buy them gifts and organize a party for them, but that may not be enough to make them feel loved and appreciated.  You can make them feel more special by sending them a happy birthday message. Read on to learn some of the best birthday quotes for best friend you can include in your happy birthday message.
"Happy birthday to someone who is smart, gorgeous, funny and reminds me a lot of myself… from one fabulous chick to another!"
"You are only young once, but you can be immature for a lifetime. Happy birthday!"
"Happy birthday to someone who is forever young!"
"As you get older three things happen. The first is your memory goes, and I can't remember the other two. Happy birthday!"
"Just wanted to be the first one to wish you happy birthday so I can feel superior to your other well-wishers. So, happy birthday!"
"Wishing you a beautiful day with good health and happiness forever. Happy birthday!"
"I am blessed to have a buddy like you. Happy birthday, dear friend. May your special day be loaded with happiness and love."
"On this wonderful day, I wish you the best that life has to offer! Happy birthday!"
"I wish for all of your wishes to come true. Happy birthday!"
"Sending you a birthday wish wrapped with all my love. Have a very happy birthday!"
"Hope your birthday is just like you…totally freaking awesome."
"A simple celebration, a gathering of friends; here wishing you great happiness and a joy that never ends."
"Happy birthday to one of my best friends. Here's to another year of laughing at our own jokes and keeping each other sane! Love you and happy birthday!"
"You look younger than ever! Happy birthday!"
"Everybody has birthdays. You just wear yours better than most!"
"I hope that today, at your party, you dance and others sing as you celebrate with joy your best birthday."
"Best wishes on your birthday! May you have maximum fun today, and minimum hangover tomorrow!"
"Hey Birthday Boy! I'm sending you this ironic birthday wish because I know you're way too cool for ordinary human sentiments."
"Few women admit their age. Few men act theirs." — John Glenn
"Count your age by friends, not years. Count your life by smiles, not tears." — John Lennon
"You can live to be a hundred if you give up all the things that make you want to live to be a hundred." Woody Allen
"As you get older, three things happen: The first is your memory goes, and I can't remember the other two." — Norman Wisdom
"Life really does begin at forty. Up until then, you are just doing research." — Carl Gustav Jung
"My life is better with every year of living it." — Rachel Maddow
"Old age is like everything else. To make a success of it, you've got to start young." — Fred Astaire
"Birthdays are nature's way of telling us to eat more cake." – Edward Morykwas
"A birthday is like a new year and my wish for you, is a great year full of happiness and sunshine!"  – Catherine Pulsifer
"Today is the oldest you have been, and the youngest you will ever be. Make the most of it!" – Nicky Gumbel
"Your age isn't you. Use today to feel your best, celebrate and be your very happiest." — M. Rivers
"We turn not older with years, but newer every day." – Emily Dickinson
"You know you're getting old when the candles cost more than the cake." — Bob Hope
"A birth-date is a reminder to celebrate the life as well as to update the life." — Amit Kalantri
"To me, old age is always 15 years older than I am." — Bernard Baruch
"A birthday is not a day to fear. It is a day to celebrate and look forward to the coming year." —Byron Pulsifer
"The way I see it, you should live everyday like it's your birthday." — Paris Hilton
"The old believe everything; the middle-aged suspect everything; the young know everything." — Oscar Wilde
"Everything I know I learned after I was 30." — Georges Clemenceau
"The secret of staying young is to live honestly, eat slowly, and lie about your age." — Lucille Ball
"Put candles in a cake, it's a birthday cake. Put candles in a pie, and somebody's drunk in the kitchen." – Jim Gaffigan
"Old age is like a plane flying through a storm. Once you are aboard, there is nothing you can do about it." — Golda Meir
"Youth has no age." — Pablo Picasso
"Please don't retouch my wrinkles. It took me so long to earn them." — Anna Magnani
"If we could be twice young and twice old we could correct all our mistakes." – Euripides
"I still think of myself as I was 25 years ago. Then I look in a mirror and see an old bastard and I realize it's me." – Dave Allen
"Age is a case of mind over matter. If you don't mind, it don't matter." — Satchel Paige
"Just remember, once you're over the hill you begin to pick up speed." — Charles Schulz
"Life is a moderately good play with a badly written third act." – Truman Capote
"Every birthday is a gift. Every day is a gift." — Aretha Franklin
"Time flies like an arrow. Fruit flies like a banana." – Groucho Marx
"One of the shocks of a 50th birthday is realizing the fundamental fact that your youth is irrevocably over." — Marianne Williamson
"Cherish all your happy moments; they make a fine cushion for old age." — Booth Tarkington
"Whatever with the past has gone, the best is always yet to come." — Lucy Larcom
"We are always the same age inside." – Gertrude Stein
"Every age can be enchanting, provided you live within it." — Brigitte Bardot
"There is still no cure for the common birthday." — John Glenn
"You were born an original. Don't die a copy." — John Mason
"To my surprise, my 70s are nicer than my 60s and my 60s than my 50s, and I wouldn't wish my teens and 20s on my enemies." — Lionel Blue
"The older you get the better you get, unless you are a banana." – Betty White
"You know you're getting old when you get that one candle on the cake. It's like, 'See if you can blow this out." — Jerry Seinfeld
"My policy on cake is pro having it and pro eating it." – Boris Johnson
"Don't regret another birthday, the good news is that you are alive and can celebrate it." – Catherine Pulsifer
"Life is too short to be small." — Benjamin Disraeli
"When the candles on your cake burn down before they are all lit you know you are getting up there." – Catherine Pulsifer
"We don't stop playing because we grow old; we grow old because we stop playing." — George Bernard Shaw
"No wise man ever wished to be younger." — Jonathan Swift
"Like many women my age, I am 28 years old." — Mary Schmich
"To me a birthday means celebrating the presence of an individual in our lives." – Meena Bajaj
"The only thing better than singing is more singing." — Ella Fitzgerald
"Old age deprives the intelligent man only of qualities useless to wisdom."  – Joseph Joubert
"Today you are you! That is truer than true! There is no one alive who is you-er than you!" — Dr. Seuss
"Middle age is when you still believe you'll feel better in the morning." — Bob Hope
It's advisable to make your best friend feel special, especially on their birthday. You can buy them a special gift, and spend time together on the special day. In addition, you should send them a unique happy birthday message full of love, wisdom and appreciation. And best birthday quotes for best friend above will serve the trick.