32 Best Positive Birthday Quotes
It's always nice to start the day with a smile, and what better way to do that than with some positive birthday quotes? Whether you're looking for quotes to share with your friends or family, or just want some inspiration for your own birthday, these positive quotes are sure to do the trick.
A birthday is a special day when a person celebrates the anniversary of their birth. Birthdays are usually celebrated with a party, gifts, and a cake.
Looking for some inspiration for your next birthday card? Check out our collection of positive birthday quotes! From funny to heartwarming, we've got you covered.
31+ Best Positive Birthday Quotes
"Count your life by smiles, not tears. Count your age by friends, not years. Happy birthday!"
"Age is a high price to pay for maturity." ~ Tom Stoppard
"To know how to grow old is the masterwork of wisdom, and one of the most difficult chapters in the great art of living." ~ Henri Frederic Amiel
"Happy birthday! I hope all your birthday wishes and dreams come true."
"A wish for you on your birthday, whatever you ask may you receive, whatever you seek may you find, whatever you wish may it be fulfilled on your birthday and always. Happy birthday!"
Positive Birthday Quotes for Myself
"Years wrinkle the skin, but to give up enthusiasm wrinkles the soul." ~ Douglas MacArthur
"The best way to remember your wife's birthday is to forget it once" ~ Cossman
" Another adventure filled year awaits you. Welcome it by celebrating your birthday with pomp and splendor. Wishing you a very happy and fun-filled birthday!"
"May the joy that you have spread in the past come back to you on this day. Wishing you a very happy birthday!"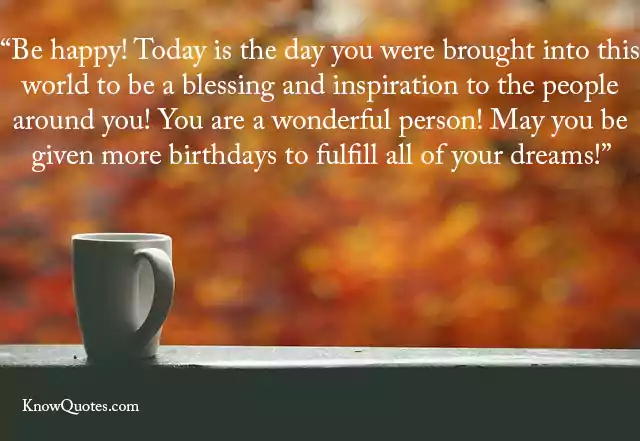 Positive Birthday Quotes for Friend
"Growing old is mandatory; growing up is optional." ~ Chili Davis
"Whatever with the past has gone, The best is always yet to come." ~ Lucy Larcom
"Happy birthday! Your life is just about to pick up speed and blast off into the stratosphere. Wear a seat belt and be sure to enjoy the journey. Happy birthday!"
"This birthday, I wish you abundant happiness and love. May all your dreams turn into reality and may lady luck visit your home today. Happy birthday to one of the sweetest people I've ever known."
Positive Birthday Quotes for Sister
You don't get older, you get better. ~ Shirley Bassey
"Don't just count your years, make your years count." ~ George Meredith
"May you be gifted with life's biggest joys and never-ending bliss. After all, you yourself are a gift to earth, so you deserve the best. Happy birthday."
"Count not the candles…see the lights they give. Count not the years, but the life you live. Wishing you a wonderful time ahead. Happy birthday."
"The great thing about getting older is that you don't lose all the other ages you've been." ~ Madeleine L'Engle
Short Positive Birthday Quotes
"Forget the past; look forward to the future, for the best things are yet to come."
"Birthdays are a new start, a fresh beginning and a time to pursue new endeavors with new goals. Move forward with confidence and courage. You are a very special person. May today and all of your days be amazing!"
"Your birthday is the first day of another 365-day journey. Be the shining thread in the beautiful tapestry of the world to make this year the best ever. Enjoy the ride."
"When you wake up every day, it's like a new birthday: it's a new chance to be great again and make great decisions." ~ Poo Bear
Inspirational Birthday Quotes for Myself
"The more you praise and celebrate your life, the more there is in life to celebrate." ~ Oprah Winfrey
"Be happy! Today is the day you were brought into this world to be a blessing and inspiration to the people around you! You are a wonderful person! May you be given more birthdays to fulfill all of your dreams!"
"Today, be aware of how you are spending your 86400 beautiful moments and spend them mindfully – The true Mindful Birthday " ~ Invajy
Inspirational 50th Birthday Quotes
"We have to be able to grow up. Our wrinkles are our medals of the passage of life. They are what we have been through and who we want to be." ~ Lauren Hutton
"Our birthdays are feathers in the broad wing of time." ~ Jean Paul
"There are two great days in a person's life – the day we are born and the day we discover why." ~ William Barclay
Birthday Success Wishes
"It's sad to grow old, but nice to ripen." – Brigitte Bardot
"Celebrate your birthday with gratitude, kindness, and compassion to give a good reason for your existence in this world. Happy birthday !!! " ~ Invajy
"Cherish all your happy moments; they make a fine cushion for old age." ~ Booth Tarkington
"Count your age by friends, not years. Count your life by smiles, not tears."  ~ John Lennon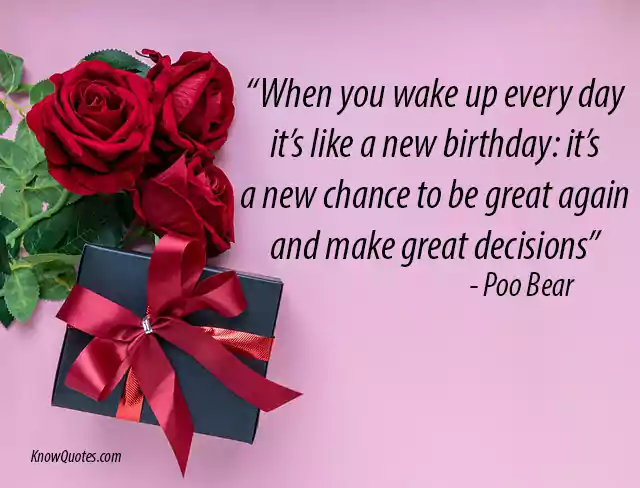 What Is a Good Birthday Quote?
A good birthday quote is something that is memorable and speaks to the person's character. It should be something that the person can look back on and laugh or feel inspired by. There are many great birthday quotes out there, so it really depends on what the person's personality is like and what they are looking for in a quote. Some of my favorites include:
"The best way to celebrate your birthday is to do something for someone else." – Unknown
"Your birthday is a special time to celebrate the gift of 'you' to the world." – Unknown
"On your birthday, I hope you are surrounded by all the people you love and all the things you love to do." – Unknown
How Do You Wish an Inspirational Birthday?
It's always nice to receive birthday wishes that are inspirational. Whether they come from a close friend, family member, or co-worker, these types of wishes can brighten up anyone's day. If you're wondering how to wish someone an inspirational birthday, here are a few examples:
"Wishing you all the best on your special day!"
"May your birthday be the start of a wonderful year full of joy and happiness!"
"I hope your birthday is as amazing as you are!"
What's a Positive Quote for Today?
A positive quote for today is "The best way to find out if you can trust somebody is to trust them." –Ernest Hemingway. This quote is important because it reminds us that the best way to build trust is to first trust others. When we trust others, we are more likely to receive trust in return. This creates a positive cycle of trust that can lead to strong relationships and successful endeavors.
What Is the Unique Message for Birthday?
The unique message for birthday is to be grateful for the gift of life. Birthdays are a time to celebrate life and to be thankful for the many blessings that we have been given. It is a time to reflect on the past year and to set goals for the coming year. It is also a time to show our loved ones how much we care about them.
The blog post provides a great collection of positive birthday quotes that can inspire anyone on their special day. The quotes range from famous authors and celebrities to everyday people, and each one has something uplifting to say about birthdays. Whether you're looking for a quote to include in a birthday card or simply want to feel inspired on your own special day, this blog post is a great resource.