Depression is a serious mental health condition that can have a profound effect on every aspect of a person's life. While there are many effective treatments for depression, the condition can still be very difficult to deal with on a day-to-day basis.
One way that people often deal with depression is by reading or listening to quotes about depression. These quotes can provide comfort, hope, and inspiration to people who are struggling with depression. In this article, we will share some of our favorite depression quotes.
Depression is a state of low mood and aversion to activity that can affect a person's thoughts, behavior, feelings, and physical well–being. It may occur in episodes or as a chronic condition.
Looking for some words of wisdom on depression? Check out our collection of depression quotes from famous authors, celebrities, and more.
Depression Quotes
"If you've been up all night and cried till you have no more tears left in you – you will know that there comes in the end a sort of quietness. You feel as if nothing is ever going to happen again." – C.S. Lewis
"I have never seen battles quite as terrifyingly beautiful as the ones I fight when my mind splinters and races, to swallow me into my own madness, again."
― Nicole Lyons, Hush
"What if I just want to die?"
"Then I will be sad and disappointed that you cheated yourself out of your chance at existence. Not all of us have that opportunity, you know, to choose life."
― Megan Bostic, Never Eighteen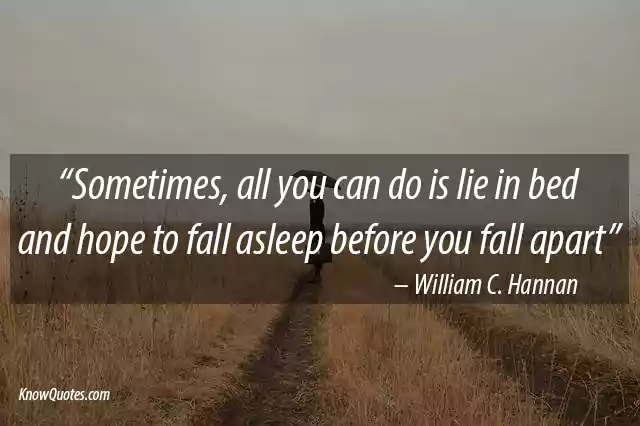 Depression Quotes Life
"You are allowed to feel messed up and inside out. It doesn't mean you're defective – it just means you're human." – David Mitchell
"I wish people could understand that the brain is the most important organ of our body. Just because you can't see mental illness like you could see a broken bone, doesn't mean it's not as detrimental or devastating to a family or an individual." – Demi Lovato
"Depression weighs you down like a rock in a river. You don't stand a chance. You can fight and pray and hope you have the strength to swim, but sometimes, you have to let yourself sink. Because you'll never know true happiness until someone or something pulls you back out of that river–and you'll never believe it until you realize it was you, yourself who saved you."
― Alysha Speer
Depression Quotes on Life
"She's battling things her smile will never tell you about." – Jonny Ox
"People cry, not because they're weak. It's because they've been strong too long." – Johnny Depp
"Mental pain is less dramatic than physical pain, but it is more common and also more hard to bear. The frequent attempt to conceal mental pain increases the burden: it is easier to say "My tooth is aching" than to say "My heart is broken."
― C.S. Lewis, The Problem of Pain
"If you want to conquer the anxiety of life, live in the moment, live in the breath."
― Amit Ray, Om Chanting and Meditation
Depression Quotes About Life
"I think the saddest people always try their hardest to make people happy. Because they know what it's like to feel absolutely worthless and they don't want anybody else to feel like that." – Robin Williams
"What we don't need in the midst of struggle is shame for being human." – Brene Brown
"Whenever you read a cancer booklet or website or whatever, they always list depression among the side effects of cancer. But, in fact, depression is not a side effect of cancer. Depression is a side effect of dying."
― John Green, The Fault in Our Stars
"That's the thing about depression: A human being can survive almost anything, as long as she sees the end in sight. But depression is so insidious, and it compounds daily, that it's impossible to ever see the end."
― Elizabeth Wurtzel, Prozac Nation
Depression Quotes Short
"Sometimes, all you can do is lie in bed, and hope to fall asleep before you fall apart." – William C. Hannan
"People in therapy are often in therapy to deal with the people in their lives who won't go to therapy." – Unknown
"There are wounds that never show on the body that are deeper and more hurtful than anything that bleeds."
― Laurell K. Hamilton, Mistral's Kiss
"Never give up on someone with a mental illness. When "I' is replaced by "we," illness becomes wellness." – Shannon L. Alder
"Every man has his secret sorrows which the world knows not; and often times we call a man cold when he is only sad."
― Henry Wadsworth Longfellow
Depression Quotes Deep
"I didn't want to wake up. I was having a much better time asleep. And that's really sad. It was almost like a reverse nightmare, like when you wake up from a nightmare you're so relieved. I woke up into a nightmare."
― Ned Vizzini, It's Kind of a Funny Story
What Are Some Depressing Sayings?
There are many depressing sayings that people use to describe their lives or how they are feeling. Some common depressing sayings include "my life is a mess," "I'm a failure," "I'm not good enough," and "I'm so alone." These sayings are often used by people who are struggling with depression, anxiety, or other mental health issues. If you are feeling down, it is important to reach out for help from a friend, family member, therapist, or other professional.
Can You Give Me a Quote About Depression?
There are many different ways to talk about depression, but one of the most common ways is to think of it as a serious medical condition that can negatively impact a person's life in many different ways. Depression is more than just feeling down or sad for a period of time, it is a complex condition that can interfere with a person's ability to work, sleep, eat, and enjoy activities that they once found pleasurable. Symptoms of depression can include changes in appetite, weight, sleep patterns, fatigue, concentration, and feelings of hopelessness or worthlessness. If you or someone you know is experiencing these symptoms, it is important to reach out to a mental health professional for help.
What Are at Least 3 Signs That a Person May Be Experiencing Depression?
There are a number of signs that a person may be experiencing depression. These can include feeling persistently sad or down, losing interest in activities that were previously enjoyed, experiencing changes in appetite or sleep patterns, feeling tired and sluggish, and having difficulty concentrating. Other signs may include feeling hopeless, worthless, or guilty, and having thoughts of self–harm or suicide. If you are concerned that someone you know may be depressed, it is important to reach out and talk to them about it.
What Is the Message of Depression?
Depression is a mental illness that can cause a person to feel extremely sad, hopeless, and helpless. It is important to remember that depression is a real illness that requires treatment. There are many different ways to treat depression, and it is important to work with a mental health professional to figure out what treatment plan is right for you. The most important thing is to not give up hope. Recovery from depression is possible.
The blog post "Depression Quotes" is a collection of quotes about depression. The quotes come from a variety of sources, including famous people, professionals, and everyday people. The quotes offer different perspectives on depression, and provide encouragement and hope for those who are struggling with the condition.