It's no secret that families can be a source of both love and anxiety. In times of stress, it's easy to feel like we're alone in our struggles. These Family Issues Quotes provide words of wisdom and comfort to help us through the tough times.
Looking for some inspiration on how to deal with family issues? Check out our collection of Family Issues Quotes and relationships.
Family Issues Quotes
"I know when my life is over my writings will live on, perhaps in a story or maybe a sweet love song. You see, I do not write for glory or to get anything for free. I just sit down and I write, because it makes so much sense to me."
― Terri F. Williams, Momma's Love
"I wonder why I feel treated like an enemy in a place where I am supposed to be welcome." – Unknown
"Family is supposed to be our safe haven, But very often it is the place where we find the deepest heartaches." – Iyanla Vanzant                                                                 
"We're a very close family and we're a very real family, and I think every real family has real problems." – Emilio Estevez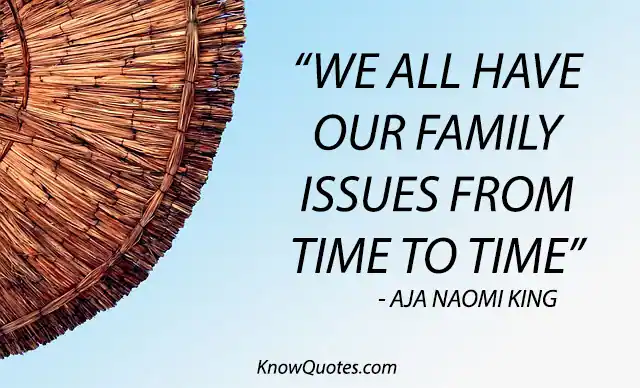 Family Issues Quotes and Sayings
"Sometimes problems don't require a solution to solve them; instead they require maturity to outgrow them." – Steve Maraboli
"I'm simply waiting for him to realize he's pushing the wrong parent away."
"And I'm waiting for him to realize that neither of his parents deserve him!"
― Shannon Messenger, Nightfall
"Some people aren't meant to stay in your life. But, that doesn't mean you can't carry a piece of them in your heart."
― Jill Shalvis, Lost and Found Sisters
Dealing With Family Issues Quotes
"He was a chicken in the outside world that turned into a lion on entering the house."
― Pawan Mishra, Coinman: An Untold Conspiracy
"It doesn't matter what kinds of problems a family is having. It should always stay in the family." Scott Weiland.
"We all have our family issues from time to time." Aja Naomi King.
"One of the most courageous decisions you will ever make is to finally let go of what is hurting your heart and soul." Brigitte Nicole.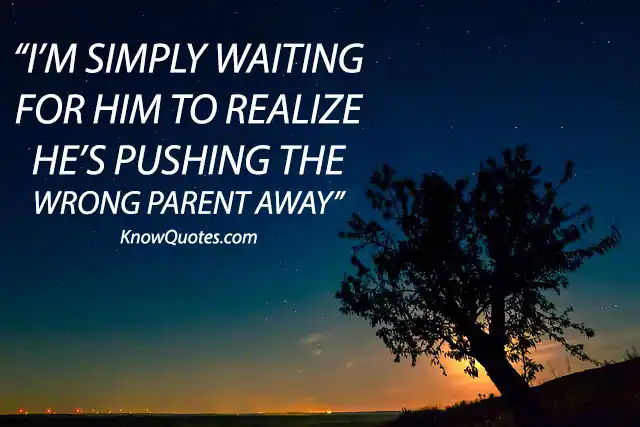 Family Problems Quotes
"Family problems are one of the worst problems; try to fix it as soon as possible." – Unknown
"He was such a beautiful baby, and so placid. Then he grew up. It was an unfortunate development."
― K.Z. Snow, Visible Friend
"In a letter to Yaqub, Rania wrote what no one dared to say. She reminded him that vengeance is more pathetic than forgiveness. Hadn't he had his revenge when he buried his mother's dreams? She wrote that he, Yaqub, the resentful, the rejected, was also the more brutish and violent of the two, and he would be judged for that."
― Fábio Moon, Two Brothers
Small Quotes About Family
"We live in a time when we have a communal duty to receive and broadcast love. We must set aside our repeating arguments and get a handle on our destructive depressions.
pg vi"― Michael Ben Zehabe, Song of Songs: The Book for Daughters
"I cannot let anything be her fault, even if it was. Especially if it was." Blythe Baird.
"Perhaps nothing so accurately characterizes dysfunctional families as a denial." John Bradshaw.
"Not everything that can be faced can be changed but nothing can be changed until it's faced." James Baldwin.
Quotes About Family Issues
"This is a simple study. Yet, you can use this book to see deeper into the personality of God. I find it heartwarming that God was like a concerned parent who continuously moved the dialogue forward. Notice that Jonah was like a rebellious and headstrong son committing an idolatry of law over justice."
― Michael Ben Zehabe, A Commentary on Jonah
"Children are not born for the benefit of their parents, neither are they the property of their family. Children belong to the future." Anthon St. Maarten.
"Lancaster family dynamics continue to pass my wildest definitions of dysfunctional." Hannah Capin.
Family Problem Fake Family Quotes
"This is proof that she cares about something; it doesn't always have to be me." Blythe Baird.
"God forces us to quantify our religious tenants by measuring them against the family problems they solve. If your religious beliefs aren't solving family problems then something is broke–and it can be fixed.
pg iv"
― Michael Ben Zehabe, Song of Songs: The Book for Daughters
"There will always be troublesome relatives or in-laws who will want to make your life difficult for no reason." Trials and tests.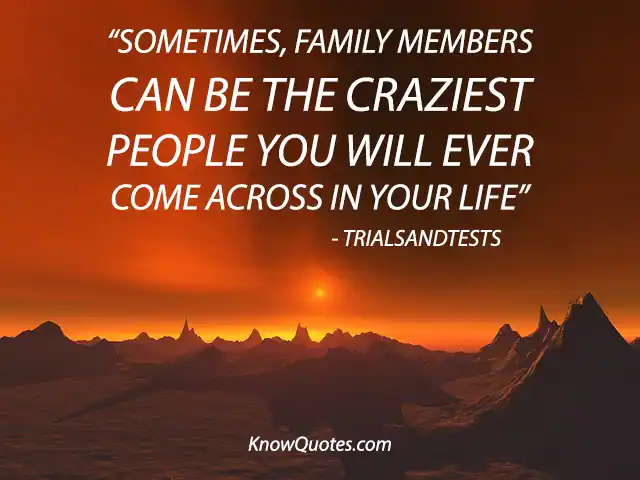 Quotes on Family Issues
"Being there for each other during the toughest times is what makes families stronger than ever before." Trials and tests.
"Family problems only become problems if left unresolved." Trials and tests.
"Every family has its own Gethsemane it has to endure." Trials and tests.
"The happy family is a myth for many." Carolyn Spring.
"Love them and support them whenever necessary but don't let their drama affect your livelihood." Trials and tests.
Quotes for Family Issues
"Sadly, some family members just want to see you as miserable as they are." Trials and tests.
"Sometimes, family members can be the craziest people you will ever come across in your life."Trialsandtests.
"All families have issues but those that stick together despite them are a true and strong family." Trials and tests.
What Are the Problems in Family?
There are many problems that families can face. Some of these problems include communication problems, financial problems, parenting problems, and marital problems. Communication problems can arise when family members are not able to effectively communicate with each other. This can lead to misunderstandings and conflict. Financial problems can occur when one or more family members are not able to manage their finances properly. This can cause stress and conflict within the family. Parenting problems can arise when parents are not able to provide adequate care for their children. This can lead to behavioral problems in children and conflict between parents and children. Marital problems can occur when couples are not able to get along with each other. This can lead to conflict, tension, and even divorce.
What Is the Best Family Quote?
There are many wonderful family quotes out there but my personal favorite is "Family is not an important thing. It's everything." – Michael J. Fox. This quote really resonates with me because family is the most important thing in my life. Without my family, I would be lost.
How Do I Deal With Family Issues?
There's no one answer to this question since family issues can vary so much in nature. However, some tips on how to deal with family issues might include: open communication, being willing to compromise, and respecting each other's boundaries. Other ways of dealing with family issues will likely vary depending on the specific situation.
How Do You Fix Broken Family Quotes?
There is no one–size–fits–all answer to this question. Every family is different, and what works for one may not work for another. However, there are some general principles that can be followed in order to repair broken family relationships. These include things like communication, patience, understanding, and forgiveness. By following these principles, it is possible to start rebuilding the broken bonds within a family.
Family Issues Quotes explores the various ways in which families can be problematic for one another. The author provides a number of quotes about families, both positive and negative. Ultimately, the author concludes that families can be both a source of love and support, and a source of conflict and stress.