55 Best Inspirational Soccer Quotes
Soccer is a sport that is enjoyed by people of all ages and abilities. Whether you are a casual player or a professional, soccer can provide a great source of inspiration. There are many famous soccer quotes that can motivate and encourage you to achieve your goals. In this blog post, we will share some of our favorite inspirational soccer quotes. We hope that these quotes will inspire you to reach your full potential on and off the soccer field.
Soccer is a game played by two teams of eleven players with a round, inflated ball. The game is played on a field of grass or artificial turf, with a goal in the center of each of the short ends. The object of the game is to score by getting the ball into the other team's goal.
Looking for some inspiration on the soccer field? Check out our collection of inspirational soccer quotes from some of the game's greatest players!
54+ Best Inspirational Soccer Quotes
"You can overcome anything, if, and only if, you love something enough." – Lionel Messi
"The secret is to believe in your dreams; in your potential that you can be like your star. Keep searching, keep believing and don't lose faith in yourself."  – Neymar Jr.
"A great soccer player is never content with their performance" – Alex Morgan
"We must always set the bar high — otherwise we do not progress." – Kylian Mbappe
"Always believe in your ability and in your goals. This is the only way you will be able to reach them." – Mohamed Salah
"I always want to become better. If never being satisfied is a problem, then I have it." – Zlatan Ibrahimovic
Football Inspirational Quotes
"Soccer players with goals succeed because they know where they're going."
"Somewhere behind the athlete you've become, and the hours of practice, and the coaches who have pushed you, is a little girl who fell in love with the game and never looked back. Play for her."
"When I say I want to become a legend, some people say it's pretentious. For me, it's a challenge — my desire, my dream. I'm not saying I'll get there, but it's what I want." – Paul Pogba
"Words can come and go. Your acts are going to speak for themselves." – Javier "Chicharito" Hernandez
"Don't just make the team. Make the team better."
"I learned all about life with a ball at my feet." – Ronaldinho
"God gives gifts to everyone, some can write, some can dance. He gave me the skill to play (soccer) and I am making the most of it" – Ronaldinho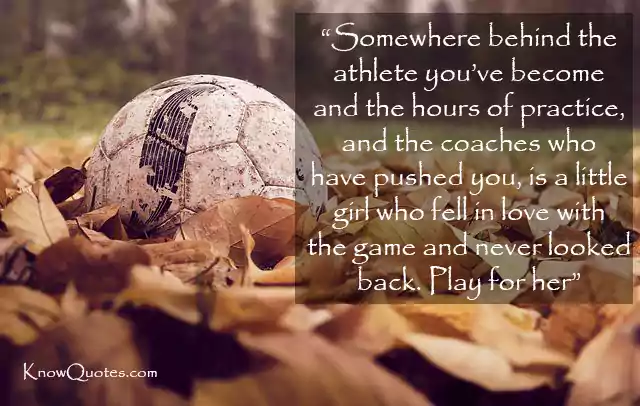 Motivational Football Quotes
"No one is going to remember a second-place team." – Carli Lloyd
"Keep dreaming, even when people laugh at your dreams or tell you that they are impossible to achieve. Keep believing in yourself." – Tobin Heath
"The wonderful thing about soccer is, a football is a perfectly round object, and it doesn't make mistakes. The player using it makes mistakes. And the more you use it, the less mistakes you make." – Craig Johnston
"I am a member of the team, and I rely on the team. I defer to it and sacrifice for it because team, not the individual, is the ultimate champion." – Mia Hamm
"Always work hard, never give up, and fight until the end because it's never really over until the whistle blows."
Inspirational Quotes About Soccer
"Everything happens for a reason, if you work hard for it."  – Julie Ertz
"Keep working even when no one is watching." – Alex Morgan
"You can only control two things in your life: your attitude and your work ethic." – Ali Krieger
"The more difficult the victory, the greater the happiness in winning." – Pele
"I am building a fire, and every day I train, I add more fuel. At just the right moment, I light the match." – Mia Hamm
"You can either stick to your goals, or you can just go through the motions and rest on your status. But it's all about work." – Kristine Lilly
"If you go step by step, with confidence, you can go far." – Diego Maradona
"People react to criticism in different ways, and my way is definitely to come out fighting." – David Beckham
Motivational Quotes for Football Athletes
"I think there are a lot of things that soccer does in the communities that transcend the soccer field." – Brandi Denise Chastain
"I don't have time for hobbies. At the end of the day, I treat my job as a hobby. It's something I love doing." – David Beckham
"Life is full of regrets, but it doesn't pay to look back." – Zinedine Zidane
"You can speak about spirit, or you can live it." – Jurgen Klopp
"You cannot lead by following." – Sir Alex Ferguson
"I don't believe skill was, or ever will be, the result of coaches. It is a result of the love affair between the child and the ball."
Motivational Quotes for Football Players
"I learned a long time ago that there is something worse than missing the goal, and that's not pulling the trigger."
"Life is like soccer: you need goals!"
"Teamwork is how ordinary soccer players work together to score and achieve extraordinary goals."
"In soccer, skill is the art of turning limitations into virtues."
"You've got to believe you're going to win." – Peter Shilton
"Those who say it can't be done, shouldn't interfere with those who are doing it." – Billy Eberhart
 "Some people tell me that we professional players are soccer slaves. If this is slavery, then give me a life sentence."
"Some people think soccer is a matter of life and death, but I assure you, it's much more serious than that."
Inspirational Soccer Quotes
"Enthusiasm is everything. It must be taut and vibrating like a guitar string." – Pele
 "Behind every kick of the ball, there has to be a thought." – Dennis Bergkamp
"Once you bid farewell to discipline, you say goodbye to success" – Sir Alex Ferguson
"Every time I step onto the pitch, all my troubles go away. The only thing that matters on the field is the beautiful game."
"Soccer is easy to play if you work hard."
"And one fine day the goddess of the wind kisses the foot of man and from that kiss the soccer idol is born."
"Sometimes it's worth risking it all for a dream only you can see." – Megan Rapinoe
"Take the risk, or lose the chance." – Eden Hazard
"I never tried to hide the fact that my only goal is to be the best." – Cristiano Ronaldo
"You have to fight to reach your dreams. You have to sacrifice and work hard for it." – Lionel Messi
"I've got the heartbeat of a soccer mom."
"I'm attracted to soccer's capacity for beauty. When well played, the game is a dance with a ball."
 "Talent may get you on the pitch, but it's the effort and attitude that will keep you there." – Alex Morgan
"Talent without working hard is nothing." – Cristiano Ronaldo
"That's the mentality – don't just play with it, win it" – Luis Suarez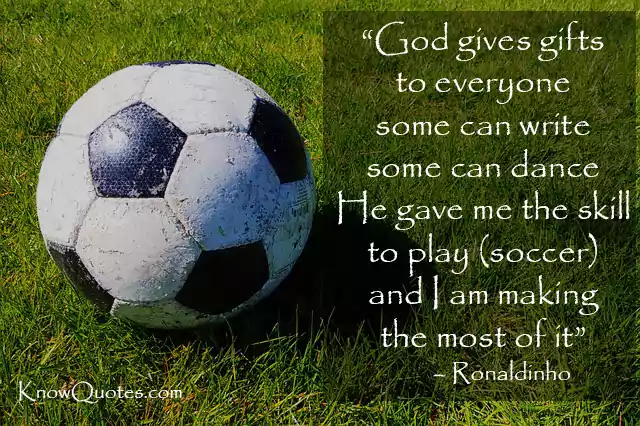 What Are Good Quotes for Soccer?
There are many good quotes for soccer. Some of my favorites include:
"The beautiful game." – Pele
"Soccer is simple, but it is difficult to play simple." – Johan Cruyff
"I'm just happy to be here and have the opportunity to play soccer." – Lionel Messi
"I was born to play soccer." – Cristiano Ronaldo
"Soccer is the ballet of the masses." – Dmitri Shostakovich
What Is the Most Famous Soccer Quote?
The most famous soccer quote is "The Beautiful Game." This quote was first used by Brazilian soccer legend Pele in the 1970s to describe the sport. Soccer is a beautiful game because it is a simple game that can be enjoyed by people of all ages and abilities. The quote has since been used by many other soccer players and fans to describe their love for the game.
What Are Some Famous Football Quotes?
There are many famous football quotes, some of which are:
-"Football is like life-it requires perseverance, self-denial, hard work, sacrifice, dedication and respect for authority."
– Vince Lombardi
-"I would not give a fig for the simplicity this side of complexity, but I would give my life for the simplicity on the other side of complexity."
– Oliver Wendell Holmes
-"The only way to prove that you're a good sport is to lose."
– Ernie Banks
How Do You Compliment a Soccer Player?
Complimenting a soccer player can be easy if you know what to say. Soccer players are some of the most passionate athletes out there, and they put their heart and soul into the sport. When you compliment a soccer player, you should focus on their dedication, their passion, and their willingness to never give up.
This blog post contains a collection of inspirational soccer quotes. The quotes are meant to inspire and motivate players to never give up on their dreams. The author believes that with hard work and dedication, anything is possible. These quotes are a great reminder for players of all levels to stay focused and driven.