30+ Best Inspirational Softball Quotes
Welcome to my blog post about inspirational softball quotes! As a softball player myself, I know how important it is to have motivational words to help get you through tough times on the field. I hope that these quotes provide some inspiration for you the next time you need a little boost!
Softball is a sport similar to baseball, but the ball is larger and softer. The game is played on a smaller field and the pitchers throw underhand. Softball is a popular sport for girls and women of all ages.
Looking for some inspiration on the diamond? Check out our collection of Inspirational Softball Quotes from some of the game's greatest players and coaches.
31 Best Inspirational Softball Quotes
"Softball is for everyone. Fast-pitch is for athletes." – Unknown
"Softball has given me so much in life. It's taught me the kind of person I want to be, and given me a sweet sisterhood. It even led me to my husband." – Jennie Finch
"The true definition of confidence has nothing to do with other people who surround us and statistics on a sheet of paper.  The only place that confidence comes is from inside YOU. Yes, you. Our confidence belongs to us, no one else." – Unknown
"Softball gives girls a chance to show the boys how it's really done." – Unknown
"We play this game (softball) with emotion and love._ Coach always says 'Emotionally, physically, mentally — come to the field prepared.'_ Because if you don't bring that to the field, you're going to get beat." – Laura Berg
Inspirational Softball Quotes Teamwork
"Softball: Where good girls steal." – Unknown
"Growing up, I played softball and I was a cheerleader." –  Carrie Underwood
"This game is about the long run. LIFE is about the long run. Pick successes that can build your confidence over time and stay in the process. There is always light at the end of the tunnel, but you can't see the light if you fall into the trap of all the failures trying to pull you down." – Unknown
"Never let the fear of striking out keep you from playing the game." – Unknown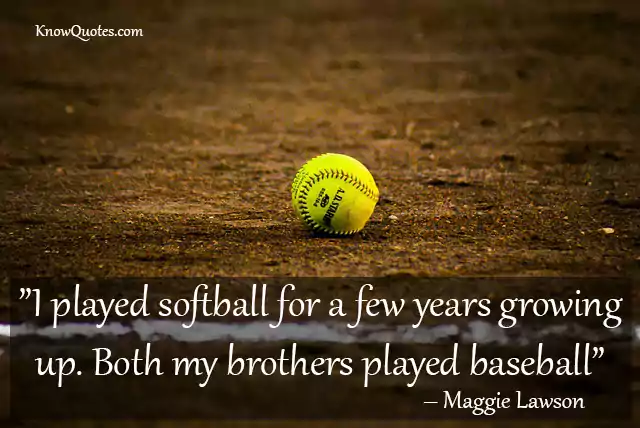 Inspirational Softball Quotes for Catchers
"Sweat dries, blood clots, bones heal, suck it up princess. This is softball." – Unknown
"Softball, it's more than just a game!" – Coach Dave, Sluggers Softball
"Try not to get lost in comparing yourself to others. Discover your gifts and let them shine! Softball is amazing that way as a sport. Everyone on the field has a slightly different ability that makes them perfect for their position." –  Jennie Finch
"When I step into batter's box, the fans, the noise, the cheers, they all disappear. For that moment, the world is just a battle between me and the pitcher. And more than anything, I want to win."  – Mary W.
Short Inspirational Softball Quotes
"If it were easy, they'd call it baseball." – Unknown
"Your body is not made to throw like we throw. That's why you see softball pitchers pitching two or three games a day. It's a natural movement in softball. In baseball it's not a natural movement." – Jamie Moyer
"Softball isn't a one woman sport, there's 11 other girls who become your sisters. And don't forget that you win as a team and lose as a team." – Unknown
"Softball is like love, first you learn the rules of the game, and then you forget the rules and play from your heart." – Unknown
Inspirational Quotes About Softball
"Regardless of how you feel inside, always try to look like a winner. Even if you are behind, a sustained look of control and confidence can give you a mental edge that results in victory." – Arthur Ashe
"I think that certain players are going to approach the game differently. I am more of a quiet person. I like to have more of a focused energy and internal energy whereas some people need to be bouncing off the walls to be ready for the game." – Caitlin Lowe
"It's a game of making great pitches at the right time, being opportunistic by getting a run at the right time and playing good defense. –Mike Candrea
Softball Motivational Quotes
"There is a way to play this game (softball) physically, but it's the mental part that's going to separate gold from silver and silver from bronze." – Lisa Fernandez
"What I love about the game (softball) is that the game doesn't know who is supposed to win." – Sue Enquist
"Never let yesterday's disappointments overshadow tomorrow's dreams." – Allison, West Morgan Softball
"Never let the fear of striking out keep you from playing the game." – Babe Ruth
Motivation Positive Softball Quotes
"Softball is life with the volume turned up, how loud is your game, crank it up!" – Unknown
"The softball gods giveth and the softball gods taketh away, but that evens out over the season." – Yvette Girouard
"I played softball for a few years growing up. Both my brothers played baseball." – Maggie Lawson
"I grew up on the softball field. Every day I would take my glove and my bat with me." – Yoenis Cespedes
Short Softball Quotes
"I am who I am. I'm going to be who I am. And I'm going to give my all to the game in the way that I do it." – Lonni Alameda
"I played softball. I was on an all-star team. I traveled with the team. I loved it." – Elizabeth Banks
"Everybody knows that pitching and defense win championships. It's all about defense. It's that way in pretty much every sport. So if we can pitch and play defense we have a chance at a championship. But you can also win quite a few games by hitting." – Ehren Earleywine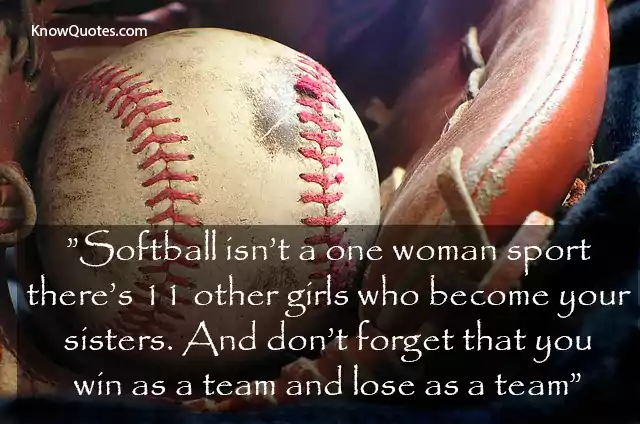 What Are Some Good Softball Quotes?
When it comes to softball, there are a lot of great quotes out there. Here are some of our favorites:
– "Softball is a game of inches. The ball is either out or it isn't."
– "It's not whether you get knocked down, it's whether you get back up."
– "If you don't swing, you can't hit."
– "Never let the fear of striking out get in your way."
– "It's hard to beat a person who never gives up."
– "Always remember, it's just a game."
How Do Softball Players Get Motivated?
There is no one answer to this question as different players have different motivators. However, some common things that can help motivate softball players include setting personal and team goals, focusing on the positive aspects of the game, and maintaining a good attitude both on and off the field. Additionally, players who are struggling to find motivation may benefit from talking to their coach or teammates for support. Ultimately, it is up to each individual player to figure out what motivates them and to use that to their advantage.
What Makes a Great Softball Player?
In order to be a great softball player, you need to have a strong work ethic and be coachable. You also need to have natural talent and be able to play the game with a high level of skill. Additionally, it is important to be a good teammate and have a positive attitude.
What Are the Best Quotes About Life?
There are many great quotes about life that can inspire and motivate us. Here are 10 of the best quotes about life:
1. "The best way to find out what we truly need is to get rid of what we don't" – Marie Kondo.
2. "You don't have to be great to start, but you have to start to be great" – Zig Ziglar.
3. "The only way to do great work is to love what you do" – Steve Jobs.
4. "If you want to live a happy life, tie it to a goal, not to people or things" – Albert Einstein.
5. "Don't be afraid to give up the good to go for the best" –John D. Rockefeller.
6. "I can't change the direction of the wind, but I can adjust my sails to always reach my destination" – Jimmy Dean.
7. "Believe you can and you're halfway there" – Theodore Roosevelt.
8. "You can't help everyone, but everyone can help someone" – Ronald Reagan.
9. "Do what you can, with what you have, where you are" – Theodore Roosevelt.
10. "Life is 10% what happens to us and 90% how we react to it" – Charles R. Swindoll.
This blog post highlights some inspirational softball quotes that can help motivate and encourage players. While winning is always the ultimate goal, these quotes remind us that the journey and the process are just as important. They also emphasize the importance of teamwork and sportsmanship. Whether you're a player, a coach, or a fan, these quotes can provide some valuable perspective.