Jamie Grace is a singer, songwriter, and musician who has Tourette syndrome. Despite her challenges, Jamie Grace has gone on to have a successful career in the music industry. In this blog post, we will be sharing some of our favorite Jamie Grace quotes.
Jamie Grace is a famous singer and songwriter who has released several successful albums. She is known for her unique style of music, which combines elements of pop, R&B, and gospel. Jamie Grace has won numerous awards for her music, and she is also a popular speaker and author.
Find inspiration in these Jamie Grace quotes. As a Christian singer and songwriter, Grace has a lot to say about following your dreams, living your life with purpose, and being grateful for God's blessings.
Jamie Grace Quotes
"When I do something dorky, I blame it on being homeschooled. When I do something brilliant, I blame it on being homeschooled"
― Jamie Grace
"There is a Creator available to all of us, who creates in a way much greater than we could ever could. And when He gives us the privilege to be a part of those designs, we know that we have found our purpose."
― Jamie Grace, Finding Quiet: My Journey to Peace in an Anxious World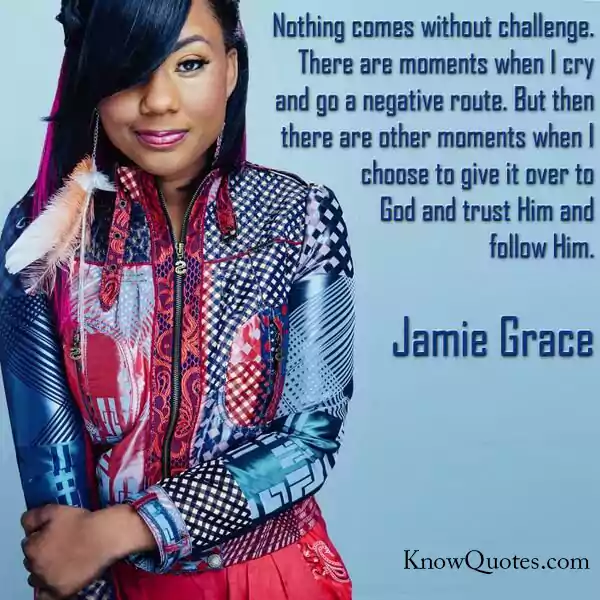 Jamie Grace Hold Me
The past few years have been absolutely incredible and I feel so blessed to have the privilege of sharing even more music. 'Beautiful Day,' although a fun song, has a message saying that in spite of what we're going through, every day is a good day and an incredible gift because God made it. In my young life I've learned that every day can begin with worshipping my Creator.
Jamie Grace
"When we allow our worth and our value to be defined by who we are and Whose we are instead of what other people think about us, we can begin to walk in freedom."
― Jamie Grace, Finding Quiet: My Journey to Peace in an Anxious World
Jamie Grace a Beautiful Day
"It's easy to believe that everything will be okay when everything is okay. It's the moments where we feel like everything is crumbling before us and completely falling apart that faith proves just how powerful it is."
― Jamie Grace, Finding Quiet: My Journey to Peace in an Anxious World
"By choosing to live in the boldness of who I am, I am embracing who God made me to be. My circumstance is a part of my everyday, and I make the choice to embrace that–even if it looks different from what everyone else would expect."
― Jamie Grace, Finding Quiet: My Journey to Peace in an Anxious World
Jamie Grace Beautiful Day
"Where there is breath–there is hope. And that breath doesn't have to be a soft and consistent one. Some days it may be a heavy and burdened one."
― Jamie Grace, Finding Quiet: My Journey to Peace in an Anxious World
Where Is Jamie Grace Now?
Jamie Grace is currently signed with Gotee Records and is working on new music. She has been active on social media, recently posting a cover of "The Middle" by Zedd, Maren Morris, and Grey.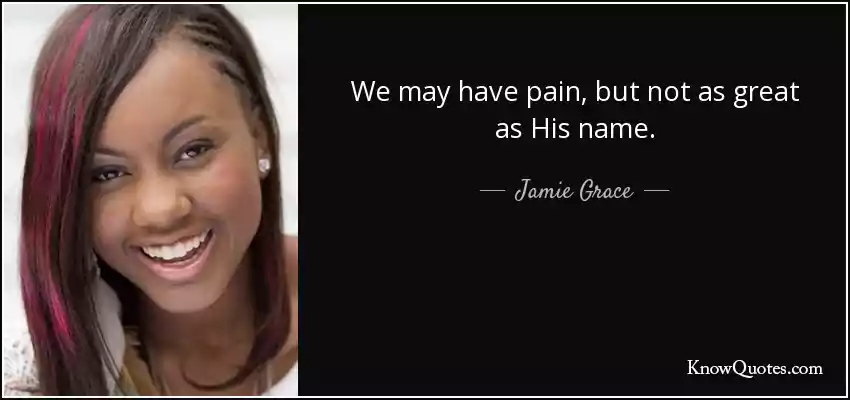 Did Jamie Grace Have a Baby?
Yes, Jamie Grace did have a baby. She gave birth to a beautiful baby girl named Millie on September 9, 2020. Millie is healthy and happy, and Jamie is absolutely thrilled to be a mom. The whole family is enjoying this special time together.
How Old Is Jamie Grace Now?
Jamie Grace is an American singer, songwriter, and actress who is 28 years old as of 2020. She was born on July 23, 1992, in Atlanta, Georgia. Jamie Grace began her musical career in 2010, when she released her debut album, One Song at a Time. She has since released two more albums, Ready to Fly (2012) and Fight Back with Joy (2015). Jamie Grace has also appeared in a number of films and television shows, including the Disney Channel original movie Lemonade Mouth (2011) and the TV series American Idol (2012).
Why Did Jamie Grace Leave Her Record Label?
Jamie Grace is a Contemporary Christian musician who released her debut album in 2011. The album was met with critical and commercial success, and Grace quickly became one of the most popular young artists in the genre. However, in 2014, Grace announced that she was leaving her record label, Gotee Records.
There are a few possible reasons why Grace may have decided to leave her label. One possibility is that she was simply ready to move on to a new chapter in her career. Another possibility is that she may have disagreed with the label on creative or business decisions. Whatever the reason, Grace's departure from Gotee Records was a surprise to many fans.
The blog post provides a collection of Jamie Grace Quotes. The quotes are all about staying positive and grateful, even when life gets tough. The author of the article seems to be a big fan of Jamie Grace, and her positive message.