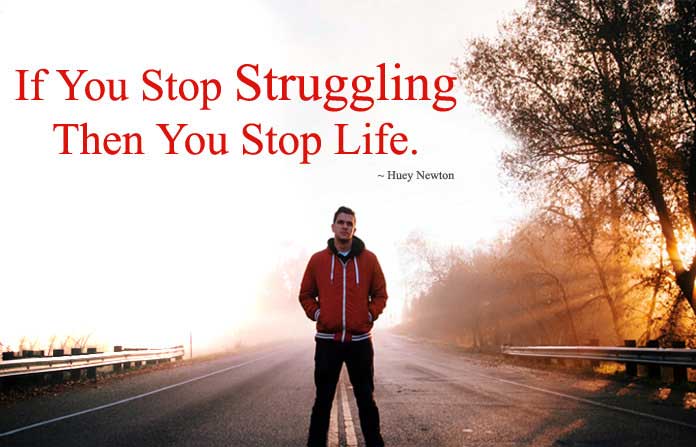 In life, you have to be strong and work smart to overcome challenges that might come your way. Things can be smooth, but at times, you can face struggles and challenges that need immediate attention. You don't have to panic, you just need to keep calm and focus. In addition, you need inspirational and tips to deal with the struggles. You can read short inspirational quotes about life and struggles that will motivate you to keep going no matter what's before you. Here are popular inspirational quotes about life that will encourage and inspire you.
"If you think you are too small to make a difference, try sleeping with a mosquito." —The Dalai Lama
"The bad news is time flies. The good news is you're the pilot." – Michael Altshuler
"We either make ourselves miserable or make ourselves strong. The amount of work is the same." —Carlos Castenada
"Life is fragile. We're not guaranteed a tomorrow so give it everything you've got." – Tim Cook
"Life is really simple, but we insist on making it complicated." —Confucius
"If I cannot do great things, I can do small things in a great way." – Martin Luther King Jr. 
"I always wanted to be somebody but now I realize I should have been more specific." —Lily Tomlin
"Don't wait, the time will never be just right." – Napoleon Hill
"A positive attitude won't solve all your problems—but it will annoy enough people to make it worth it." —Herm Albright
"If you're going through hell, keep going." – Winston Churchill
"And those who were seen dancing were thought to be insane by those who could not hear the music." ―Friedrich Nietzsche
"The journey of a thousand miles begins with a single step." – Lao Tzu
"We must be willing to let go of the life we have planned, so as to have the life that is waiting for us." —E. M. Forster
"Turn your wounds into wisdom." – Oprah Winfrey 
"You must learn from the mistakes of others. You can't possibly live long enough to make them all yourself." —Eleanor Roosevelt
"Tough times never last, but tough people do." – Dr. Robert Schuller
"People who wonder if the glass is half empty or half full are missing the point. The point is that the glass is refillable!" —Simon Sinek
"If it matters to you, you'll find a way." – Charlie Gilkey
"Even if you're on the right track, you'll get run over if you just sit there." —Will Rogers
"It isn't where you came from. It's where you're going that counts." – Ella Fitzgerald
"Today me will live in the moment. Unless it is unpleasant. In which case me will eat a cookie." —Cookie Monster
"Nothing is impossible. The word itself says "I'm possible!" – Audrey Hepburn
"To succeed in life, you need three things: A wishbone, a backbone, and a funny bone." —Reba McEntire
"Not every day is good but there is something good in every day." —Alice Morse Earl
"Leave no stone unturned." – Euripides
"You're only given a little spark of madness, you mustn't lose it." —Robin Williams
"No guts, no story." – Chris Brady
"Whenever I hear somebody sigh 'Life is hard' I'm always tempted to ask, 'Compared to what?'" —Sydney Harris
"Keep going. Be all in." – Bryan Hutchinson
"People say nothing is impossible, but I do nothing every day." —Winnie the Pooh
"Every moment is a fresh beginning." – T.S. Eliot 
"Here's to another day of outward smiles, and inward screams." —Everyone in 2020
"Life is like riding a bicycle. To keep your balance, you must keep moving." – Albert Einstein
"Be yourself; everyone else is already taken."
Oscar Wilde
"No matter what you're going through, there's a light at the end of the tunnel." – Demi Lovato
"Life isn't about finding yourself. Life is about creating yourself."
George Bernard Shaw
"To be the best, you must be able to handle the worst." – Wilson Kanadi
"Nothing is impossible, the word itself says 'I'm possible'!"
Audrey Hepburn
"You are enough just as you are." – Meghan Markle
"Do what you feel in your heart to be right – for you'll be criticized anyway."
Eleanor Roosevelt
"My mission in life is not merely to survive, but to thrive." – Maya Angelou
"I can't give you a sure-fire formula for success, but I can give you a formula for failure: try to please everybody all the time."
Herbert Bayard Swope
"Dream big and dare to fail." – Norman Vaughan
"You never fail until you stop trying."
Albert Einstein
"Be faithful to that which exists within yourself." – André Gide
"You see things; you say, 'Why?' But I dream things that never were, and I say 'Why not?"
George Bernard Shaw
"Wherever you go, go with all your heart." – Confucius
"Hate cannot drive out hate: only love can do that."
Martin Luther King Jr.
"You must do the things you think you cannot do." – Eleanor Roosevelt
"Success is not final, failure is not fatal: it is the courage to continue that counts."
Winston S. Churchill
"Whatever you are, be a good one." – Abraham Lincoln 
"The mind is its own place, and in itself can make a heaven of hell, a hell of heaven."
John Milton
"Stay hungry. Stay foolish." – Steve Jobs
"Pain is temporary. Quitting lasts forever."
Lance Armstrong
"Stay foolish to stay sane." – Maxime Lagacé
"Kindness is a language which the deaf can hear and the blind can see."
Mark Twain
"You must be the change you wish to see in the world." – Mahatma Gandhi
"What you're supposed to do when you don't like a thing is to change it. If you can't change it, change the way you think about it."
Maya Angelou
"When you have a dream, you've got to grab it and never let go." – Carol Burnett
"Only in the darkness can you see the stars."
Martin Luther King Jr.
"It is never too late to be what you might have been." – George Eliot
"It is never too late to be what you might have been."
George Eliot
"Failure is the condiment that gives success its flavor." – Truman Capote
"It isn't what you have or who you are or where you are or what you are doing that makes you happy or unhappy. It is what you think about it."
Dale Carnegie
"Believe you can and you're halfway there." – Theodore Roosevelt
"Never doubt that a small group of thoughtful, committed, citizens can change the world. Indeed, it is the only thing that ever has."
Margaret Mead
"No pressure, no diamonds." – Thomas Carlyle
"Don't judge each day by the harvest you reap but by the seeds that you plant."
Robert Louis Stevenson
"Impossible is for the unwilling." – John Keats
"The Chinese use two brush strokes to write the word 'crisis.' One brush stroke stands for danger; the other for opportunity."
John F. Kennedy
"Keep your face to the sunshine and you cannot see a shadow." – Helen Keller
"Be the change that you wish to see in the world."
Mahatma Gandhi
"Life changes very quickly, in a very positive way, if you let it." – Lindsey Vonn
"Always do what you are afraid to do."
Ralph Waldo Emerson
"Happiness is not by chance, but by choice." – Jim Rohn
"No one can make you feel inferior without your consent."
Eleanor Roosevelt
"Happiness often sneaks in through a door you didn't know you left open." – John Barrymore
"Do what you can, with what you have, where you are."
Theodore Roosevelt
"Make each day your masterpiece." – John Wooden
"First they ignore you, then they ridicule you, then they fight you, and then you win."
Mahatma Gandhi
"Stay close to anything that makes you glad you are alive." – Hafez
"We are all in the gutter, but some of us are looking at the stars."
Oscar Wilde
"The most wasted of days is one without laughter." – E.E. Cummings
"Live as if you were to die tomorrow. Learn as if you were to live forever."
Mahatma Gandhi
"You do not find the happy life. You make it." – Camilla Eyring Kimball
"Any fool can be happy. It takes a man with real heart to make beauty out of the stuff that makes us weep."
Clive Barker
"It's the possibility of having a dream come true that makes life interesting."
Paulo Coelho
"There are two ways of spreading light: to be the candle or the mirror that reflects it."  – Edith Wharton
"Live in the present, remember the past, and fear not the future, for it doesn't exist and never shall. There is only now."
Christopher Paolini
"The secret of health for both mind and body is not to mourn for the past, nor to worry about the future, but to live the present moment wisely and earnestly."
Gautama Buddha
"Everything you can imagine is real."
Pablo Picasso
"When one door of happiness closes, another opens."
Helen Keller
In life, you don't have to give up. You need to work hard and remain focused, and you will overcome challenges that might come your way. Reading the above short inspirational quotes about life and struggles will give you the courage and motivation to keep going.