Mother Son Inspirational Quotes
There's nothing quite like the bond between a mother and her son. It's a special, unique relationship that is filled with love, laughter, and sometimes even a few tears. But through it all, the bond between mother and son is unbreakable.
Whether you're looking for a little inspiration or just a good laugh, check out these Mother Son Inspirational Quotes. From the sweetest declarations of love to the funniest mother-son jokes, these quotes capture the special relationship between mothers and sons.
Looking for some inspiration for your mother and son relationship? Check out our selection of Mother Son Inspirational Quotes that will fill you with warmth and love.
Mother Son Inspirational Quotes
''Dear Son, you are more special than you know. I'll never be able to convey just how proud I am of you or how much I love you. You've made me feel more joy, more pride and more love than anyone else ever could have.''
"The best love in the world is the love of a man. The love of a man who came from your womb, the love of your son!" – C. Joybell C
''To have a son means to have a protector, a buddy, a support system, and to live out one of life's greatest adventures!''
''Dear son, you have a heart of gold. You are kind and wise and I'm so proud of you. Every day I'm thankful to be your mom. I love you.''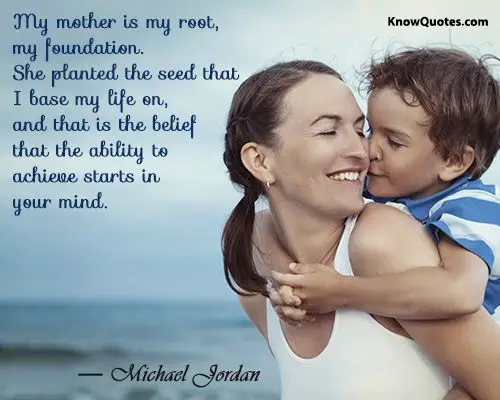 Inspirational Quotes for Mother From Daughter
''Dear Son, you are the one and only you in this world. You have a unique story to tell, a unique perspective on the world.''
''The bond between a mother and son lasts a lifetime. The bond between a mother and son is a special one. It remains unchanged by time or distance, and it is the purest love, unconditional and true. It is an understanding of any situation and forgiving of any mistake.''
"My mother is my root, my foundation. She planted the seed that I base my life on, and that is the belief that the ability to achieve starts in your mind." – Michael Jordan
''Dear son, you have a unique and important purpose in this world. You were born with a gift—and it is up to you to bring that gift to life.''
Inspirational Mother Daughter Quotes
''Dear son, it's never been more important to be yourself. Those things that make you different are the qualities you should embrace and share with the world. Stand tall and show the world your confidence and beauty.''
''You are loved for the boy you are, the man you will become, and the precious son you will always be.''
''The best gifts in the world are not always wrapped in boxes. They also come in the form of loving sons like you.''
"You may have tangible wealth untold; caskets of jewels and coffers of gold. Richer than you can never be. I had a mother who read to me." – Strickland Gillilan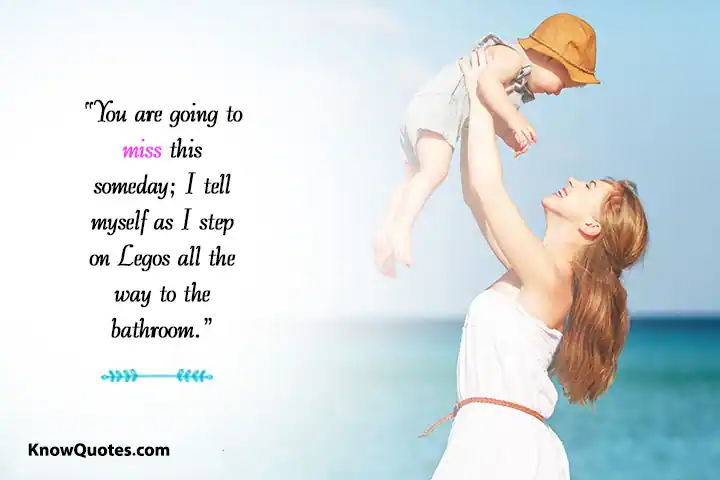 Inspirational Quotes for Sons From Mom
''My dear son, it makes me smile to realize how much of you is already a part of your father and me. We love you so much.''
''Today, I smile with pride as I realize how much of who you are is already a part of your father and me. You are our pride and joy.''
''I adore his smile, I cherish his hugs, I admire his heart but most of all… I love that he is my son.''
''I'm thankful for my son's laughter. It's the sound of all that's right in the world.''
''I constantly go between wanting you to be my baby forever, and being excited about all the amazing things you'll do in this life.''
Mother to Son Inspirational Quotes
''Dear son, you bring so much joy to our lives. We love you so much and can't wait to see what the future holds for you.''
''Dear son, you and your father have so much in common with each other and me. You're the best thing that ever happened to us.''
''There has never been, nor will there ever be, anything quite as special as the love between a mother and a son.''
''Raising boys has made me a more generous woman than I really am. Undoubtedly, there are other routes to learning the wishes and dreams of the presumably opposite sex, but I know of none more direct, or more highly motivating, than being the mother of sons.'' – Mary Kay Blakely
Inspirational Mother Son Tattoos Quotes
''A mother is the first love of her son, and a son is the whole world for a mother.''
''You are already so much of your father and me. You have our humour, our intelligence, and of course, those deep brown eyes we waited so long to see. We're so proud of you and how unique you are.''
''You make me smile, son. Already your mother and I see our own hearts reflected back at us through your precious eyes.''
''You have already made us so happy and proud. We love you so much. Welcome to this world!''
''I'm so proud of the young man you are already becoming. I know that you'll make the world a better place.''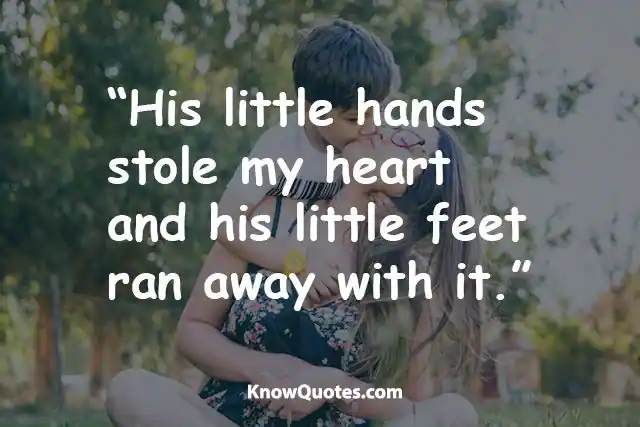 What Is a Good Son Quote?
A good son quote is one that expresses the love and appreciation that a son feels for his mother. It is a way of showing how much he values her and how grateful he is for her presence in his life. This type of quote can be used to thank her for her guidance, love, and support. It can also be used as a way of telling her how much she means to him and how much he loves her.
Why Is a Mother Son Relationship So Special?
There are many special bonds in the world, but the bond between a mother and son is truly unique and special. This bond is so special because it is built on a foundation of love, trust, and respect. A mother and son share a special connection that is unlike any other. This bond can weather any storm and withstand any challenges. The love between a mother and son is strong and unending.
What a Mother Wishes for Her Son?
From the moment a mother holds her newborn son, she is filled with hopes and dreams for his future. She wishes that he will be happy and healthy, that he will find success and love, and that he will always know how much she loves him. No matter what life throws his way, she knows that her love for him will always be there.
How Do I Express Love to My Son?
It's so important to express love to our children, and there are many ways to do it. One way is to spend time with them doing things they enjoy. This lets them know that you enjoy their company and that they are important to you. Another way is to say kind and encouraging words to them. This helps them feel good about themselves and lets them know that you think they are special. Whatever way you choose to express your love to your son, make sure it is sincere and from the heart.
Mother Son Inspirational Quotes is a heartwarming collection of quotes about the special bond between mothers and sons. These quotes show the deep love and admiration that sons have for their mothers, and the strong connection between them. This bond is truly special and inspiring, and these quotes capture the essence of that relationship perfectly.