Positive Grief Quotes to Help You Feel Less Alone
There are many different ways to grieve, and no one way is better or worse than another. Some people find comfort in positive grief quotes, while others find them to be triggering. If you're looking for some positive grief quotes to help you through your grieving process, look no further.
Positive grief is a term used to describe the healthy and constructive process of grieving. It is characterized by feelings of sadness and loss, but also by a sense of hope and a belief that the future will be better. The grieving process is an important part of healing and moving on after a loss, and it can be a powerful experience that brings people closer together.
When you're grieving, it's normal to feel like you're alone. But these positive grief quotes will remind you that you're not alone in your sorrow.
Positive Grief Quotes to Help You Feel Less Alone
"Everyone who lives long enough to love deeply will experience great losses. Don't let fear of loss, or the losses themselves, take away your ability to enjoy the wonderful life that is yours."
― Barbara "Cutie" Cooper, Fall in Love for Life: Inspiration from a 73-Year Marriage
"The risk of love is loss, and the price of loss is grief – But the pain of grief is only a shadow when compared with the pain of never risking love." – Hilary Stanton Zunin
"We must embrace pain and burn it as fuel for our journey." – Kenji Miyazawa
"We remember shooting stars for their shine, not the darkness of the night. Trying to wish away grief extinguishes those memories that glow so bright."
― Julie Abe, Eva Evergreen, Semi-Magical Witch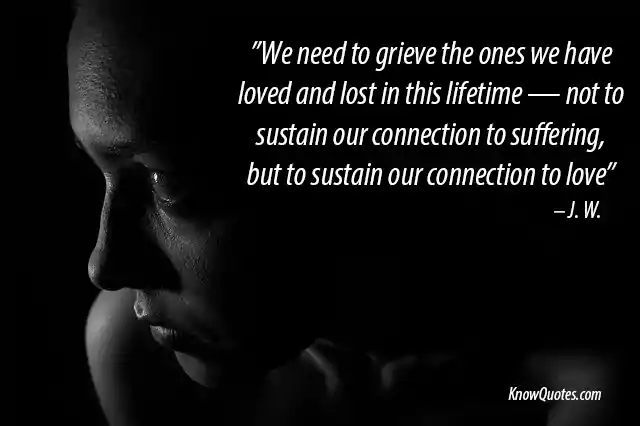 Positive Quotes About Grief
"If I can see pain in your eyes then share with me your tears. If I can see joy in your eyes then share with me your smile." – Santosh Kalwar
"Grief is the price we pay for love." – Queen Elizabeth II
"Only through the significant loss of my loved ones have I truly begun to live. When their eyes closed, mine were opened."
― Angie Corbett-Kuiper
"When you miss your loved one, remember the beautiful moments you've had with them. And when your heart swells, cuddle your pillow and let your tears soothe the pain."
― Anoir Ou-Chad
"And when great souls die, after a period peace blooms, slowly and always irregularly. Spaces fill with a kind of soothing electric vibration. Our senses, restored, never to be the same, whisper to us. They existed. They existed. We can be. Be and be better. For they existed." – Maya Angelou
Famous Quotes on Grief
"Loss is nothing else but change, and change is nature's delight." – Marcus Aurelius
"But it is all going to come down to you. You will ultimately choose how you come out of this. You will choose whether to open back up to love or retreat. You will choose whether you want to get to know the you that now exists. You will choose if you want to live within loss or die with the death of what once was"
― Addison Brasil
"Grief is so human, and it hits everyone at one point or another, at least, in their lives. If you love, you will grieve, and that's just given." – Kay Redfield Jamison
"While grief is fresh, every attempt to divert only irritates. You must wait till it be digested, and then amusement will dissipate the remains of it."- Samuel Johnson
"When someone is mourning, there is absolutely nothing you could say to alleviate their pain.
Just sit with them, hold their hands, and be present and compassionate."
― Anoir Ou-Chad
Positive Quotes for Grief
"When we lose someone we love we must learn not to live without them, but to live with the love they left behind." – Anonymous
"Never. We never lose our loved ones. They accompany us; they don't disappear from our lives. We are merely in different rooms." – Paulo Coelho
"We can never fully know the people we love. When we lose them, there will always be more we could have seen -"
― Emily Henry, Beach Read
"Grief is like the ocean; it comes on waves ebbing and flowing. Sometimes the water is calm, and sometimes it is overwhelming. All we can do is learn to swim." – Vicki Harrison
"What we have once enjoyed deeply we can never lose. All that we love deeply becomes a part of us." – Helen Keller
Positive Death Quotes for Friends
"Sometimes grief is like a wave, and healing is like a butterfly."
― Jocelyn Soriano, Of Waves and Butterflies: Poems on Grief
"We need to grieve the ones we have loved and lost in this lifetime — not to sustain our connection to suffering, but to sustain our connection to love." – J. W.
"To live in hearts we leave behind is not to die." – Thomas Campbell
"GRIEF IS NOT SOMETHING YOU FIX;
IT'S SOMETHING YOU HONOUR."
― Addison Brasil, First Year of Grief Club : A Gift From A Friend Who Gets It
"No one ever told me that grief felt so like fear." — C.S. Lewis
Famous Quotes on Grief and Loss
"Grief isn't something you fix; it's something you honour. There's no flash sale, weekend retreat or quickly found solution. We often dream of a comeback from grieving, when the healthiest thing we can do is aim to come-through, by waking up every day and honouring our relationship with loss and how we feel in each moment that follows."
― Addison Brasil, First Year of Grief Club : A Gift From A Friend Who Gets It
How Do You Deal With Grief Quotes?
There is no one answer to the question of how to deal with grief quotes. Some people find solace and comfort in reading or listening to quotes about grief, while others find them to be a reminder of their pain and loss. Ultimately, each person has to find their own way to cope with the death of a loved one. Some helpful things that others have found useful in dealing with grief include: spending time with family and friends, talking about the person who died, looking at pictures, listening to music, and writing in a journal.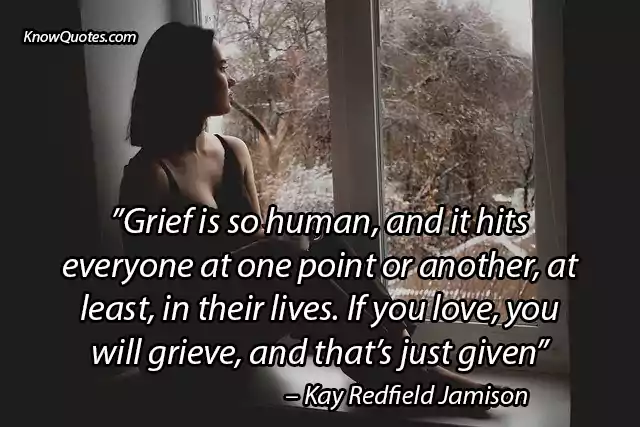 What Is a Good Quote for Someone Who Passed Away?
There are many quotes that can be used to remember someone who has passed away. Some are religious, some are inspirational, and some are simply sentimental. It really depends on the person and what they would want to be remembered for. Here are a few examples:
"And now these three remain: faith, hope and love. But the greatest of these is love." – 1 Corinthians 13:13
"Do not be afraid, for I am with you. I will bring your children from the east and gather you from the west." – Isaiah 43:5
"Blessed are those who mourn, for they will be comforted." – Matthew 5:4
"He will wipe every tear from their eyes. There will be no more death' or mourning or crying or pain, for the old order of things has passed away." – Revelation 21:4
What Are 6 Positive Ways of Dealing With Grief?
Grief is a natural response to loss. It is the emotional suffering you feel when something or someone you love is taken away. The six stages of grief are denial, anger, bargaining, depression, testing, and acceptance.
There are many positive ways of dealing with grief. Some people find comfort in their religion or spirituality. Others find comfort in talking to a counselor or therapist. Some people find comfort in writing about their grief, while others find solace in art or music. Whatever works for you, it is important to find a healthy way to cope with your grief.
What Is Grief Quote Wandavision?
Grief is a multifaceted response to loss, particularly to the loss of someone or something to which a person has had a close attachment. Grief is often described in terms of stages, although not everyone experiences these stages in the same way or even in the same order.
The quote "WandaVision is about grief" is from showrunner Jac Schaeffer, and it accurately sums up the show's central themes. WandaVision is a show about how grief can lead to isolation, how it can distort reality, and how it can ultimately be a transformative experience. The show is also about how the people who love us can help us through our grief, and how even in the darkest of times, hope and healing are possible.
The blog post lists a number of positive grief quotes that can offer comfort to those who are grieving. While it is important to allow yourself to feel the pain of grief, it is also important to remember that there is hope and beauty in the world. These quotes can serve as a reminder that the journey of grief is not always easy, but it is possible to find moments of joy and peace along the way.