Top 29 Positive Quotes for Daughters
There's nothing like the bond between a father and daughter. It's filled with love, laughter, and sometimes, a few tears. But through it all, the one thing that remains constant is the love.
And what better way to show that love than with a few positive quotes? Whether you're looking for a little pick-me-up for your daughter or just want to let her know how much you love her, these quotes are sure to do the trick.
Looking for some inspiration for your daughter? Check out our collection of positive quotes that will help her feel confident and motivated!
Top 28+ Positive Quotes for Daughters
"Live as if you were to die tomorrow. Learn as if you were to live forever." – Mahatma Gandhi.
"The most alluring thing a woman can have is confidence." –Beyoncé, singer
"Never follow someone else's path unless you're in the woods, and you're lost, and you see a path. By all means, you should follow that." –Ellen Degeneres, comedian and talk show host
"Imperfection is beauty, madness is genius, and it's better to be absolutely ridiculous than absolutely boring." – Marilyn Monroe.
"There are only two ways to live your life. One is as though nothing is a miracle. The other is as though everything is a miracle." – Albert Einstein.
"Character. Intelligence. Strength. Style. That makes beauty." –Diane von Furstenberg, fashion designer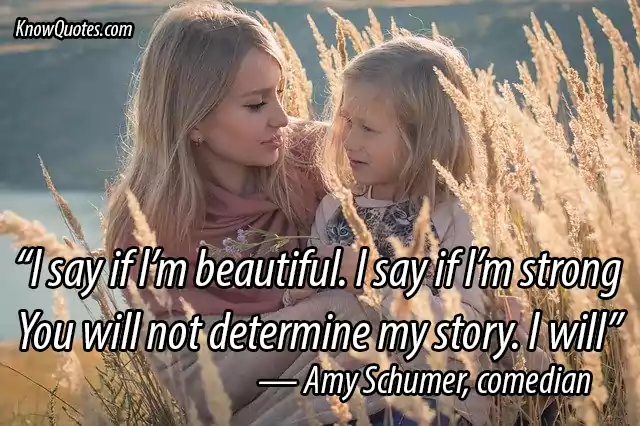 Inspirational Quotes About Daughters
"Always be a first-rate version of yourself, instead of a second-rate version of somebody else." –Judy Garland, actress
"You have brains in your head. You have feet in your shoes. You can steer yourself in any direction you choose. You're on your own. And you know what you know. And YOU are the one who'll decide where to go.." – Dr. Seuss.
"Life isn't about finding yourself. Life is about creating yourself." – George Bernard Shaw.
"Never dull your shine for somebody else." –Tyra Banks, supermodel and TV host
"People will forget what you said. People will forget what you did. But, people will never forget how you made them feel." –Maya Angelou, poet
Inspiring Quotes for Daughters From Mothers
"Listen to the mustn'ts, child. Listen to the don'ts. Listen to the shouldn'ts, the impossibles, the won'ts. Listen to the never haves, then listen close to me… Anything can happen, child. Anything can be." – Shel Silverstein.
"When one door of happiness closes, another opens; but often we look so long at the closed door that we do not see the one which has been opened for us." – Helen Keller.
"No matter where you're from, your dreams are valid." –Lupita Nyong'o, actress
"She turned her can'ts into cans and her dreams into plans." — Kobi Yamada, author
"Always be a first-rate version of YOURSELF, instead of a second-rate version of somebody else." – Judy Garland.
Good Quotes for Daughter
"Be who you are and say what you feel because those who mind don't matter, and those who matter don't mind." – Bernard M. Baruch.
"Fly free, my daughter. Be what I could never be and leave the cage forever." — Nalini Singh.
"I say if I'm beautiful. I say if I'm strong. You will not determine my story. I will." — Amy Schumer, comedian
"To be yourself in a world that is constantly trying to make you something else is the greatest accomplishment." – Ralph Waldo Emerson.
"Sometimes you wake up. Sometimes the fall kills you. And sometimes, when you fall, you fly." – Neil Gaiman.
Inspirational Quotes for Daughters From Mom
"Remember kid there's heroes, and there's legends. Heroes get remembered, but legends never die, follow your heart, kid, and you'll never go wrong." – The Babe.
"A daughter is one of the most beautiful gifts this world has to give." – Laurel Atherton.
"Don't be pushed around by the fears in your mind. Be led by the dreams in your heart." – Roy T. Bennett.
"You may not control all the events that happen to you, but you can decide not to be reduced by them. Try to be a rainbow in someone's cloud. Do not complain. Make every effort to change things you do not like. If you cannot make a change, change the way you have been thinking. You might find a new solution." – Maya Angelou.
What Is a Daughter Quote
"I desire to have a life filled with positive energy and satisfaction of living authentically in my purpose. That's what I also want for my daughter, and that is what I want for you." – Keya Briscoe.
"Accept yourself, love yourself, and keep moving forward. If you want to fly, you have to give up what weighs you down." – Roy T. Bennett.
"Do what you feel in your heart to be right – for you'll be criticized anyway." – Eleanor Roosevelt.
"Well-behaved women seldom make history." – Laurel Thatcher Ulrich.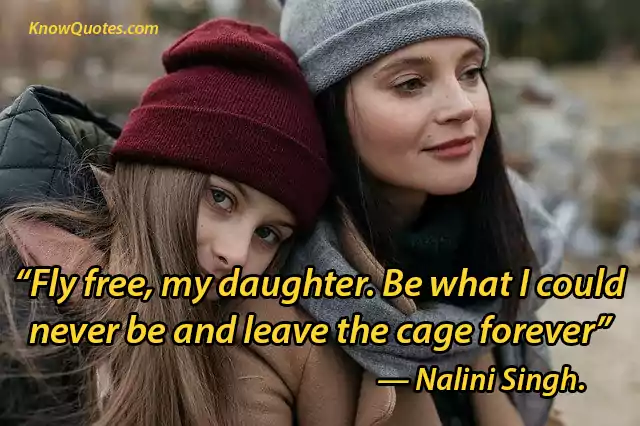 What Are 5 Positive Quotes?
1. "The best way to find out if you can trust somebody is to trust them." -Ernest Hemingway
2. "It is never too late to be what you might have been." -George Eliot
3. "You can't be a real country unless you have a beer and an airline- it helps if you have some kind of a football team, or some nuclear weapons, but at the very least you need a beer." -Frank Zappa
4. "I am not a failure because I have failed, I am a failure because I have given up." -Denis Waitley
5. "If you want to live a happy life, tie it to a goal, not to people or things." -Albert Einstein
What Is the Best Caption for Daughter?
There is no one definitive answer to this question. However, some possible captions for daughter that may be considered the best include: "My daughter, my love," "A daughter is a gift from God," or simply "I love my daughter." Ultimately, the best caption for daughter is the one that resonates most with the parent and conveys the parent's love for their daughter.
What Can I Say to My Daughter Quotes?
There are many things you can say to your daughter to show her how much you love her. Here are some quotes to get you started:
"I love you, my beautiful girl. You're everything to me and I'm so proud of you."
"You're my sunshine and hope for a better tomorrow. I love you always."
"I'll be here for you, no matter what. I love you, my daughter."
How Do I Uplift My Daughter?
As a parent, it is natural to want to see your child succeed and be happy in life. While you can't control everything, there are some things you can do to help your daughter reach her potential. One way to uplift your daughter is to encourage her to pursue her interests and talents. This can involve supporting her emotionally and financially as she pursues her goals. Additionally, you can set a good example for her by living a healthy and fulfilling life yourself. Finally, it is important to talk to her openly and honestly about the challenges she may face in life so she knows she can always come to you for guidance. By taking these steps, you can help your daughter grow into a confident and successful young woman.
The blog post is a collection of quotes that are meant to inspire and empower young girls. The quotes are powerful and provide a lot of food for thought. The blog post is a great reminder that every girl is special and deserves to be loved and respected.
https://www.youtube.com/watch?v=Kcl28deCINI