In a world that is constantly telling women to be smaller, quieter, and less noticeable, it can be hard to feel like you belong. But you are not alone. These Real Female Quotes will remind you that you are powerful, you are valuable, and you are worth fighting for.
Looking for some Real Female Quotes? We've got you covered! Check out our collection of quotes from inspiring women, on everything from success to motherhood.
Real Female Quotes
"Yes, I am single. No, I am not available."
"I love saying 'yes' and I love saying 'please.' Saying 'yes' doesn't mean I don't know how to say no, and saying 'please' doesn't mean I am waiting for permission. 'Yes please' sounds powerful and concise. It's a response and a request. It is not about being a good girl; it is about being a real woman." ~ Amy Poehler
"If you want to be a real human being – a real woman, a real man – you cannot tolerate things which put you to indignation, to outrage. You must stand up. I always say to people, 'Look around; look at what makes you unhappy, what makes you furious, and then engage yourself in some action.'" ~ Stephane Hessel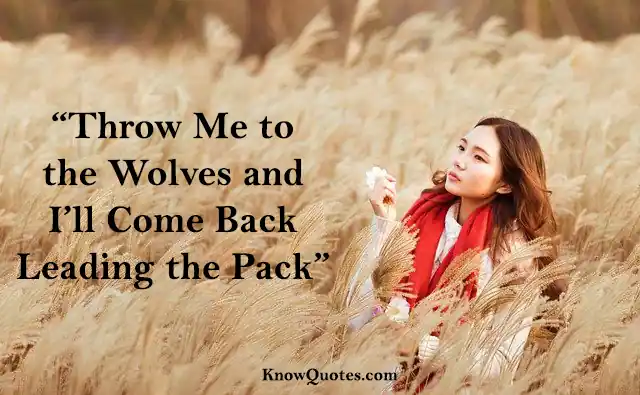 Life Quotes About Woman
"Feminine and financially fit."– Bossbabe
"Alpha female is not an insult, it's a compliment."
"I'd rather die on an adventure than live standing still."
"I'd be a fearless leader. I'd be an alpha type." – Taylor Swift 
"I understood that menstruation – the indication that you're a real woman – stopped if you grew weak from illness" ~ Aya Kito
Related: Motivational Quotes for Female Athletes
Most Beautiful Quotes About Woman
"A real woman understands that man was created to be the initiator, and she operates on that premise. This is primarily a matter of attitude. I am convinced that the woman who understands and accepts with gladness the difference between masculine and feminine will be, without pretense or self-consciousness, womanly." ~ Elisabeth Elliot
"Throw me to the wolves and I'll come back leading the pack."
"She's a little wildflower, with a lot of gypsy warrior underneath."        
"You must do the things you think you cannot do." – Eleanor Roosevelt
"A real woman can handle a busy man. She'll respect his hustle and if he's a real man, he'll know how to make time for her." – Anonymous
Funny Quotes About Being a Single Woman
"A real woman needs quotes by dead men to get through the day." ~ Felipe Esparza
"It takes great courage to be vulnerable. It takes enormous strength to be a real woman." ~ John Eldredge
"She wasn't looking for a knight, she was looking for a sword." – Atticus
"Be and alpha female. Confident, bold. Not afraid of anything." – Shilpa Negi
"I hustle like a man because I was raised not to depend on one." – Huma Magrey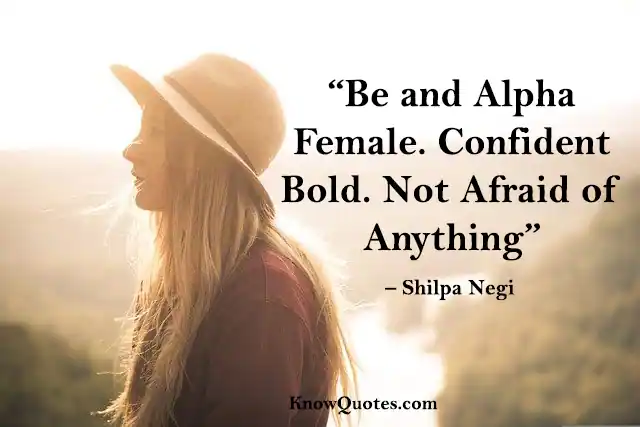 Funny Quotes About Man and Woman
"An empress does not concern herself with the antics of fools." – Gabrielle Union
"Once you figure out what respect tastes like, it tastes better than attention." – Pink
"Don't be a woman that needs a man, be a woman a man needs!" – Anonymous
"Real women are classy, strong, independent, loyal and lovable and one thing about them is they know they deserve better." – Anonymous
"Real womanhood isn't a function of becoming a great mother, but of being loved by your Great Father." – Ann Voskamp
Related: Best Quotes for Strong Woman
Female Quotes About Strength
"The heart of a woman will never be found in the arms of a man." – Vanessa Carlton
"She's got that sophisticated, street smart, spiritual, soulful, savage thing about her."
"The goal isn't more money. The goal is living your life on your own terms." – Chris Brogan
"Smart women love smart men more than smart men love smart women." – Natalie Portman
"People don't want to see women doing things they don't think women should do." – Joan Jett
Real Is Better Than Perfect Quotes
"The thing women have yet to learn is that nobody gives you power. You just take it." – Anonymous 
"A real woman avoids drama, she knows her time is precious and she's not wasting it on unimportant things." – Anonymous
"A real man and a real woman make a team together. They never give up on each other." – Anonymous
"Doubt is a killer. You just have to know who you are and what you stand for." – Jennifer Lopez
Real Woman Relationship Quotes
"You have to believe in yourself and believe in your ability to prove yourself wrong," – Erin Foster
"A woman is naturally submissive to a man who she trusts to lead… even if she's an alpha female."
"A fake chick wants a man who got it all. A real woman will help her man get it all." – Anonymous
"A real woman doesn't have to throw dirt on other women to feel more secure and better about herself." – Anonymous
Real Woman Quotes for Man
"A real woman can do it all by herself—but a real man won't let her." – Anonymous
"Real women should be capricious." – Christian Dior
"A real woman creates her own path and is whatever she wants to be." – Anonymous
"Girls compete with each other. Women empower one another." – Anonymous
"A real woman needs quotes by dead men to get through the day." – Felipe Esparza
"Real girls are never ideal and perfect girls are never absolute." – Anonymous
Life Quotes About Self Worth
"A real woman is she who knows herself, loves herself, accepts herself—just the way she is." – Anonymous
"It takes great courage to be vulnerable. It takes enormous strength to be a real woman." – John Eldredge
"Real women are fat. And thin. And neither. And both. And otherwise." – Hanne Blank
What Is a Strong Woman Quote?
A strong woman quote is a saying or proverb that encourages women to be strong and independent. It is often used as a motivational tool to help women achieve their goals. There are many different types of strong woman quotes, but they all share the same message: that women are just as capable as men and should never give up on themselves. Some popular strong woman quotes include:
"A woman is the full circle. Within her is the power to create, nurture and transform." – Diane Mariechild
"There is no limit to what we, as women, can accomplish." – Michelle Obama
"The future belongs to those who believe in the beauty of their dreams." – Eleanor Roosevelt
"A strong woman is a woman who is able to smile this morning like she wasn't crying last night." – Unknown
What Is the Best Quote for Girl?
There are many great quotes for girls, but one that really resonates is from author and activist Chimamanda Ngozi Adichie. She says, "We should all be feminists. And by this I mean that we should all be gender activists." This quote is so powerful because it calls for equality between the sexes, something that is so important but often overlooked. It's a great reminder for girls to stand up for themselves and fight for their rights.
What Are the Deepest Quotes?
There are many profound and thought-provoking quotes out there, but which ones are the deepest? It's hard to say, as everyone has different interpretations of what is deep and meaningful. However, here are five quotes that are sure to make you think long and hard about life, its purpose, and your place in the world.
"The greatest achievement was at first and for a time a dream. The oak sleeps in the acorn, the bird waits in the egg, and in the highest vision of the soul a waking angel stirs. Dreams are the seedlings of realities." – James Allen
"All that we are is the result of what we have thought. The mind is everything. What we think, we become." – Buddha
"There is no greater misery than to recall happiness in times of misery." – Dante Alighieri
"The greatest happiness you can have is knowing that you do not necessarily require happiness." – William Saroyan
"What lies behind us and what lies before us are tiny matters compared to what lies within us." – Ralph Waldo Emerson
Real Female Quotes is a collection of quotes from famous women throughout history. The quotes range from inspiring to funny, and they offer a glimpse into the lives and thoughts of some of the most influential women of our time. These quotes show that women have always been a force to be reckoned with, and they continue to be a source of strength and wisdom today.
https://www.youtube.com/shorts/_WwONfcO740