Teamwork Quote of the Day
In any successful team, communication is key. With that in mind, we've compiled some of the best Teamwork Quote of the Day to help motivate and encourage your team to work together. Whether it's for a corporate team building event or simply to hang in the break room, these quotes will help foster a sense of teamwork and remind everyone that there's no "I" in "team."
Looking for a little inspiration to help get your team through the day? Check out our Teamwork Quote of the Day!
Teamwork Quote of the Day
"A single arrow is easily broken, but not ten in a bundle." – Proverb
 "I'm not the smartest fellow in the world, but I sure can pick smart colleagues." — Franklin D. Roosevelt
"To build a strong team, you must see someone else's strength as a complement to your weakness and not a threat to your position or authority." – Christine Caine
"If you want to lift yourself up, lift up someone else." – Booker T. Washington
"Teamwork divides the task and doubles the success." – Anonymous
"Teamwork makes the dream work" – Bang Gae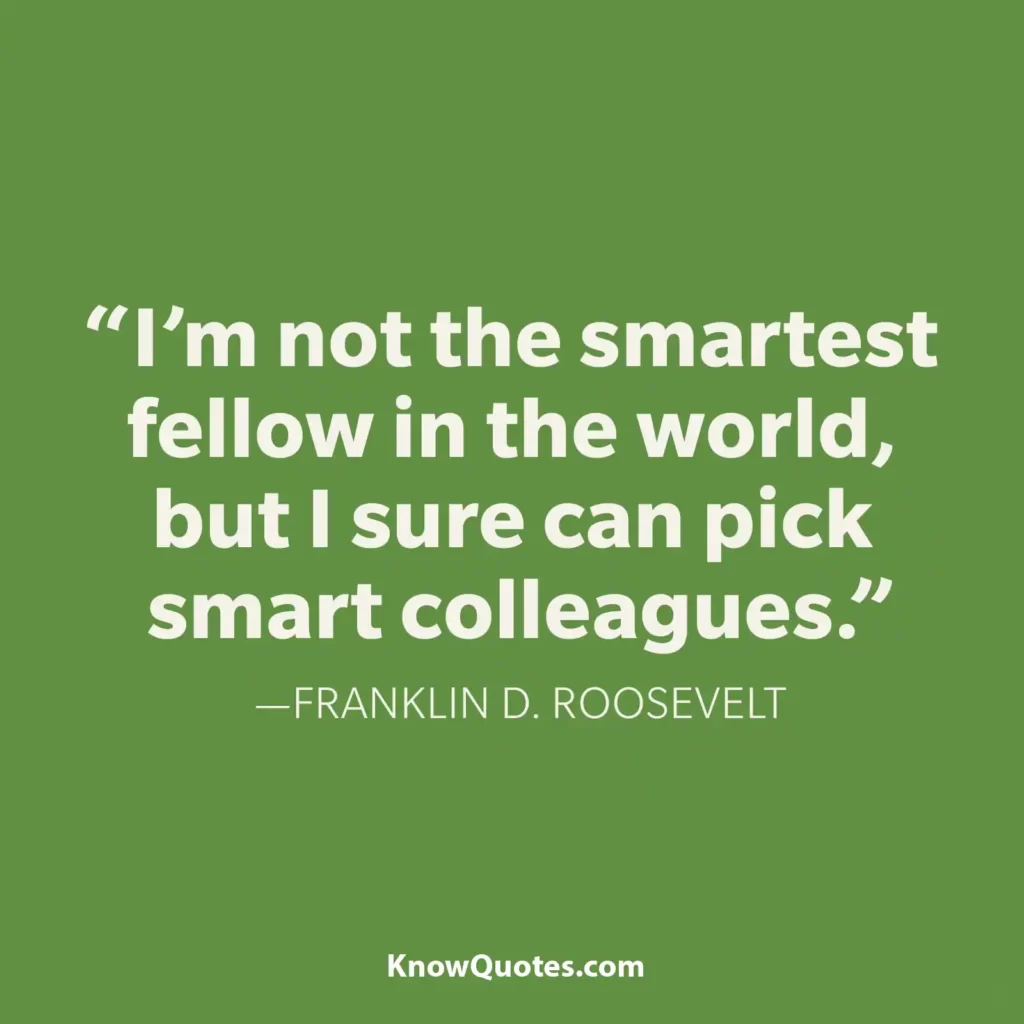 Inspirational Teamwork Quote of the Day
"It takes two flints to make a fire." – Louisa May Alcott
"It's as simple as this. When people don't unload their opinions and feel like they've been listened to, they won't really get on board."
― Patrick Lencioni, The Five Dysfunctions of a Team: A Leadership Fable
"If anything goes bad, I did it. If anything goes semi-good, we did it. If anything goes really good, then you did it. That's all it takes to get people to win football games for you."
― Paul W. Bryant, Bear Bryant on Winning Football
"The way to achieve your own success is to be willing to help somebody else get it first." – Iyanla Vanzant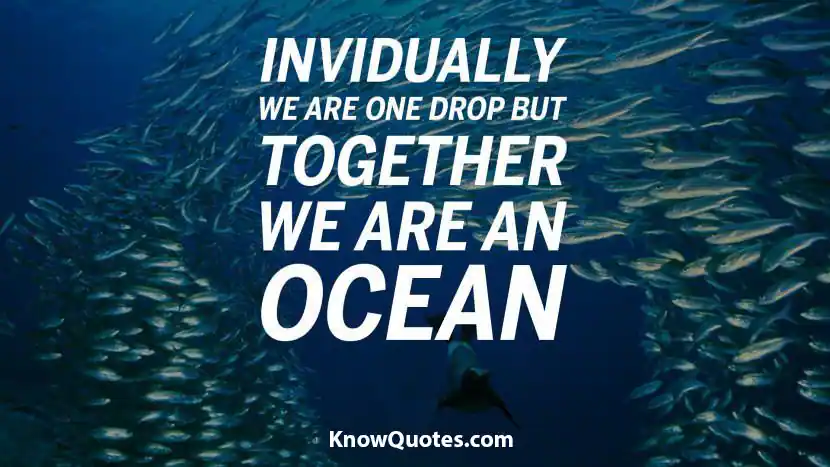 Positive Teamwork Quote of the Day
"The ratio of We's to I's is the best indicator of the development of a team." – Lewis B. Ergen
"The nicest thing about teamwork is that you always have others on your side." – Margaret Carty
"Remember teamwork begins by building trust. And the only way to do that is to overcome our need for invulnerability."
― Patrick Lencioni, The Five Dysfunctions of a Team: A Leadership Fable
"Great teams do not hold back with one another. They are unafraid to air their dirty laundry. They admit their mistakes, their weaknesses, and their concerns without fear of reprisal."
― Patrick Lencioni, The Five Dysfunctions of a Team: A Leadership Fable
Teamwork Quote of the Day
"Many ideas grow better when transplanted into another mind than the one where they sprang up." Oliver Wendell Holmes
"Teams share the burden and divide the grief." – Doug Smith
"Teamwork. A few harmless flakes working together can unleash an avalanche of destruction." – Justin Sewell
"Trust is knowing that when a team member does push you, they're doing it because they care about the team."
― Patrick Lencioni, The Five Dysfunctions of a Team: A Leadership Fable
Funny Teamwork Quote of the Day
"Nico sighed in exasperation. He hated working with other people. They were always cramping his style, making him uncomfortable. And Will Solace … Nico revised his impression of the son of Apollo. He'd always thought of Will as easygoing and laid back. Apparently he could also be stubborn and aggravating."
― Rick Riordan, The Blood of Olympus
"In union there is strength." – Aesop
"Tough times don't last. Tough teams do." – Robert Schuller
"Individual commitment to a group effort- that is what makes a teamwork, a company work, a society work, a civilization work." – Vince Lombardi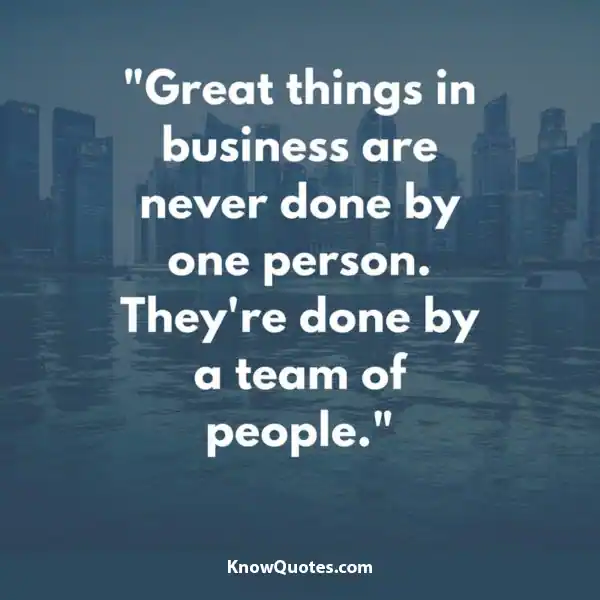 Great Quote About Teamwork
"If you can laugh together, you can work together." Robert Orben
"There is immense power when a group of people with similar interests gets together to work toward the same goals."
― Idowu Koyenikan, Wealth for All: Living a Life of Success at the Edge of Your Ability
"He who masters the power formed by a group of people working together has within his grasp one of the greatest powers known to man."
― idowu koyenikan, All You Need Is a Ball: What Soccer Teaches Us about Success in Life and Business
Positive Team Work Quotes
"Together, ordinary people can achieve extraordinary results." Becka Schoettle
"A leader must inspire or his team will expire." – Orrin Woodward
"Leadership is much more an art, a belief, a condition of the heart, than a set of things to do." – Max De Pree
"A genuine leader is not a searcher for consensus but a molder of consensus." – Martin Luther King Jr.
"Someone once told me growth and comfort do not coexist. And I think it's a really good thing to remember." – Ginni Rometty
Thought of the Day Teamwork
"May your adventures bring you closer together, even as they take you far away from home."
― Trenton Lee Stewart, The Mysterious Benedict Society and the Perilous Journey
"Bad attitudes will ruin your team." – Terry Bradshaw
"It is amazing how much people can get done if they do not worry about who gets the credit." – Sandra Swinney
Positive Teamwork Motivational Quotes
"If it scares you, it might be a good thing to try." – Seth Godin
"The way to achieve your own success is to be willing to help somebody else get it first." – Iyanla Vanzant
"The path to greatness is along with others" – Baltasar Gracion
"Great things in business are never done by one person. They're done by a team of people." – Steve Jobs
What Is a Nice Work Day Quote?
There are many different ways to view what a "nice" work day quote would be. It could be something as simple as enjoying the process of working and being productive. Or, it could be something more lighthearted, such as taking pride in a job well done. No matter what interpretation you take, there are many different quotes out there that could apply to anyone's definition of a nice work day. Here are just a few of our favorites:
"The harder I work, the luckier I get." – Samuel Goldwyn
"There is no substitute for hard work." – Thomas Edison
"I'm a greater believer in luck, and I find the harder I work the more I have of it." – Stephen Leacock
"Success is not final, failure is not fatal: It is the courage to continue that counts." – Winston Churchill
What Is Your Favorite Team Motivational Quote?
There are so many great team motivational quotes out there, but my favorite is definitely "There is no 'I' in team." This quote is so important because it reminds us that we are all in this together and that we need to work together in order to be successful. This is something that I always keep in mind when I am working with my team and it has really helped us to achieve our goals.
What Is Today's Quote of the Day?
Today's quote of the day is: "You can't put a limit on how much you can improve and how much you can do. There are no limits on what you can be, do, or have in life." – Tony Robbins. This quote is a great reminder that we should never give up on ourselves and that we can always strive to be better. No matter what life throws our way, we should never give up on our dreams and goals. We should always keep pushing ourselves to be the best that we can be.
This is a great way to start off your day and get yourself motivated for the tasks ahead. If you work better in a team setting, then this is a perfect way to get yourself inspired for the day. By sharing this Teamwork Quote of the Day, you can help motivate them as well.