Toxic Relationship Quotes To Burn Extra Load
The following quotes are about toxic relationships. They are meant to shed light on what a toxic relationship looks and feels like. We hope they will help you to identify and avoid toxic relationships in your own life.
A toxic relationship is a relationship between two people who are harmful to each other, either physically or emotionally. This can be a marriage, a family relationship, or a friendship. A toxic relationship is often characterized by one person being abusive or manipulative, and the other person being submissive or codependent. In some cases, both people may be abusive or manipulative.
Looking for some inspiration to help you get through a tough break–up? Check out our collection of toxic relationship quotes.
Toxic Relationship Quotes
"Toxic people attach themselves like cinder blocks tied to your ankles, and then invite you for a swim in their poisoned waters."
― John Mark Green
"If you're in a relationship and all you do is cry, you need to stop and ask yourself, are you dating a human or an onion?" ― Karen Salmansohn
"A bad relationship is like standing on broken glass, if you stay you will keep hurting. If you walk away, you will hurt but eventually, you will heal." ― Autumn Kohler
"Fire False Friends as early as possible. Do it before they dig out the dream seeds you've planted! The earlier, the better; the quicker, the safer!"
― Israelmore Ayivor, Daily Drive 365
"I seem to be torn between 'I wish we'd met earlier' and 'I wish we'd never met'."
― Ahmed Mostafa
Toxic Relationship Quotes for Him
"Toxic people attach themselves like cinder blocks tied to your ankles, and then invite you for a swim in their poisoned waters."― John Mark Green
"Like arsenic, toxic people will slowly kill you. They kill your positive spirit and play with your mind and emotions. The only cure is to let them go." — Dennisse Lisseth
"Forgiveness is a personal process that doesn't depend on us having direct contact with the people who have hurt us."
― Sharon Salzberg, Real Love: The Art of Mindful Connection
"You think you can change a guy, that he'll be different with you, that you'll finally be the one to tame him… and before you know it, you're alone in your underwear at nine o'clock on a Saturday night, crying to Adele songs, eating ice cream straight from the gallon, and wondering what the hell is the matter with you that you fell for such a goddamned man-child, after he explicitly warned you not to."
― Julie Johnson, The Monday Girl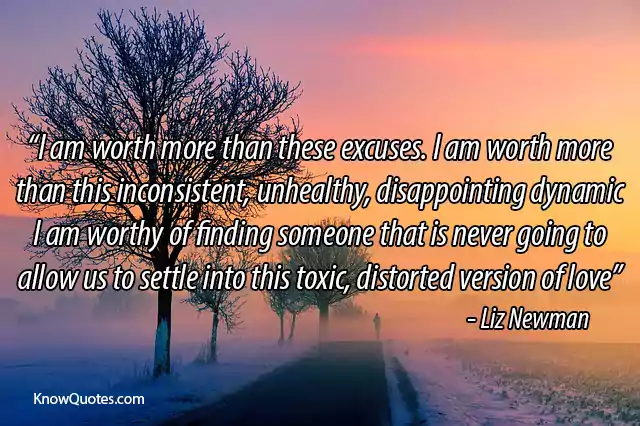 Toxic Relationship Quotes for Her
"A bad relationship can do that, can make you doubt everything good you ever felt about yourself." ― Dionne Warwick
"When he's the last thing you need, he'll drain you. He'll exhaust you. He'll destroy you. And you won't see it that way. In fact, you won't notice it at all. But everyone else will." ― Kirsten Corley
"Removing toxic people (including Naysayers) from your life can repay you in scores of holistic wealth."
― Keisha Blair
"The most envious of all people on earth are those who are extremely ambitious but too lazy to take action."
― Geoffrey Ocaya
Toxic Relationship Quotes Funny
"Stop setting yourself on fire to keep someone else warm." ― Unknown
"I mean, if the relationship can't survive the long term, why on earth would it be worth my time and energy for the short term." ― Nicholas Sparks
"If you keep pretending you're not hurt, how can you heal? True love doesn't expect you to deny you're in pain."
― Zara Hairston
"Make sure you're not saying 'It's complicated' when it's actually TOXIC. The more words it takes you to explain your relationship, the less healthy it probably is."
― Steve Maraboli
"Thinking of you is a poison I drink often." ― Atticus
"You make me feel like a firefly. Trapped in a bell jar; starved for love." ― Ayushee Ghoshal
Toxic Relationship Quotes Instagram
"We were two people in the same house, raising the same children, and outwardly for now, speaking of the same dreams; but we were not at all the same."
― Sara Niles, Torn From the Inside Out
"I remember wanting to flee her, and being unable to flee her, so in need of her and half hating her for it, and I still am nauseous from it."
― Hannah Lillith Assadi, Sonora
"Don't light yourself on fire trying to brighten someone else's existence." ― Charlotte Eriksson
"Boundaries we set for our life are important, life-saving even. A lot of hurt comes from allowing others to guilt us into breaking them."
― Zara Hairston
Final Goodbye Toxic Relationship Quotes
"The masculine and feminine dynamics are inherently chaotic and often toxic (my opinion). And sensuality holds more intelligence than both the masculine or feminine as we traditionally know them."
― Lebo Grand
"As a result of being propagated into a toxic way of life, the act of breaking from that life has been a rite of passage taken by those who wish to listen deep for their authentic self."
― L.M. Browning, Drive Through the Night
"I didn't fear you. I feared us. I feared what could have been. I feared what could be. I feared the connection we had between each other. The toxicity because I could grasp the danger."
― Dominic Riccitello
"The same goes for Edward Monkford. Yes, based on what you've told me, it seems Emma was the real narcissist, not him. But there's no doubting he's an extreme controller. What happens when a controller comes up against someone who's out of control? The combination could be explosive."
― J.P. Delaney, The Girl Before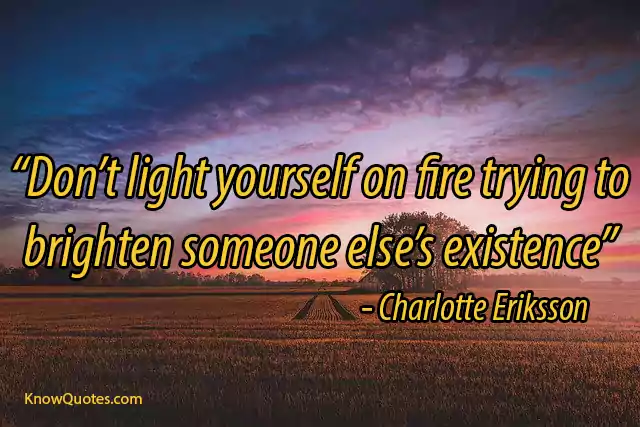 Unhealthy Relationship Toxic Relationship Quotes
"I am worth more than these excuses. I am worth more than this inconsistent, unhealthy, disappointing dynamic. I am worthy of finding someone that is never going to allow us to settle into this toxic, distorted version of love."
― Liz Newman
"I was in denial of the glaring reality that my existence depended on my willingness to comply with the family policy of me earning the splinter of space they granted to me."
― M. Wakefield, Narcissistic Family Dynamics: Collected Essays
"Instead of understanding my problems, he used them against me and that's when I knew we weren't quite right."
― Dominic Riccitello
What Is a Toxic Relationship Quote?
A toxic relationship quote is a saying that describes a negative, harmful, or dysfunctional relationship. This type of quote can be helpful in identifying and addressing toxic relationships in our own lives. It can also be a source of comfort and support for someone who is dealing with a toxic relationship.
What Are Signs of Toxicity in a Relationship?
There are many signs that can indicate toxicity in a relationship. Some people might become withdrawn and stop communicating, while others might become verbally or physically abusive. Some common signs of toxicity in a relationship include: lack of trust, feeling trapped, feeling like you're always walking on eggshells, feeling isolated, and feeling like you're not good enough. If you're experiencing any of these things in your relationship, it's important to reach out for help. toxic relationships can be incredibly damaging to your mental and physical health, so it's important to get out of them as soon as possible.
Is a Toxic Relationship True Love?
A toxic relationship is not true love. A toxic relationship is one in which there is a consistent pattern of negative behaviors and thoughts that are harmful to both parties. These negative behaviors can include, but are not limited to, verbal and emotional abuse, controlling behavior, and manipulation. If you are in a toxic relationship, it is important to seek help from a qualified professional to assist you in making positive changes.
What Is Toxic Love From?
Toxic love is a term used to describe a relationship that is harmful to either or both partners involved. This type of love can be characterized by possessiveness, jealousy, manipulation, and a lack of trust. In some cases, toxic love can even lead to violence. If you're in a toxic relationship, it's important to seek help from a professional to get out of it safely.
The blog post "Toxic Relationship Quotes" is a compilation of quotes about toxic relationships. The quotes highlight the negative aspects of such relationships and offer advice on how to deal with them. The conclusion is that toxic relationships are harmful and should be avoided.
https://www.youtube.com/watch?v=oUetfwcl7Ac