Adoption Quotes for Birth Mothers
There is nothing quite as selfless as choosing to give your child up for adoption. It is a decision that is made out of love, and one that comes with a lot of emotions. These Adoption Quotes for Birth Mothers come from women who have been through the adoption process and know just how hard it can be. They are a reminder that you are not alone in this, and that there is always hope.
Adoption quotes for birth mothers can be difficult to find. This is a collection of some of the most popular and inspiring quotes on adoption, specifically for birth mothers.
Adoption Quotes for Birth Mothers
"Adoption should be an empowering option for young women in crisis, knowing that the people around them- family, friends, church – will respect their choice."  Unknown
"You count the hours you could have spent with your mother. It's a lifetime in itself."
-Mitch Albom
"Mother is a verb. It's something you do. Not just who you are."
-Cheryl Lacey Donovan
"He is mine in a way that he will never be hers, yet he is hers in a way that he will never be mine, and so together, we are motherhood." Desha Woodall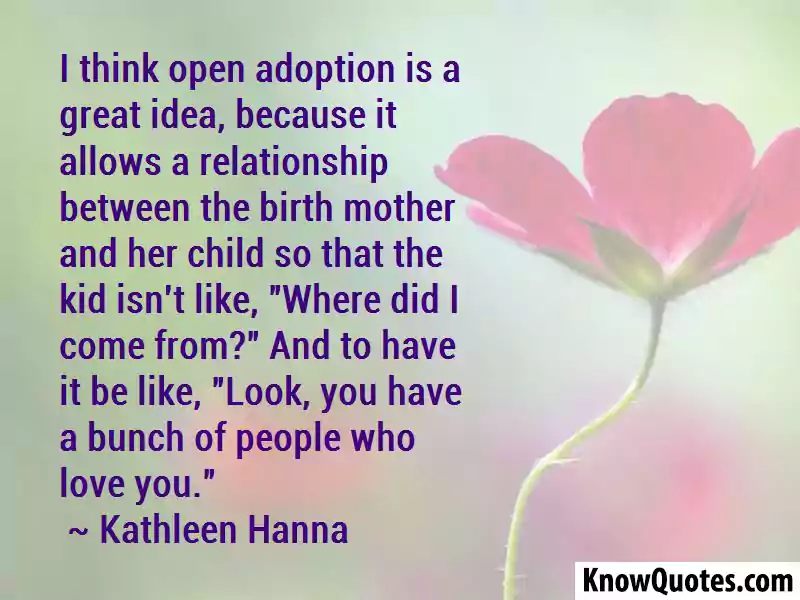 Biological Mother Adoption Quotes for Birth Mothers
"A Birthmother puts the needs of her child above the wants of her heart." -Skye Hardwick
"Giving birth does not make a mother… Placing a child for adoption does not make her less of one." Unknown
"It is as grandmothers that our mothers come into the fullness of their grace."
-Christopher Morley
"All that I am or ever hope to be, I owe to my angel Mother."
-Abraham Lincoln
"I know (my birth mother) must have had a lot of love for me to want to give (me) what she felt was a better chance." Faith Hill
Birth Mother Quotes
"If you love someone unconditionally and with your whole heart, then you will do what is best for them, not you. I have never learned a harder lesson than giving my child up for adoption, and I probably never will." Talitha
"Any mother could perform the jobs of several air traffic controllers with ease."
-Lisa Alther
"Mothers and their children are in a category all their own. There's no bond so strong in the entire world. No love so instantaneous and forgiving."
-Gail Tsukiyama
Birth Mother's Day Quotes
"Authenticity is the daily practice of letting go of who we think we're supposed to be and embracing who we are… Mindfully practicing authenticity during our most soul-searching struggles is how we invite grace, joy, and gratitude into our lives." -Brené Brown
"Adoption isn't a birthmother's rejection but an unconditional love that inspires her to put herself last and do all she can for her baby." – Mary Hines
"When you are a mother, you are never really alone in your thoughts. A mother always has to think twice, once for herself and once for her child."
-Sophia Loren
"There's no way to be a perfect mother and a million ways to be a good one."
-Jill Churchill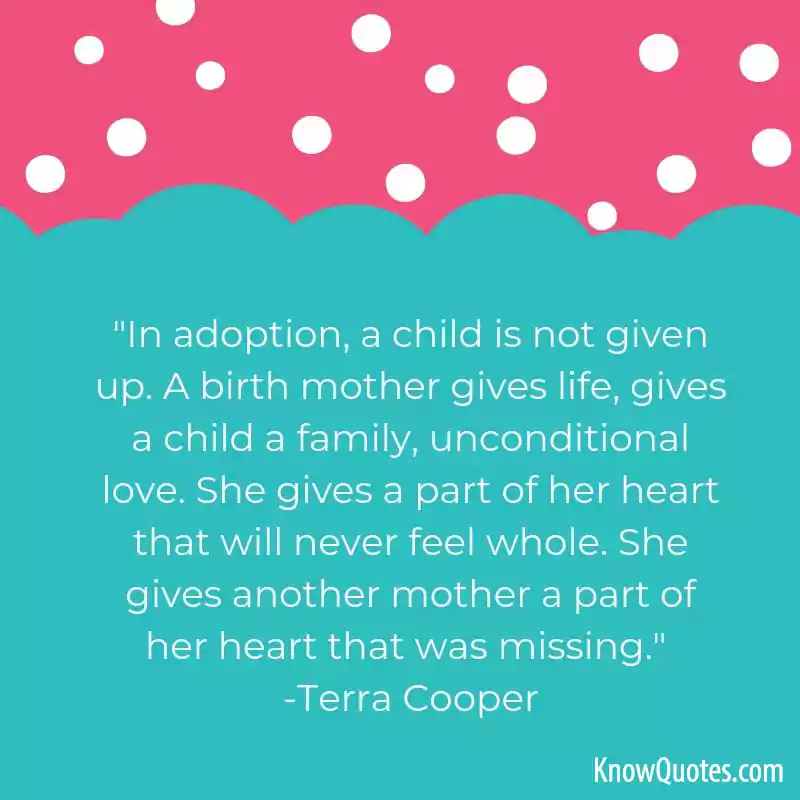 Sample Letters to Birth Mothers From Adoptive Parents
"The circumstances surrounding your birth are not as important as the opportunity to live life." – Lailah Gifty Akita
"Giving birth does not make her a mother. Placing a child for adoption does not make her less of one." ~ Unknown Author
"I remember my mother's prayers and they have always followed me. They have clung to me all my life."
-Abraham Lincoln
"The heart of a mother is a deep abyss at the bottom of which you will always find forgiveness."
-Honoré de Balzac
Adoption Birth Mom Quotes
"Parenthood requires love, not DNA." ~ Unknown Author
"If you have the heart for adoption, don't let fear stand in the way." ~ Doug Chapman
"A birth mother always puts the needs of her child above the wants of her heart." ~ Unknown Author
"Being a full-time mother is one of the highest salaried jobs in my field, since the payment is pure love."
-Mildred B. Vermont
"The phrase 'working mother' is redundant."
How Much Does a Birth Mother Get for Adoption
"Adoption is another word for love." ~ Unknown Author
"Adoption is not the call to have the perfect rosy family. It is the call to give love, mercy, and patience." ~ Unknown Author
 "Adoption: if a baby is not a blessing for you right now, let them be a blessing to someone else." ~ Unknown Author
"Born not from our flesh, but born into our hearts. You were longed for, wanted and loved from the start." ~ Unknown Author
"I was chosen. I was wanted. I was cherished. I grew in their hearts. I was the missing piece. I was loved. I was adopted." ~ Unknown Author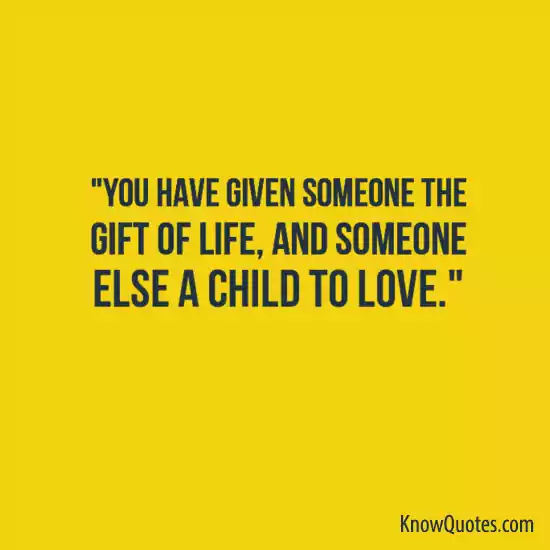 How Do You Write an Adoption Caption?
When writing an adoption caption, it is important to be clear, concise, and heartwarming. An adoption caption should include basic information about the child, such as their age, gender, and interests. It is also important to mention what kind of family the child is looking for. For example, a caption might say, "This sweet girl is looking for a forever family who will love her unconditionally!"
What Do You Say to Your Birth Mother?
There are a few things you could say to your birth mother, depending on the relationship you have with her and what you want to say. You could tell her thank you for giving you life, or you could ask her why she gave you up for adoption. You could also tell her about your life and what you've been doing.
What Do You Say to Someone Who Just Adopted a Baby?
If you are close to the person who has just adopted a baby, then you might say something like, "Congratulations on your new arrival!" or "What a special time for your family!" If you are not as close to the person, you might simply say, "Welcome to parenthood!" or "I'm so happy for you!"
What Is the Motivation of Adoption?
There are many reasons why people choose to adopt, but the most common motivation is the desire to provide a loving home for a child in need. Other reasons may include the inability to have children of one's own, the desire to expand one's family, or the wish to provide a child with a better life. Whatever the motivation, adoption can be a rewarding experience for both the child and the adoptive parent or parents.
The author of the blog post Adoption Quotes for Birth Mothers. The quotes are meant to inspire and provide comfort to birth mothers who are considering adoption for their child. The author concludes by saying that adoption is a selfless act of love and that birth mothers should be proud of their decision to place their child for adoption.