There are many different Believe in God Quotes. Some people believe that God is everything and the reason for everything. Others believe that God is good and loving and can help us through tough times. No matter what you believe, there are quotes out there that can inspire you to keep believing.
A collection of Believe in God Quotes. From people who have overcome great obstacles to those who have found strength in their faith, these quotes remind us that anything is possible with a little bit of faith.
Believe in God Quotes
''Let your life reflect the faith you have in God. Fear nothing and pray about everything. Be strong, trust God's word, and trust the process.'' –Germany Kent
''Through hard work, perseverance and a faith in God, you can live your dreams.'' –Ben Carson
"…Their problem was not that they failed to believe in God; it was that they did not know God; it was that they did not know God. It took only one generation for that knowledge to be lost. But it's also true that what can be lost in one generation can also be restored in one generation"
― Colin S. Smith, The One Year Unlocking the Bible Devotional
Believe in God Quotes and Sayings
"God is great because no one else could create the planet we live in. All living beings dwell in the same Earth which God created. Whether they believe in Him or not."
― Gift Gugu Mona, Daily Quotes about God: 365 Days of Heavenly Inspiration
''Faith is not the belief that God will do what you want. It is the belief that God will do what is right.'' –Max Lucado
''Faith in God is an opening up, a letting go, a deep trust, a free act of love but sometimes it was so hard to love.'' –Yann Martel
Believe in God Quotes Images
''Hold fast to your faith. Keep your hope in the Lord. Embrace the love of God.'' –Lailah Gifty Akita
"We become automatically unfaithful by referring to another creature of God as an infidel."
― Mwanandeke Kindembo
''Put up your guards, keep faith in God, I promise you all the world will be ours.'' –Puff Daddy
''He knows that as long as a man keeps his faith in God and in himself nothing can permanently defeat him.'' –Wilferd Peterson
Not Believe in God Quotes
"If you drop your beliefs, you drop your success. God's mighty people begin to fall even as achievers when they begin to drop the beliefs they pursue at first."
― Israelmore Ayivor, The Great Hand Book of Quotes
"My friend (s), I'm not an atheist like you. In fact, I'm a theist. Meaning, I do believe in One Living God!"
― Mwanandeke Kindembo
''Faith in God necessarily implies a lack of faith in humanity.'' –Barbara G. Walker
''Build a strong faith in God through daily commitment in reading and obeying God's word.'' –Lailah Gifty Akita 
Related: God Is Good Quotes
Just Believe in God Quotes
"A god who let us prove his existence would be an idol." Dietrich Bonhoeffer
"Don't you believe that I am in the Father, and that the Father is in me? The words I say to you are not just my own. Rather, it is the Father, living in me, who is doing his work." (Jesus in John 14:10)
"You were made by God and for God, and until you understand that, life will never make sense." (Rick Warren quote)
"I write these things to you who believe in the name of the Son of God so that you may know that you have eternal life." (1 John 5:13)
Trust and Believe in God Quotes
"Faith has won it! Fear has lost it! When you get full of faith, the devil gets filled with fear! Keep your faith in light every day and you will keep the devil in fright always!"
― Israelmore Ayivor, The Great Hand Book of Quotes
"I have declared to both Jews and Greeks that they must turn to God in repentance and have faith in our Lord Jesus." (Acts 20:21)
"Jesus said to him, 'I am the way, and the truth, and the life. No one comes to the Father except through me.'" (John 14:6)
"For since we believe that Jesus died and was raised to life again, we also believe that when Jesus returns, God will bring back with him the believers who have died." (1 Thessalonians 4:14)
Related: God Quotes About Life
Always Believe in God Quotes
"But we are not of those who shrink back and are destroyed, but of those who believe and are saved. (Hebrews 10:39)
"No man is excluded from calling upon God, the gate of salvation is set open unto all men: neither is there any other thing which keepeth us back from entering in, save only our own unbelief." (John Calvin quote)
"As believers in Jesus Christ, our work is to believe while God works on our behalf." (Joyce Meyer quotes)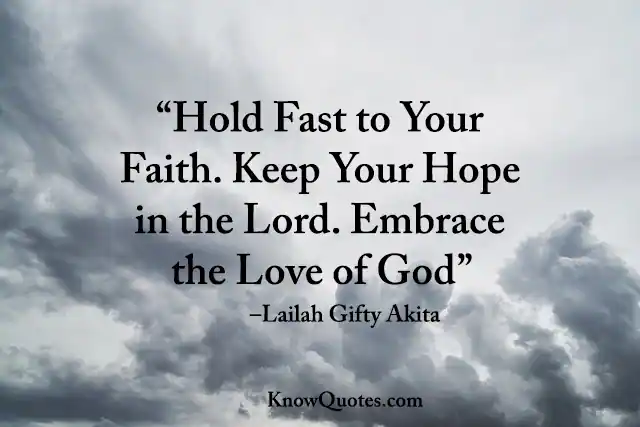 Do Believe in God Quotes?
There are many different quotes about God from a variety of people, both religious and non-religious. Some believe in God, some don't, and some are undecided. Here are a few quotes about God:
"I do not believe in God, I am an atheist." – Leo Tolstoy
"I believe in God, but not as one thing, not as an old man in the sky. I believe that what people call God is something in all of us." – Jiddu Krishnamurti
"I believe in God, but I don't believe in a personal god, a god who interferes in the affairs of humans." – Carl Sagan
"I don't believe in God, but I'm afraid of Him." – W. Somerset Maugham
Related: God Bless You Quotes
Why Do People Believe in God Quotes?
There are many reasons why people believe in God. Some people believe in God because they were raised in a religious household and it is what they have always been taught. Others believe in God because they have had personal experiences that have led them to believe that there is a higher power at work in the world. Some people believe in God because they find comfort in the idea that there is someone looking out for them and that there is a plan for their life. Whatever the reason, there are many quotes about God that can inspire and comfort people who believe in him.
What Is a Good Quote About God?
A good quote about God is one that speaks to His goodness, mercy, and love. It is a quote that reminds us of His great power and the hope that He brings. It is a quote that helps us to see the beauty in His creation and the wonder of His love.
What Are Some God Sayings?
There are many different god sayings from a variety of religions. Some common god sayings include "God is love" from Christianity, "God is great" from Islam, and "God is everywhere" from Hinduism. These sayings emphasize different aspects of God, but all point to a shared belief in a higher power.
There is no one definitive answer to whether or not God exists. However, many people throughout history have believed in some form of a higher power. These "Believe in God Quotes" provide a glimpse into the various ways that people have thought about and explained their belief in God. Whether you believe in God or not, these quotes offer an interesting perspective on the concept of faith.