Employee Appreciation Sayings
In any organization, employees are the backbone and the most important asset. A little appreciation goes a long way in keeping them motivated and happy. Here are some employee appreciation sayings that you can use to show your gratitude.
Looking for the perfect Employee Appreciation Sayings? You've come to the right place! Here, you'll find a collection of sayings that you can use to show your employees just how much you appreciate them.
Employee Appreciation Sayings
''It's your dedication that contributed to our success. Thank you for inspiring us!''
''Every idea shared and every opportunity seized by you helped us achieve the heights. Kudos to your efforts!''
''Please accept my sincere gratitude for everything you have done, and continue to do, to help us meet our goals. The way you approach your role is exemplary. Your positive, can-do attitude makes a huge difference to our organization. Thanks for all you do.''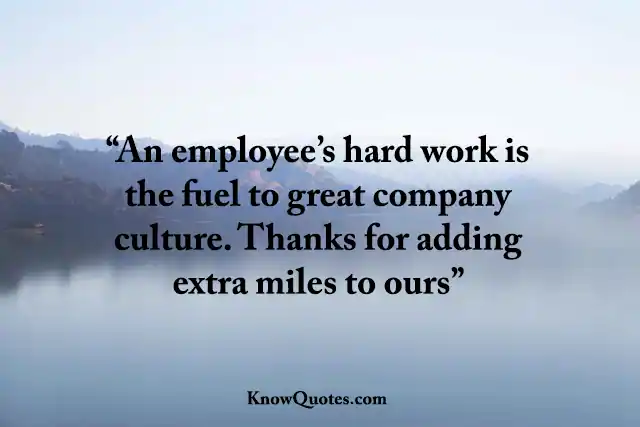 Employee Appreciation Sayings With Popcorn
''I have noticed the positive impact you have on every project or job assigned to you. Your personal commitment to quality and your dedication to your work makes a big difference. I hope you are happy in your role and we can continue to work together on your continued professional development throughout the years ahead.''
''Your dedication is imperative for the growth of our company. Thank you for your efforts.''
''You probably haven't thought of anyone noticing you staying back late at the office. Well, you missed me out. Thank you for your efforts. Yours sincerely,……''
Employee Appreciation Sayings With Candy
''A good employee inspires his or her boss. Thanks for being my inspiration.''
''An employee's hard work is the fuel to great company culture. Thanks for adding extra miles to ours.''
''We have noticed the initiative that you show when tackling tasks and your creativity, resulting in excellence in everything that you do. You are a great asset to us, and we encourage you to keep up the good work. Thank you for your effort and dedication.''
Employee Appreciation Sayings and Quotes
''We are proud to have someone like you in the company. Your excellent work ethic, great attitude, and attention to detail are an inspiration to all, resulting in a higher standard of work all around. Thank you.''
''A perfect employee is not the one who comes early and leaves late. It is someone who dedicates themselves to their work wholeheartedly. Kudos to your dedication!''
''Your attention to detail at work makes you more unique. Keep up the good work.''
Cute Employee Appreciation Sayings
''Your commitment to doing things properly the first time around has been one of the reasons for your success. This is an exceptional quality and one that will help you achieve your goals here. Thanks for all your effort, and keep up the great work.''
''On behalf of [company], I want to thank you for all of your hard work. You are a key team player who is trustworthy and reliable, and you always find a way to get the job done well. It has been a pleasure to watch you grow within your role.''
''You and your work always stood by the expectations and have a meaningful contribution to the company's success. We value your presence and are proud of you.''
Halloween Employee Appreciation Sayings
''I'll bet you didn't think if anyone was watching you while you invested those extra hours. You were wrong, and I would like to thank you for everything you have done so far. Yours sincerely,……''
''I would like to take this opportunity to thank you for your unrelenting enthusiasm for your job. You are a trusted employee with fantastic attention to detail, and I am grateful to have you as part of my team. We are better as a team because of you. Thank you for all of your hard work and dedication.''
''I want to let you know I appreciate your top-notch results. I notice that you take every opportunity to continue your professional development, and your hard work has certainly paid off. Thank you for being such a valued employee and a role model for others.''
Employee Appreciation Quotes
''The service you provided exceeded all expectations. I would also like to add how much you mean to our company. Thank you, and keep up with the good work.''
''Your desire and willingness fuel our mutual efforts and guide us to success.''
''I must be one hell of a lucky manager to get someone like you working for me, and I wish to see your progress in all your endeavors.''
''Even though appreciation words are not enough for praising you for your great work. I would still like to convey my best wishes and assure you of my support every time you need it.''
Appreciation Thank You Team Quotes
''I have been busy lately, but now I want to tell you how much our company values you and your work.''
''Your hard work is admirable, and it guarantees a continuing successful relationship between us.''
''The efforts you put in to deliver high-quality work for the organization are commendable. May you continue the same every single day for the rest of your career. Kudos!''
Appreciation Quotes for Good Work
''Words will fall short if I am to praise you for everything you have done for the company. However, this won't stop me from telling you how valuable you have become for us now. I wish you all the success in life!''
''It's the vision of employees like you who turn desired plans into success. We value you and your work to the moon and back.''
''Your dedication and hard work have left everyone in utter amazement in the company, and here I take this moment to convey my heartiest wishes and best of luck to you.''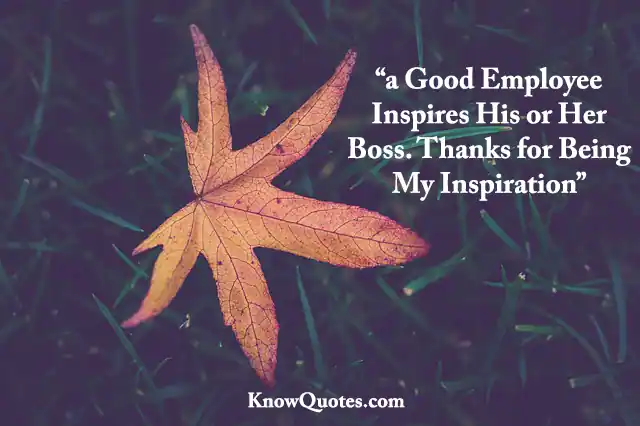 What Do You Say to Employees on Employee Appreciation Day?
The best way to show your appreciation for your employees is to say "thank you." You can also show your appreciation by giving employees a raise or bonus, or by giving them a day off. Whatever you do, make sure you show your employees that you appreciate their hard work and dedication.
What Are Some Appreciation Quotes?
There are many appreciation quotes that can be found online and in books. Some of these quotes are:
"The Roots of Education are Bitter, But the Fruit is Sweet" -Aristotle
"The only way to do great work is to love what you do" -Steve Jobs
"If you can dream it, you can do it" -Walt Disney
"Whatever you do, work at it with all your heart, as working for the Lord, not for human masters" -Colossians 3:23
"I can't change the direction of the wind, but I can adjust my sails to always reach my destination" -Jimmy Dean
"You can't help everyone, but everyone can help someone" -Ronald Reagan
"Believe you can and you're halfway there" -Theodore Roosevelt
"I have learned over the years that when one's mind is made up, this diminishes fear" -Rosa Parks
What Do You Write in a Staff Appreciation Card?
When it comes to showing appreciation for your employees, a staff appreciation card is a great way to do it. There are a few things you should keep in mind when writing a staff appreciation card. First, make sure to personalize the message. A generic message will not have the same impact as a message that is specifically tailored to the employee. Second, keep the message positive and upbeat. This is not the time to give constructive criticism or feedback. Finally, be sincere in your appreciation. Employees can tell when you're being genuine, so make sure your message comes from the heart.
Overall, the author seems to think that employee appreciation sayings are a good way to show employees that they are valued. The author also provides some examples of sayings that could be used.