Beautiful Quotes for Valentine's Day
There's nothing quite like a romantic quote to set the mood on Valentine's Day. Whether you're looking for something cheesy to write in a card, or something heartfelt to share with your significant other, these Beautiful Quotes for Valentine's Day are sure to do the trick.
Looking for the most Beautiful Quotes for Valentine's Day? We've got you covered. From the sweetest to the funniest, we've gathered the best Valentine's Day quotes for you to share with your loved ones.
Beautiful Quotes for Valentine's Day
''Valentine's Day is the poet's holiday.'' — Ted Koosner
"Romance is thinking about your significant other, when you are supposed to be thinking about something else." – Nicholas Sparks
"What I feel for you seems less of earth and more of a cloudless heaven." – Victor Hugo
"God's plans are the perfect plan. He sent me a special valentine when He sent me you. God knew what he was doing when he sent me you!" – Theodore W. Higginsworth
'' Love looks not with the eyes, but with the mind / And therefore is wing'd Cupid blind.'' — William Shakespeare, A Midsummer Night's Dream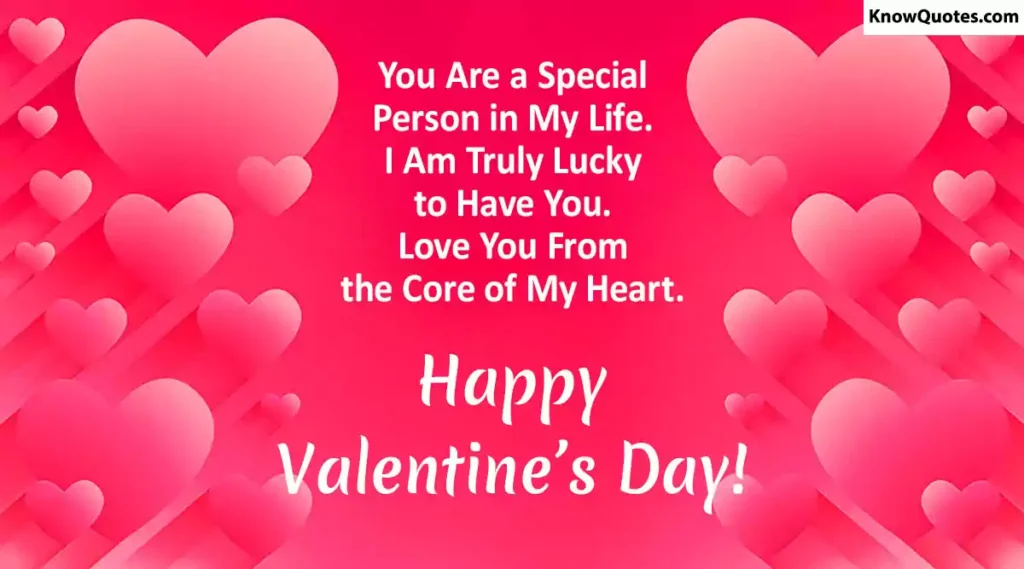 Happy Valentines Day Beautiful
''You can't buy happiness but you can buy chocolate, and that's kind of the same thing.'' — Author Unknown
''Loving ourselves truly so we can truly love others is the real valentine, and experiencing what I'm calling a Valentine Life, is available to everyone.'' —Sark
"Love is a condition in which the happiness of another person is essential to your own." – Robert Heinlein
"When I am with you I have no worries, as I know you accept me as who I am and your love encompasses me with no other plan." – Unknown
Motivational Inspirational Quotes for Valentines Day
"Your flaws are perfect for the heart that's meant to love you." – Trent Shelton
''Love is a rose but you better not pick it / Only grows when it's on the vine / Handful of thorns and you'll know you've missed it / Lose your love when you say the word mine.'' — Neil Young, "Love Is a Rose"
''How do I love thee? Let me count the ways. / I love thee to the depth and breadth and height / My soul can reach, when feeling out of sight / For the ends of being and ideal grace.'' — Elizabeth Barrett Browning, "How Do I Love Thee? (Sonnet 43)"
''You complete me.'' — Cameron Crowe, "Jerry McGuire"
"My heart is full and warm of deep emotions which radiate out in waves of light and love." – Ellen Gerst
Beautiful Valentines Messages
"I love you. Today. Right now. Just as you are. And I know, with time we will change. We will evolve. We will grow. And I hope we do all of it together." – Akif Kichloo
"With you is where I want to be this Valentine's Day." – Catherine Pulsifer
''You're my funny valentine / Sweet comic valentine / You make me smile with my heart.'' — Richard Rodgers and Hart Lorenz 
''Where there is love there is life.'' — Charles Spurgeon, The Complete Works of C.H. Spurgeon
''If I had a flower for every time I thought of you … I could walk through my garden forever.'' ― Author Unknown 
"Don't ever think that my love isn't true I promise never to abandon you, My love will dry up all your tears, and put an end to all your fears." – Christine John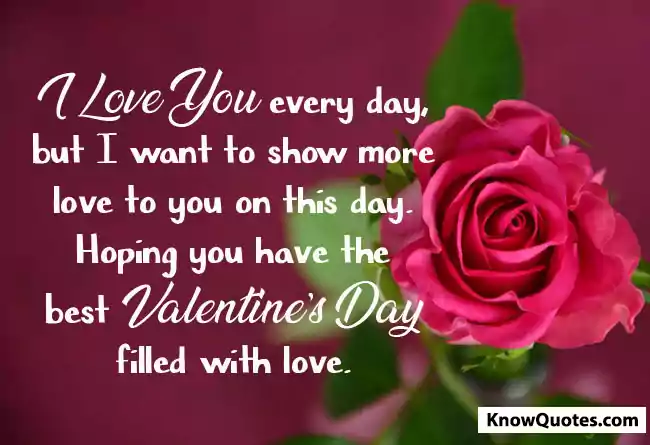 Beautiful Quotes for Valentine's Day
"You are my Valentine because you bring love to my life each and every day. I love you more each and every day, in every way." – Kate Summers
"You mean so much to me. The love we share on Valentine's Day grows more perfect as time passes. I hope you realize how very much I love you." – Robert Rivers
''The kiss itself is immortal. It travels from lip to lip, century to century, from age to age. Men and women garner these kisses, offer them to others and then die in turn." ― Guy de Maupassant, "A Tress of Hair"
Happy Valentines Day to My Beautiful Daughters
''Wanna hear your beating heart tonight / Before the bleeding sun comes alive.'' — Ellie Goulding, "Beating Heart"
"There's no word strong enough to express my affection all I know is God made us for each other." – Nigel Daring
"If you live to be a hundred, I want to live to be a hundred minus one day so I never have to live without you." – Winnie-the-Pooh
Happy Valentine's Day Gorgeous
"In a world full of temporary things you are a perpetual feeling." – Sanober Khan
"Love is blind but after experiencing it for a long time you should become familiar with some particular spots." – Unknown
"Love is like swallowing hot chocolate before it has cooled off. It takes you by surprise at first, but keeps you warm for a long time." – Unknown
"The heart has its reasons that reason knows nothing of. "The future for me is already a thing of the past – You were my first love and you will be my last" -By Bob Dylan
"Passion keeps me loving you again and again. You are the key that has unlocked my passion." – Anna Gable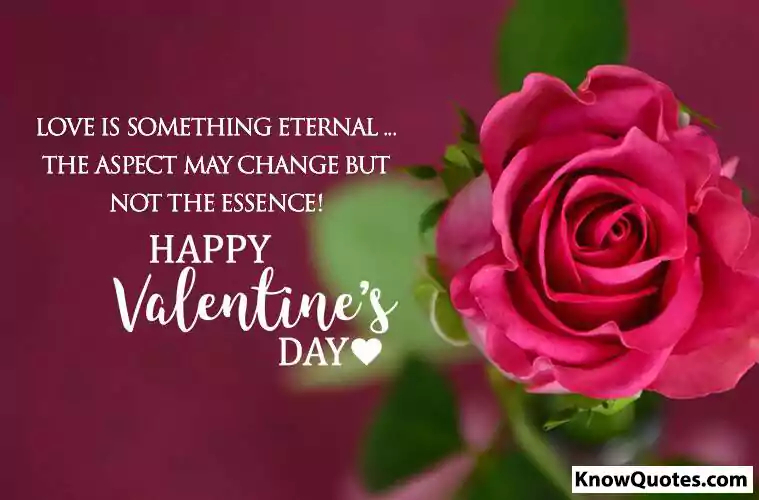 Happy Valentines Day to My Beautiful Wife
"A valentine warms the heart, so be brave and be smart, give one to the ones you love, now they have you to think of." – Kriss Stewart
"For you see, each day I love you more Today more than yesterday and less than tomorrow." – Rosemonde Gerard
"Oh, if it be to choose and call thee mine, love, thou art every day my Valentine!" – Thomas Hood
"Love is a symbol of eternity. On this Valentine's Day my hope and wish is that our love will be forever." – Catherine Pulsifer
"Love doesn't make the world go round, Love is what makes the ride worthwhile." – Elizabeth Bowen
"The future for me is already a thing of the past – You were my first love and you will be my last" -By Bob Dylan
What Are Some Cute Valentine Sayings?
There are many cute sayings that can be used for Valentine's Day. Some examples include "I love you more than chocolate," "I can't imagine my life without you," and "I'm so lucky to be with you." These sayings express the deep love and affection that many people feel for their significant others. They are sure to put a smile on your loved one's face and make them feel special.
What Is Most Beautiful Love Quote?
There are many beautiful love quotes out there but my favorite is "To love and be loved is the greatest happiness of all." This quote is by Brazilian novelist, Paulo Coelho and it perfectly sums up how I feel about love. To me, there is nothing greater than being loved and being able to love someone in return. That is what true happiness is and I believe that is the most beautiful love quote.
What Is the Most Romantic Quote?
There are so many romantic quotes that it is difficult to choose just one. However, if I had to choose, I would say that the most romantic quote is "I love you, not only for what you are, but for what I am when I am with you." This quote by Roy Croft speaks to the idea that love is not just about what the other person is, but also about how they make us feel. When we are with the person we love, we are our best selves and that is what makes them so special to us.
What Are Some Valentine Words?
Valentine's Day is a special day to celebrate love and affection. There are many ways to show your love on this day, and one of them is by expressing your feelings with words. There are many Valentine words that can be used to express your love, and some of them are listed below.
The author has compiled a beautiful collection of Beautiful Quotes for Valentine's Day. They are perfect for sharing with a loved one, or for simply enjoying yourself. The quotes range from the romantic to the humorous, and they are sure to bring a smile to your face.