Hug Quotes for Everyone Who Needs a Hug
We all need hugs. They make us feel loved, comforted, and safe. A good hug can even help reduce stress and ease tension. So why not share a few Hug Quotes with your loved ones?
A hug is a gesture of affection and is a great way to show someone you care. It is also a great way to show appreciation or thanks. Hugs can be given to family, friends, or even strangers. They can be given as a sign of congratulations, support, or simply as a way to show someone you care.
Looking for the perfect quote to describe how you're feeling? We've got you covered. Check out our collection of the best hug quotes.
Hug Quotes for Everyone Who Needs a Hug
"It is an absolute human certainty that no one can know his own beauty or perceive a sense of his own worth until it has been reflected back to him in the mirror of another loving, caring human being."
― John Joseph Powell, The Secret of Staying in Love
"Sitt Shadid scoops me up in a bear hug, sweeping me into her round softness. I haven't been hugged, really hugged, in so long… But Sitt Shadid pats and rubs my back, and I relax. I reach across her wide arms, my cheek to her neck. She smells like jasmine flowers and olive soap."
― Zeyn Joukhadar, The Map of Salt and Stars
"Before now, I never knew an embrace between two people could feel like one trembling body, one trembling heart, one person made from two, made from nothing, made from chance and choice and love"
― Sara Wolf, Send Me Their Souls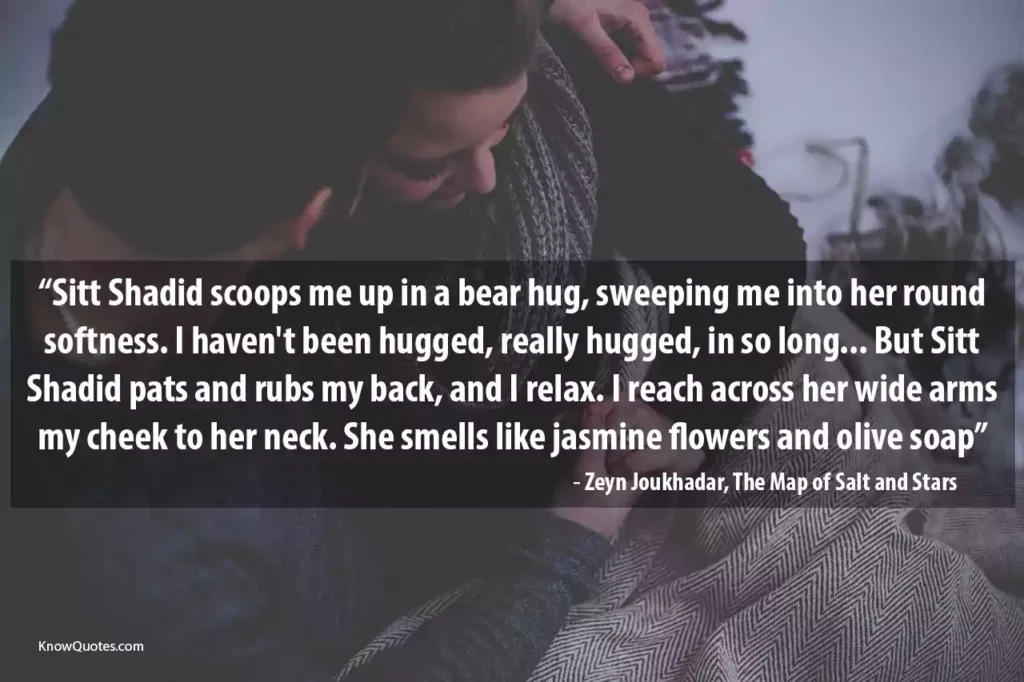 Hugs Quotes for Him
"You think that holding someone hard will bring them closer. You think that you can hold them so hard that you'll still feel them, embossed on you, when you pull away.
Every time Eleanor pulled away from Park, she felt the gasping loss of him."
― Rainbow Rowell, Eleanor & Park
"Love is like encountering a forest and having to chop down every tree but one. Oh, and you have to chop down each tree by hugging it until it falls.
"
― Dark Jar Tin Zoo, Love Quotes for the Ages. Specifically Ages 19-91.
"All hugs must end, so they pulled apart, just a little. That hurt too much, so he rested his forehead and nose upon hers. Sometimes happiness is just about more than a body can bear."
― Julie Berry, Lovely War
Hugs Quotes for Her
"Yay!" Tyson went around the couches and gave everyone a big hug—even Octavian, who didn't look thrilled about it."
― Rick Riordan, The Mark of Athena
"He gave her a quick, casual kiss on the cheek first. Then came the hug, and it was the hug that always made Laurel's heart mush. Serious grip, cheek to the hair, eyes closed, just a little sway. Del's hugs mattered, she thought, and made him impossible to resist."
― Nora Roberts, Savor the Moment
"You've got some power," Jakkin said. "One hug—and the lights go out!"
― Jane Yolen, A Sending of Dragons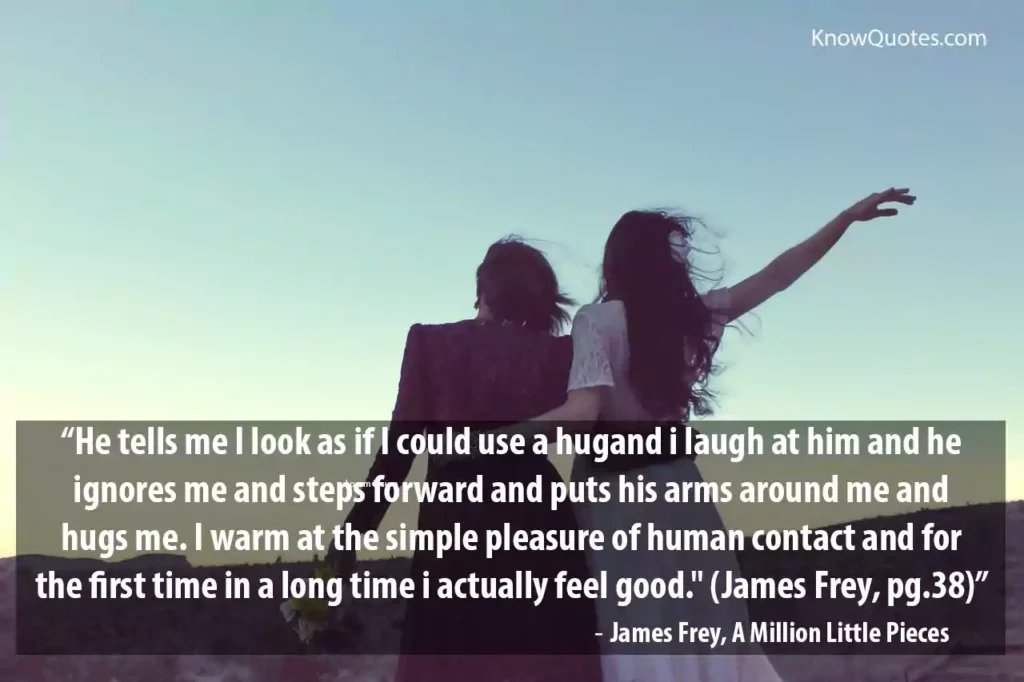 Hugs Quotes for Friends
"He rubbed his hands up and down, warming her. "Then that's all you need to know. I have you. If there are beasties in the dark, they have to get through me."
― Tessa Dare, Romancing the Duke
"If you're angry at a loved one, hug that person. And mean it. You may not want to hug – which is all the more reason to do so. It's hard to stay angry when someone shows they love you, and that's precisely what happens when we hug each other."
― Walter Anderson, The Confidence Course: Seven Steps to Self-Fulfillment
"I don't know where to go. I don't know what comes now."
"Don't worry," Will said. "We'll figure something out."
Liesl managed to smile at him. She liked that word: *we*. It sounded warm and open, like a hug."
― Lauren Oliver, Liesl & Po
Hugs Quotes Thinking of You
"It is never ridicule, but a compliment, that knocks a philosopher off his feet. He is already positioned for every possible counter-attack, counter-argument, and retort…only to find a big bear hug coming his way."
― Criss Jami, Killosophy
"I wished I could spend the rest of my life… being slightly crushed by someone who loved me."
― Gail Carson Levine, Ella Enchanted
"You know that moment when you hug somebody, when your heart feels warm and high in your chest and tingly? When you feel just for a second like a baby in a womb… that nothing matters? That's how I want you to feel. That's what a girlfriend should do, I think."
― Jake Vander Ark, The Accidental Siren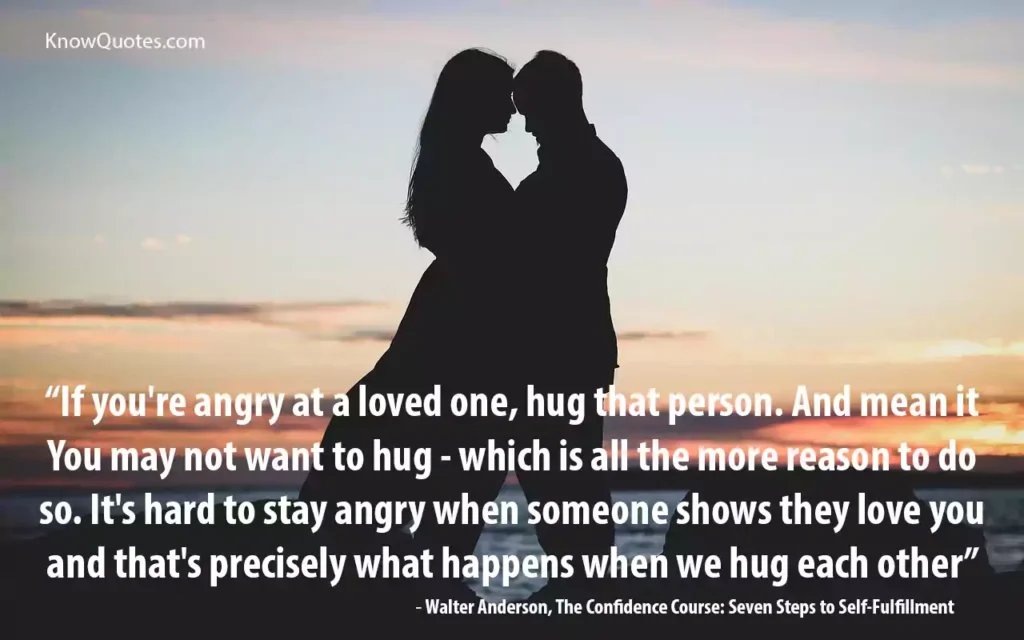 Hugs Quotes Funny
"Laughter with those that understand us is music for the soul.
A hug at the right moment and a kind shoulder to lean on,
Is the sprinkle of magic that keeps us walking towards hope."
"A hug from a samurai girl is warmer than a heap of blankets and more meaningful than a pile of words."
― Sandy Fussell, Shaolin Tiger
Hugs Quotes and Sayings
"He tells me I look as if I could use a hugand i laugh at him and he ignores me and steps forward and puts his arms around me and hugs me. I warm at the simple pleasure of human contact and for the first time in a long time i actually feel good." (James Frey, pg.38)"
― James Frey, A Million Little Pieces
"It is an absolute human certainty that no one can know his own beauty or perceive a sense of his own worth until it has been reflected back to him in the mirror of another loving, caring human being."
― John Joseph Powell, The Secret of Staying in Love
What Do You Say to a Hug?
There are a lot of different ways to answer this question, and it really depends on the context of the situation. If you are uncomfortable with physical contact, then you can simply say "no thank you" or "I'm not really a hugger." If you are okay with physical contact, then you can say "sure" or "I would love a hug." Ultimately, it's up to you to decide what you're comfortable with and what you want to say in any given situation.
What Are Some Cute Quotes?
Cute quotes are short, sweet sayings that usually contain a bit of truth or wisdom. They are often used to express affection, but can also be used simply to make someone smile. Here are some of our favorites:
"The best things in life are free."
"A friend is someone who knows all about you and still loves you."
"I love you more than coffee, but please don't make me prove it."
"You're never too old to be young."
"Life is too short to waste time on people who don't matter."
"Happiness is a choice."
What Makes a Good Hug?
There are a few things that make a good hug. First, it should be comfortable. If you're not comfortable, it's not a good hug. Second, it should be tight enough that you feel secure, but not so tight that it's uncomfortable. Third, it should last long enough that you feel the hug, but not so long that it's awkward. Lastly, it should be given with genuine care and affection.
Why Do I Crave Hugs?
Most people crave hugs because they provide comfort and make us feel safe. Human brains release oxytocin, which is sometimes called the "cuddle hormone" when we hug, touch, or sit close to someone else consensually. Oxytocin is associated with happiness, stress relief, and calming sensations. 
The author of the blog post "Hug Quotes" has compiled a list of quotes about hugs. The quotes come from a variety of sources, including famous people, movies, and songs. The author includes a personal story about how a hug can make a difference in someone's day. The quotes and story illustrate the power of a hug and how it can make someone feel loved and appreciated.