Inspirational Graduation Quotes
Graduating from school is a momentous occasion and a time for celebration! It marks the end of a chapter of your life and the beginning of a new one. To help you reflect on this special moment, we've compiled a list of Inspirational Graduation Quotes to help you mark the occasion. From wise words of advice to words of encouragement and inspiration, these quotes will help you remember the importance of this milestone in your life.
Looking for inspirational words of wisdom to share with a graduate on their special day? Check out this collection of Inspirational Graduation Quotes to help celebrate their success. From famous authors to life-changing speakers, these quotes will remind them to never give up and to keep reaching for their dreams.
Inspirational Graduation Quotes
"Whatever you choose for a career path, remember the struggles along the way are only meant to shape you for your purpose."
"Go make your big beautiful dent, and as you do so come down on the side of boldness. If you err, may it be for too much audacity, and not too little. For you really are enough. You have untold strengths and resources inside. You have your glorious self."—Sue Monk Kidd
"Be who you are and say what you feel, because those who mind don't matter and those who matter don't mind."—Dr. Seuss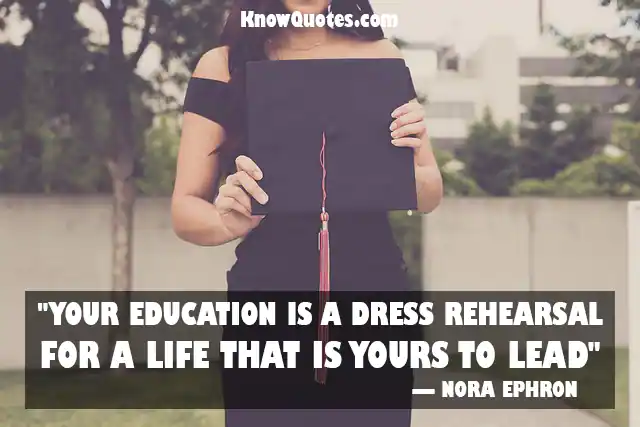 Inspirational Graduation Quotes Images
"What lies behind us and what lies before us are small matters compared to what lies within us."—Ralph Waldo Emerson
"Yes, there will be pitfalls, mountains and glass ceilings, but you're going to get across it."
"The future belongs to those who believe in the beauty of their dreams."
"It is not in the stars to hold our destiny but in ourselves."
"There may be days when you'll say to yourself, 'I can't. I literally can't even.' But you can! You can even!"
Inspirational Graduation Quotes From Parents
"Don't ever confuse the two, your life and your work. The second is only part of the first."—Anna Quindlen
"It is impossible to live without failing at something unless you live so cautiously that you might as well not have lived at all."—J.K. Rowling
"It takes courage to grow up and become who you really are."—E. E. Cummings
"Don't be afraid. Be focused. Be determined. Be hopeful. Be empowered."
"Even if you're on the right track, you'll get run over if you just sit there."
"When we show up, act boldly, and practice the best ways to be wrong, we fail forward. No matter where we end up, we've grown from where we began."
Inspirational Graduation Quotes for Students
"Fortune does favor the bold, and I promise that you will never know what you're capable of unless you try."
"Go confidently in the direction of your dreams. Life the life you have imagined."—Henry David Thoreau
"You're general, but you're also specific. A citizen and a person, and the person you are is like nobody else on the planet."—Toni Morrison
"Live with life. Be courageous, adventurous. Give us a tomorrow, more than we deserve."—Maya Angelou
"I am here to tell you that whatever you think your dream is now, it will probably change. And that's okay."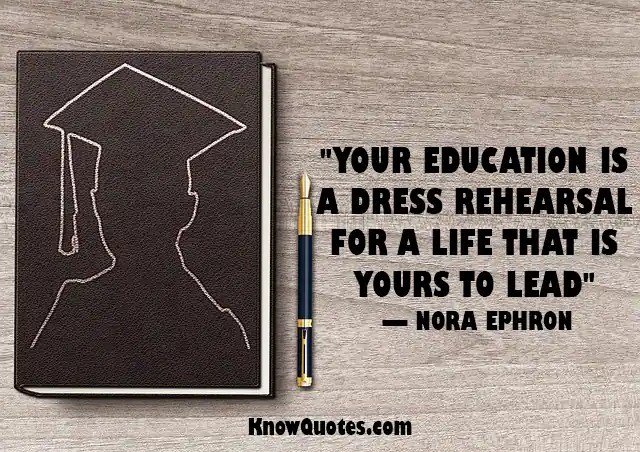 Inspirational Graduation Quotes Funny
"Surrender to the cards you're dealt. It's from that surrender that you get your power. Losing can be the best motivator to get you even bigger wins."
"Accept responsibility for your life. Know that it is you who will get you where you want to go, no one else."
"Intelligence plus character—that is the goal of true education." —Martin Luther King Jr.
"You cannot dream of becoming something you do not know about. You have to learn to dream big. Education exposes you to what the world has to offer, to the possibilities open to you." —Sonia Sotomayor
"If I must give any of you advice it would be say yes. Say yes, and create your own destiny." —Maya Rudolph
Inspirational Graduation Quotes for Daughter
"If you don't go after what you want, you'll never have it. If you don't ask, the answer is always no. If you don't step forward, you're always in the same place."
"Success is not final, failure is not fatal: it is the courage to continue that counts."
"Your life is your adventure. And the adventure ahead of you is a journey to fulfill your own purpose and potential." —Kerry Washington
"If you can do what you do best and be happy, you are further along in life than most people." —Leonardo DiCaprio
"Education is our passport to the future, for tomorrow belongs to the people who prepare for it today." —Malcolm X
Inspirational Graduation Quotes for Son
"I've learned it's important not to limit yourself. You can do whatever you really love to do, no matter what it is." —Ryan Gosling
"Fight for what makes you optimistic about the world. Find it, insist on it, dig into it, go after it." —Jennifer Garner
"Education is the most powerful weapon we can use to change the world." —Nelson Mandela
"Your education is a dress rehearsal for a life that is yours to lead." —Nora Ephron
"You don't go to university so you can punch a clock. You go to university so you can be in a position to make a difference." —Janet Napolitano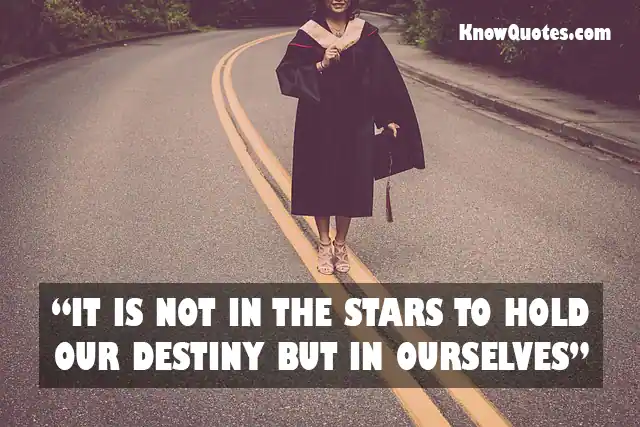 Inspirational Graduation Quotes Short
"You are about to start the greatest improvisation of all. With no script. No idea what's going to happen, often with people and places you have never seen before. And you are not in control. So say 'yes.' And if you're lucky, you'll find people who will say 'yes' back." —Stephen Colbert
"You must have some vision for your life. Even if you don't know the plan, you have to have a direction in which you choose to go." —Oprah
How Do You Write an Inspirational Message for Graduation?
Writing an inspirational message for graduation is a great way to congratulate a special graduate and provide them with words of encouragement as they move on to the next stage in their life. Whether you're creating a graduation card or sending a message to a loved one, it's important to make sure your message is meaningful and heartfelt. Here are some tips to help you write an inspirational graduation message that will be sure to motivate and inspire the graduate.
What Are the Best Inspirational Quotes?
Hello! Inspirational quotes can be a powerful tool to help motivate and encourage us in our daily lives. From famous quotes by historical figures to wise words from current leaders and thinkers, these quotes can provide us with the motivation we need to take action and reach our goals. In this article, I will share some of the best inspirational quotes to help you stay motivated and inspired.
What Is Words of Gratitude for Graduation?
Congratulations on completing your graduation! This is a moment to be celebrated and appreciated, and what better way to do so than with words of gratitude? Words of gratitude for graduation can include expressing your thanks to those who have helped you along the way, recognizing your own hard work and dedication, and expressing your hopes for the future. In this article, we'll discuss some examples of words of gratitude for graduation and how you can express them in your own words.
Graduation is a time for celebration, reflection, and inspiration. The words of wisdom shared in these Inspirational Graduation Quotes can help to give graduates the courage and strength to face their future with confidence. Whether you need a little extra motivation to keep going or a reminder of why you started in the first place, these quotes can help to remind you of the importance of hard work, courage, resilience, and dedication. No matter what challenges lie ahead, these wise words can help to remind you that anything is possible when you have the right attitude.