When life gets tough, it can be helpful to turn to inspirational quotes for guidance and comfort. Here are some of our favorite Inspirational Quotes for Hard Times, from a variety of authors and sources.
Looking for some words of encouragement during tough times? Check out our collection of Inspirational Quotes for Hard Times that will lift your spirits!
Inspirational Quotes for Hard Times
"The weakest man is not the man without physical strength. But the man who easily gives up when overwhelmed by the challenges of life."
"Instead of worrying about what you cannot control, shift your energy to what you can create." ― Roy T. Bennett
"Most of the important things in the world have been accomplished by people who have kept on trying when there seemed to be no hope at all." — Dale Carnegie
"Our strength is measured by our persistence in doing those things that seem impossible to us."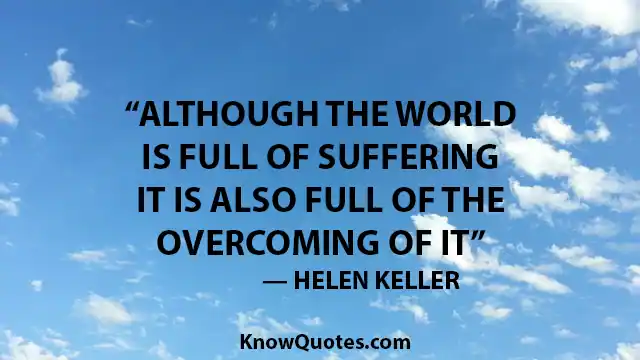 Inspirational Quotes for Hard Times in Life
"Never allow anyone to discourage you, simply because you are in the school of life (struggling). Life is an examination hall. Those who pass the test are those who endure to the end." Powerful Sight.
 "You will never win the battles of life until you learn to master your willpower." Anonymous
"The greater the difficulty, the more glory in surmounting it. Skillful pilots gain their reputation from storms and tempests." — Epictetus
"Hard times are sometimes blessings in disguise. We do have to suffer but in the end it makes us strong, better and wise." — Anurag Prakash Ray
Related Post: Positive Quotes for Hard Times
Inspirational Quotes for Hard Times in a Relationship
"If you faint in the day of adversity, your strength is small." Proverbs 24: 10
"Wake up every morning with a new strength, a new hope, and a new thought to change every negative thing today will bring."
"Never stop climbing until you get to your destination. What matters is the end and not the beginning of the road."
"Obstacles don't have to stop you. If you run into a wall, don't turn around and give up. Figure out how to climb it, go through it, or work around it." — Michael Jordan
Related Post: Quotes About Getting Through Tough Times
Inspirational Quotes for Hard Times at Work
"We either make ourselves miserable or we make ourselves strong. The amount of work is the same." — Carlos Costaneda
"If walking slows your movement, try to run. If running does not work, keep moving. The most important thing is to take a bold step."
 "You never know how strong you are, until being strong is your only choice." Bob Marley
 "Strength does not come from winning, but by remembering who you really are in the midst of difficulties."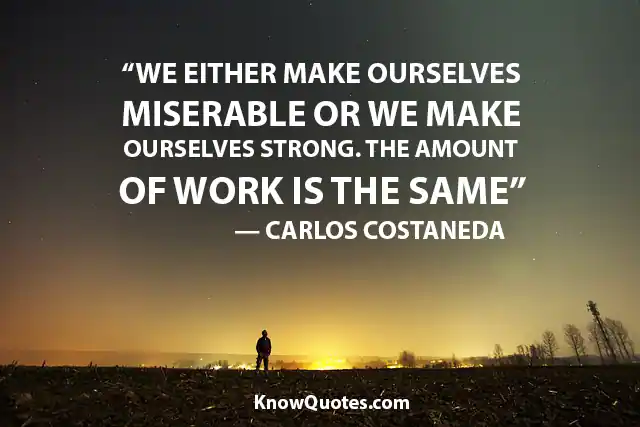 Inspirational Quotes for Hard Times in Marriage
"Strength does not come from physical capacity, but from an indomitable will."
"All the adversity I've had in my life, all my troubles and obstacles, have strengthened me…. You may not realize it when it happens, but a kick in the teeth may be the best thing in the world for you." — Walt Disney
"I learned there are troubles of more than one kind. Some come from ahead, others come from behind. But I've bought a big bat. I'm all ready, you see. Now my troubles are going to have trouble with me." — Dr. Seuss
"The ultimate measure of a man is not where he stands in moments of comfort and convenience, but where he stands at times of challenge and controversy."
Related Post: Difficult Times in Life Quotes
Inspirational Quotes for Hard Times in Relationships
"I love those who can smile in trouble, who can gather strength and distress, and grow brave by reflection." Leonardo da Vinci
"The pains we experience while passing through the school of life, are nothing but ingredients of success."
"Be calm when the storms of life beat you around. Be strong, courageous, and never stop believing that everything will surely turn around for your good."
"We are all faced with a series of great opportunities brilliantly disguised as impossible situations." — Chuck Swindoll
Best Inspirational Quotes for Hard Times
"It is only in our darkest hours that we may discover the true strength of the brilliant light within ourselves that can never, ever, be dimmed."— Doe Zantamata
"Although the world is full of suffering, it is also full of the overcoming of it." — Helen Keller
"You will never change difficult situations by complaining. Be calm and discover your inner strength."
"Gold is gold only when it has passed through the furnace. Hard times only bring out the genius in us." Onwe Damian E.
Short Inspirational Quotes for Hard Times
"Show me someone who has done something worthwhile, and I'll show you someone who has overcome adversity." — Lou Holtz
"Tough times never last, but tough people do." — Robert H Schuller
"Hard times don't create heroes. It is during the hard times when the 'hero' within us is revealed." — Bob Riley
What to Say to Encourage Someone Going Through a Tough Time?
When someone you care about is going through a tough time, it can be difficult to know what to say. You might worry that you'll say the wrong thing, or that you won't be able to make them feel better.
The most important thing is to let them know that you're there for them and that you care. You can say something like, "I'm sorry that you're going through this. I'm here for you and I'll do anything I can to help."
If they want to talk about what's going on, listen and try to offer support and understanding. Sometimes simply being a good listener is the best thing you can do.
If they don't want to talk, that's okay, too. Just let them know that you're there for them and offer any help or support they need.
What Are Some Uplifting Quotes?
There are many uplifting quotes that can inspire and motivate us. Here are some of our favorites:
"The only way to do great work is to love what you do." -Steve Jobs
"If you want to live a happy life, tie it to a goal, not to people or things." -Albert Einstein
"I can't change the direction of the wind, but I can adjust my sails to always reach my destination." -Jimmy Dean
"Believe you can and you're halfway there." -Theodore Roosevelt
"You can't help everyone, but everyone can help someone." -Ronald Reagan
"No matter what people tell you, words and ideas can change the world." -Robin Williams
What Can I Say to Give Someone Strength?
We all face difficult times in our lives when we could use some encouragement. Here are some things you can say to give someone strength:
"You are not alone. I am here for you."
"I believe in you."
"You are strong."
"You can do this."
"I am proud of you."
How Do You Stay Strong in Hard Times Quotes?
When life gets tough, it can be helpful to turn to quotes about staying strong in hard times. These quotes can provide inspiration and motivation when you're feeling down. Here are some of our favorite quotes about staying strong in tough times:
"You are not a drop in the ocean. You are the entire ocean in a drop." – Rumi
"The harder the conflict, the more glorious the triumph! What we obtain too cheaply, we esteem too lightly. Heaven knows how to put a proper price on its goods." – Thomas Paine
"You have to be a little bit crazy to do great things." – Unknown
"The only way out is through." – Robert Frost
"What lies behind us and what lies before us are tiny matters compared to what lies within us." – Ralph Waldo Emerson
These quotes remind us that we are strong enough to get through tough times. We may not be able to control what happens to us, but we can control how we react to it. So when life gets tough, remember these quotes and stay strong.
Inspirational Quotes for Hard Times is a great way to get motivated and inspired when times are tough. The quotes provide encouragement and hope, and remind us that we are not alone in our struggles.