Positive Quotes About Sunday
There's something about Sundays that just make them feel special. Maybe it's because they're the last day of the weekend, or maybe it's because they're a day of rest. Whatever the reason, there's no denying that Sundays are a great day.
And what better way to start off a Sunday than with some positive quotes about the day? These quotes will remind you of all the good things about Sundays, and help you start your day off on the right foot.
Positive thinking is a mental and emotional attitude that focuses on the good and optimistic side of things. It is a technique employed to combat negative thinking, which is often characterized by an overall feeling of pessimism, defeat, and gloom. Positive thinking is often used as a tool to help manage stress and anxiety.
Looking for some inspiration to help you enjoy your Sunday? Check out our collection of positive quotes about Sunday!
Positive Quotes About Sunday
"Enjoy your Sunday! Have faith in your heart and courage to fulfill all your dreams."
"Sundays are like confetti floating in the air in slow motion, in the evening they reach the ground and you hope a bit of wind could blow on them so they could fly a bit longer."
― Alain Bremond-Torrent, running is flying intermittently
"O holy Sunday, let your darkness not come along my way. Let her nurture internal and external world, as I start my personal day."
― Santosh Kalwar
"Warning: Going to sleep on Sunday will cause Monday."
"Well, there's nothing better than putting your feet on a Sunday afternoon and grabbing a good book." —Cris Klein
"Each spice has a special day to it. For turmeric it is Sunday, when light drips fat and butter-colored into the bins to be soaked up glowing, when you pray to the nine planets for love and luck."
― Chitra Banerjee Divakaruni, The Mistress of Spices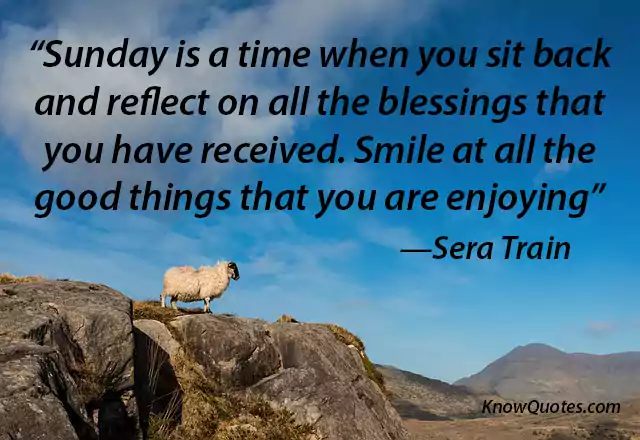 Positive Life Quotes
"The city takes a breath on Sunday. Of all that's lost with the pursuit of what's next, I hope we don't lose that…"
― Hawksley Workman, Hawksley Burns for Isadora
"It's a beautiful Sunday! There are so many reasons to be happy and not to give up. Look around and cheer up."
"Time flows in a strange way on Sundays." —Haruki Murakami
"It's not that we spend five days looking forward to just two. It's that most people do what they enjoy most on those two days. Imagine living a life where everyday are your Saturdays and Sundays. Make everyday your weekend. Make everyday a play-day…"
― James A. Murphy, The Waves of Life Quotes and Daily Meditations
Positive Quotes About Happiness
"Sitting with her on Sunday evening — a wet Sunday evening — the very time of all others when if a friend is at hand the heart must be opened, and every thing told…"
― Jane Austen, Mansfield Park
"The goal of Sunday is to leave my home as little as possible." —Mark Morris
"Sunday, the day for the language of leisure." —Elfriede Jelinek
"Each morning we are born again. What we do today is what matters most. Happy Sunday."
"Compassion is a lifetime business. You can't say something like, "I will have compassion on Monday, Thursdays and Fridays only. But for the rest, I will be cruel". That is hypocrisy."
― Israelmore Ayivor
Positive Motivational Quotes
"Sunday was always the best of days for being the self you had intended to be, but were not, for one reason or another. " —Jesse Ball
"Sunday is the golden clasp that binds together the volume of the week." —Henry Wadsworth Longfellow
"Ah, Sunday, the day of rest… now THAT'S something to be thankful for!"
"Start this Sunday with a clean heart. No doubt, no tears, no fear, no worry. Thank God for his priceless gifts and miracles throughout the world."
"Sunday is a time when you sit back and reflect on all the blessings that you have received. Smile at all the good things that you are enjoying." —Sera Train
Positive Quotes About the Day
"Hello Sunday! Start where you are, use what you have, do what you can."
"Let today's stellar atmosphere help you to reach new heights. Good morning!"
"Sunday is a special day, unique in its own way, with lots of enjoyment and fun. May you have a delightful Sunday so that you are energized for the coming week."
"Sundays… Sleep until you're hungry. Then eat until you're sleepy."
Positive Vibes Quotes
"See life through the lens of a Sunday morning and everything will be easy."
"Bathe in a sea of euphoria and bliss today, good morning!"
"Wake up!  It is Sunday, which means that spontaneous and happy meetings are guaranteed to start your week off right!"
"No matter how harsh every situation may be, there is always a Sunday to keep you calm. Happy Sunday!"
"May you be surrounded with joy and happiness on this Sunday as it brings along a promise of yet another unforgettable week for you. Have a great Sunday!"
"Let this Sunday morning bring you lots of smiles, and you'll leave all of last week's troubles behind you."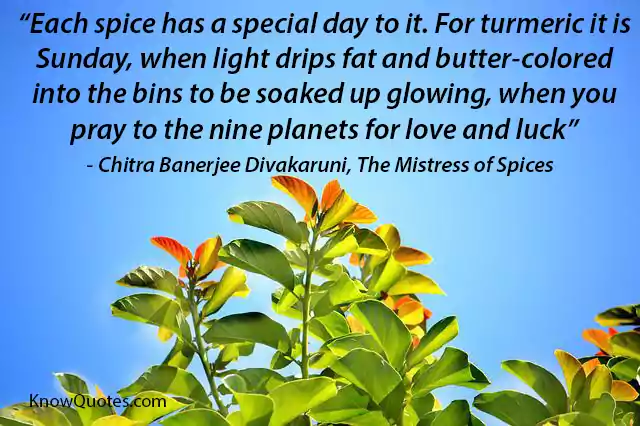 Positive Quotes About Work
"Sunday is a wonderful day to spend in the circle of your family and friends.  You can set the mood for the whole week today!"
"Happy Sunday! May you be blessed with love in your heart. Happiness in your home. Peace in your soul. And joy in your life."
"Happiest Sunday! May the day be filled with enlightenment, inspiration, love, and blessings for you all the time."
"Good morning! Surround yourself with positive people and let their bright emotions make your Sunday unforgettable!"
Positive Quotes About Love
"Wake up, spread happiness and sparkle with positive vibes. Happy Sunday."
"May blessings locate you today from all the corners of the earth and fill your life with peace. Have a beautiful Sunday!"
"Free yourself from all prejudices and let yourself go on Sunday. Good morning!"
What Is a Good Quote for Sunday?
A good quote for Sunday is "All we have to decide is what to do with the time that is given to us." This quote is from J.R.R. Tolkien, and it is a reminder that we all have the same amount of time each day, and it is up to us to decide how to use it. So on this Sunday, take some time to think about how you want to spend your time this week, and make the most of it!
What Do You Love About Sundays Quotes?
There's something special about Sundays. Maybe it's the feeling of a fresh start or the extra time to relax. Whatever the reason, Sundays are a day to be cherished. Here are some quotes about what people love about Sundays.
"Sunday clears away the rust of the whole week." – Joseph Addison
"Sunday is a day for family, friends, and relaxation." -Unknown
"On Sunday, all is forgiven." – Mark Twain
"Sunday, a day of rest and worship, is the best day of the week." -Unknown
"Sunday is a day of rest and reflection." -Unknown
"Sunday is a day to recharge and prepare for the week ahead." -Unknown
What Is the Inspirational Message for a Blessed Sunday?
The message for a blessed Sunday is to be thankful for all of the good in our lives and to use our blessings to help others. We should also take time to enjoy the simple things in life and to appreciate the people and things that make us happy.
What Is a Positive Quote for the Day?
A positive quote for the day is something that can help you start your day off on the right foot. It can be something as simple as a motivational saying or something more inspirational. Either way, having a positive quote to start your day can help you stay focused and motivated throughout the day.
This blog post contains a collection of positive quotes about Sunday. The quotes are all from famous people, and they all have different perspectives on what makes Sunday a good day. However, the overall theme is that Sunday is a day to relax and enjoy.