When we pray for others, we are asking God to intervene on their behalf. We are interceding for them, and He hears our prayers. These Prayer for Others Quotes remind us of the power of prayer and how we can use it to make a difference in the lives of others.
Looking for Prayer for Others Quotes? Check out our collection of prayers for others quotes that will inspire and encourage you.
Prayer for Others Quotes
"Our prayers may be awkward. Our attempts may be feeble. But since the power of prayer is in the one who hears it and not in the one who says it, our prayers do make a difference." – Max Lucado
"Your prayer for someone may or may not change them, but it always changes you."
"Our prayers for others flow more easily than those for ourselves. This shows we are made to live by charity." C.S Lewis
"If you develop a habit of praying to God for others. You will never need to pray for your own self."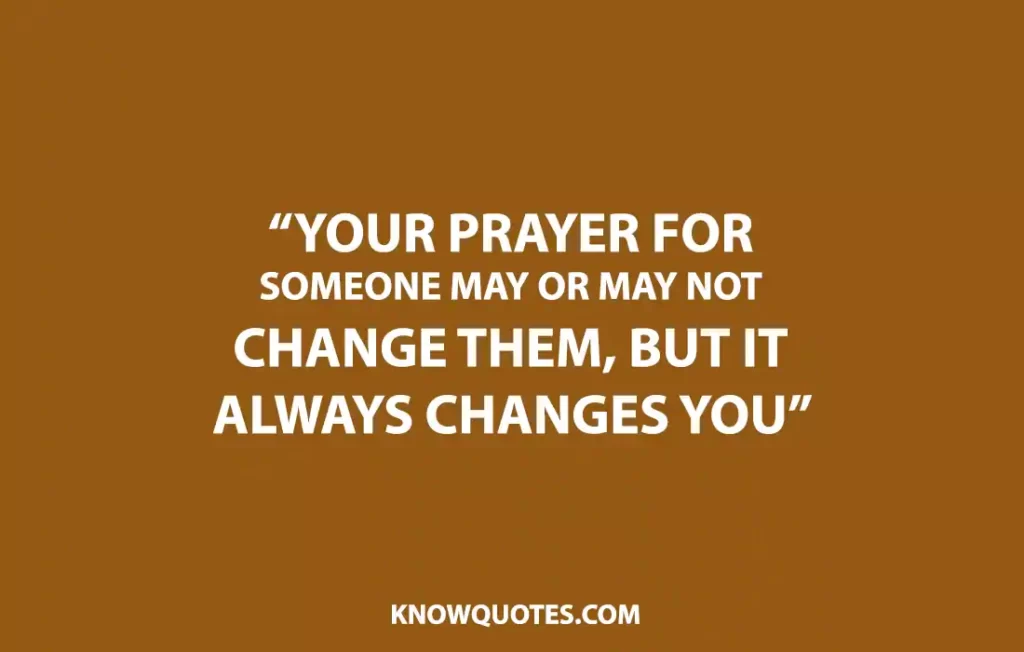 Prayer for Someone Quotes
"True prayer is a way of life, not just for use in cases of emergency. Make it a habit, and when the need arises you will be in practice." – Billy Graham
"She (my mother) became a warrior far superior to any epic hero. She became a giant on her knees. With a sword in one hand she battled the enemies of death and disease, and with her other hand stretched toward heaven she kept beseeching God's help and His mercy." – Bishop T.D. Jakes 
"True intercession involves bringing the person, or the circumstance that seems to be crashing in on you, before God, until you are changed by His attitude toward that person or circumstance. People describe intercession by saying, "It is putting yourself in someone else's place." That is not true! Intercession is putting yourself in God's place; it is having His mind and His perspective." ― Oswald Chambers
Quotes on Prayer for Others
"Intercession is the truly universal work for the Christian. No place is closed to intercessory prayer: no continent, no nation, no city, no organization, no office. No power on earth can keep intercession out." Richard Halverson
"Prayer lays hold of God's plan and becomes the link between his will and its accomplishment on earth. Amazing things happen, and we are given the privilege of being the channels of the Holy Spirit's prayer." – Elisabeth Elliot
"There are parts of our calling, works of the Holy Spirit, and defeats of the darkness that will come no other way than through furious, fervent, faith-filled, unceasing prayer." – Beth Moore
Quotes About Prayer for Others
"No matter what success requires, you shall succeed. Success shall be found a friend to you. Amen."
"I have been benefited by praying for others; for by making an errand to God for them I have gotten something for myself." Samuel Rutherford
"The reality is, my prayers don't change God.  But, I am convinced prayer changes me.  Praying boldly boots me out of that stale place of religious habit into authentic connection with God Himself." – Lysa TerKeurst
"Is prayer your steering wheel or your spare tire?" – Corrie ten Boom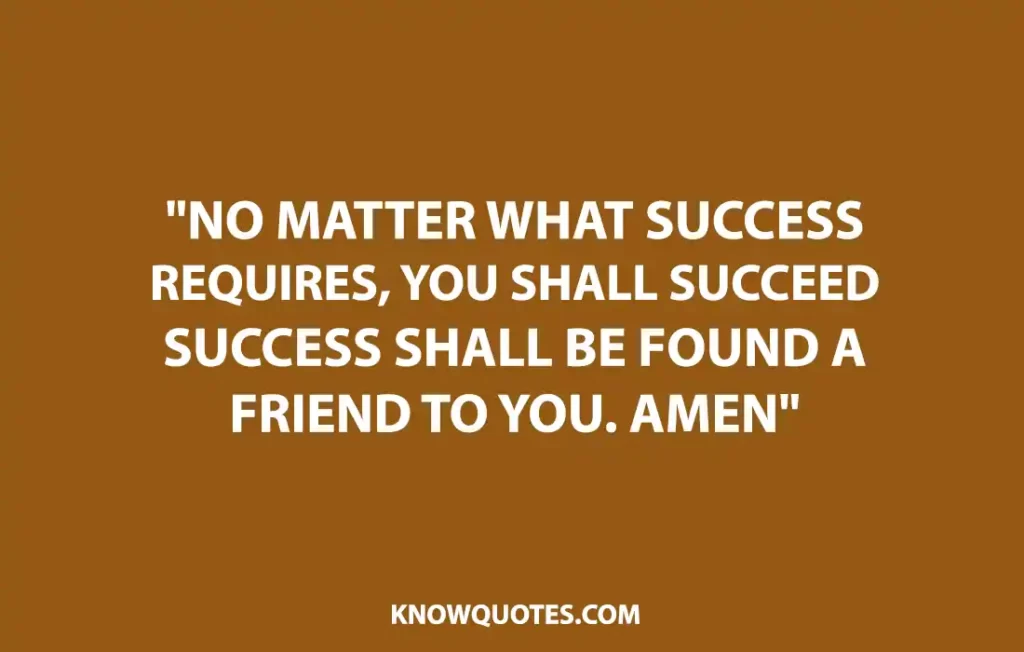 Pray for Others Quotes
"If your day is hemmed in with prayer, it is less likely to come unraveled." – Cynthia Lewis
"Everything that connects you with failure, stagnation, and retrogression, you're detached from them all in the name of Jesus."
"I stand against every arrow of the enemy shot against you to make your efforts go fruitless this day, they shall not prevail over you in the name of Jesus."
Prayer for Someone You Love Quotes
"Every spirit of accusation whispering against you in the spirit realm, let the blood of Jesus that speaks better things speak for you silent the voice of the accusers."
"We are to pray in times of adversity, lest we become faithless and unbelieving. We are to pray in times of prosperity, lest we become boastful and proud. We are to pray in times of danger, lest we become fearful and doubting. We are to pray in times of security, lest we become self-sufficient." – Billy Graham
"To be a Christian without prayer is no more possible than to be alive without breathing." – Martin Luther
Praying for Someone Quotes
"Your efforts shall not be futile, your expectations shall not be cut off, you shall prevail always, you shall not be defeated. Amen."
"The Lord will shine His face upon you, bless you, and lift you into the high places of the earth. Let the works of your hands blossom."
"The Christian life is not a constant high. I have my moments of deep discouragement. I have to go to God in prayer with tears in my eyes, and say, 'O God, forgive me,' or 'Help me.'" – Billy Graham
Praying for Someone You Love Quotes
"God has not given you the spirit of fear but of love, power and, a sound mind. I pray that you conquer every root of fear that can stop you from taking the required steps for success this month."
"Every wall and fence that are arrayed against you and preventing you from crossing to the other side, are all pulled down in the name of Jesus."
"Every association to which you have been attached that is not favoring the progress you desire, let God separate you from such association in the name of Jesus."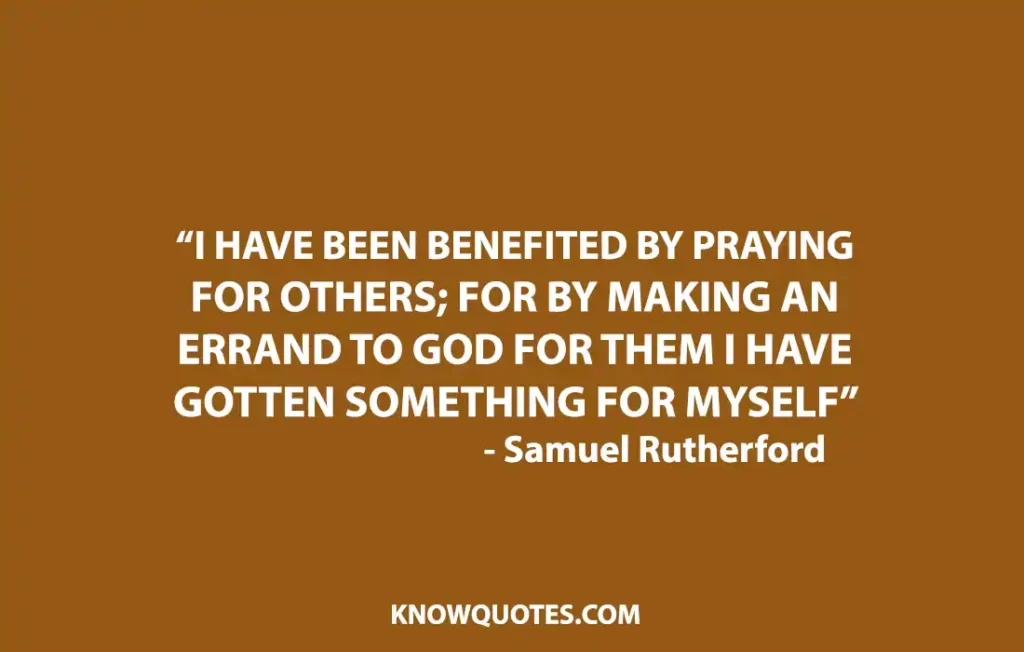 What Is a Good Prayer for Someone?
A good prayer for someone is one that is honest, and from the heart. It is also important to be specific in your prayers, and to pray for things that the person you are praying for may need or want. Lastly, it is important to remember to be grateful for what you have, and to thank God for His blessings.
What Does God Say About Praying for Others?
God is clear in His Word that we are to pray for others. In Matthew 5:44, Jesus says, "But I say to you, love your enemies and pray for those who persecute you." This is just one example of many verses that tell us to pray for those around us, even those who don't believe in God.
When we pray for others, we are asking God to bless them, to heal them, and to work in their lives. We are also interceding on their behalf, asking God to intervene in their situation. Praying for others is a way to show our love for them, and it is an act of obedience to God.
What Are Good Prayer Quotes?
There are many good prayer quotes that can be found online and in books. Here are five of the best prayer quotes:
1. "Prayer is not asking. It is a longing of the soul. It is daily admission of one's weakness. It is better in prayer to have a heart without words than words without a heart." – Mahatma Gandhi
2. "Prayer is when you talk to God; meditation is when you listen to God." – Sister Joan Chittister
3. "Prayer is not a monologue; it is a dialogue. God is speaking His word to us, and we are speaking our word to God." – Charles Spurgeon
4. "Prayer is not so much an act as it is an attitude – an attitude of dependence upon God." – A.W. Tozer
5. "Prayer is simply a two-way conversation between you and God." – Rick Warren
What Is a Good Short Prayer?
A good short prayer is typically one that is concise and to the point. It can be used in a variety of settings, such as before meals or bedtime, and can be easily memorized. Additionally, a good short prayer should express gratitude or thanksgiving, as well as petition or request. Some examples of well–known short prayers include the "Lord's Prayer" and the "Hail Mary."
Prayer for Others Quotes has compiled a list of quotes about prayer from a variety of sources. The quotes emphasize the importance of praying for others, and the author offers some thoughts about how prayer can change the world. These quotes provide encouragement and motivation for anyone who is looking to make a difference in the world through prayer.