Quotes for New Beginnings
Starting a new chapter in life can be exciting, yet daunting. It can be hard to find the right words to express how you feel. That's why we've compiled a list of Quotes for New Beginnings to help you find the perfect words to express your enthusiasm and optimism. From inspirational quotes to motivational sayings, here are some quotes to help carry you through your new beginning.
Start your new journey off with a bang! Find inspiring Quotes for New Beginnings and motivate yourself to make the most of this exciting time. Find the perfect quote to help you start anew.
Quotes for New Beginnings
"No, this is not the beginning of a new chapter in my life; this is the beginning of a new book! That first book is already closed, ended, and tossed into the seas; this new book is newly opened, has just begun! Look, it is the first page! And it is a beautiful one!"
― C. JoyBell C.
"I hope you realize that every day is a fresh start for you. That every sunrise is a new chapter in your life waiting to be written."― Juansen Dizon
"There are some things one can only achieve by a deliberate leap in the opposite direction." – Franz Kafka
"We want a fresh start only because we didn't sufficiently care for the last fresh start."― Craig D. Lounsbrough
Quotes for New Beginnings in Work
"The more we let God take us over, the more truly ourselves we become – because He made us. He invented us. He invented all the different people that you and I were intended to be. . .It is when I turn to Christ, when I give up myself to His personality, that I first begin to have a real personality of my own."
― C.S. Lewis
"I used to dream about escaping my ordinary life, but my life was never ordinary. I had simply failed to notice how extraordinary it was. Likewise, I never imagined that home might be something I would miss."
― Ransom Riggs, Miss Peregrine's Home for Peculiar Children
"One of the best times for figuring out who you are & what you really want out of life? Right after a break-up."
― Mandy Hale, The Single Woman: Life, Love, and a Dash of Sass
Quotes for New Beginnings in Life
"If you wish to be happy right from the beginning of your day, then it is about time to leave behind your past." – Lorin Hopper
"The future begins today."― Wayne Gerard Trotman
"It isn't always a change of scenery needed to make life better. Sometimes it simply requires opening your eyes." – Richelle E. Goodrich
"I guess it's going to have to hurt, I guess I'm going to have to cry, And let go of some things I've loved to get to the other side
I guess it's going to break me down, Like fallin when you try to fly,
Sad but sometimes moving on with the rest of your life starts with goodbye"
― Carrie Underwood
"There is no point dwelling on the past because each day is a new beginning." – Chunky Pandey
Quotes for New Beginnings and Change
"It's a wise man who understands that every day is a new beginning, because boy, how many mistakes do you make in a day? I don't know about you, but I make plenty. You can't turn the clock back, so you have to look ahead." —Mel Gibson
"Never forget, Today, you have 100% of your life left." – Tom Hopkins
"I want every day to be a fresh start on expanding what is possible."― Oprah Winfrey
"A bridge of silver wings stretches from the dead ashes of an unforgiving nightmare
to the jeweled vision of a life started anew."
― Aberjhani, Journey through the Power of the Rainbow: Quotations from a Life Made Out of Poetry
"[T]hat old September feeling, left over from school days, of summer passing, vacation nearly done, obligations gathering, books and football in the air … Another fall, another turned page: there was something of jubilee in that annual autumnal beginning, as if last year's mistakes had been wiped clean by summer."
― Wallace Stegner, Angle of Repose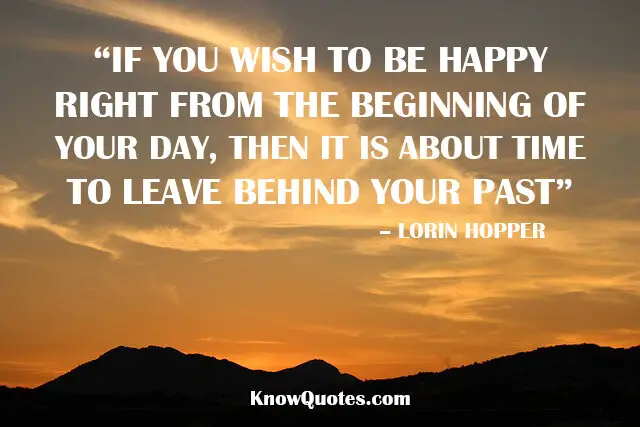 Quotes for New Beginnings at Work
"New beginnings bring new possibilities. A chance to this time get it right." – Lynn M. McHale
"Everything begins at the beginning, and quite often the beginning begins when you shift your mind in a new direction." – Louie Herron
"Nothing is predestined. The obstacles of your past can become the gateways that lead to new beginnings." – Ralph Blum
"You start whenever you decide to start." ― Elizabeth Gilbert
"Nothing in the universe can stop you from letting go and starting over." — Guy Finley
"It is never too late to be what you might have been." — George Eliot
Quotes for New Beginnings in Relationship
"Set fire to the broken pieces; start anew."― Lauren DeStefano
"New beginnings are often disguised as painful endings." – Lao Tzu
"New beginnings are exciting! They become exciting to us because they offer the promise of hope, the anticipation of a change in our lives, and the prospect that our dreams will indeed come true!" – Squire Rushnell
"Sometimes painful endings bring the best new beginnings." – Shae Ross
"Don't look to the past with sorrow, you will never walk there again. Look to the now and make it beautiful" ― Mimi Novic
Quotes for New Beginnings With Love
"The magic in new beginnings is truly the most powerful of them all." ― Josiyah Martin
"Beginnings could happen more than once or in different ways." ― Rachel Joyce
"Never underestimate the power you have to take your life in a new direction." ― Germany Kent
"The secret to change is to focus all of your energy, not on fighting the old, but on building the new." ― Socrates
"Nothing is predestined. The obstacles of your past can become the gateways that lead to new beginnings." ― Ralph Blum
Positive Quotes for New Beginnings
"There are two mistakes one can make along the road to truth… not going all the way, and not starting." ― Buddha
"Take the first step in faith. You don't have to see the whole staircase, just take the first step." ― Martin Luther King Jr.
"New beginnings are often disguised as painful endings." ― Lao Tzu
"Although no one can go back and make a brand new start, anyone can start from now and make a brand new ending." ― Carl Bard
How Do You Wish Someone a Fresh Start?
A fresh start is an opportunity to begin anew, to start afresh and to leave the past behind. Wishing someone a fresh start is an act of kindness and encouragement. To wish someone a fresh start, you can say something like, "I hope this is the start of something great for you!" or "May you have a successful and prosperous new beginning!"
What Is the Best Future Quote?
The best future quote is one that inspires and motivates us to take action. A future quote should give us hope, remind us of our potential, and serve as a reminder that our actions now create our future. One of my favorite future quotes is from Nelson Mandela: "It always seems impossible until it's done." This quote reminds us that nothing is impossible if we put our minds to it. It encourages us to take the first step and keep going until we reach our desired destination.
What Is an Uplifting Quote?
An uplifting quote is a phrase or saying that is intended to motivate, inspire, and encourage. They can be used to help lift one's spirits during a difficult time, or provide reassurance and comfort in times of uncertainty. Uplifting quotes can come in the form of a proverb, adage, or even a memorable line from literature or a movie. Some of the most famous uplifting quotes come from influential figures such as Mahatma Gandhi, Aristotle, or Mark Twain. An uplifting
Quotes for New Beginnings provide us with a powerful source of inspiration and motivation as we embark on a new journey. They remind us that we are never alone, that life is full of possibilities, and that we have the strength to make our dreams come true. So, whether you need an extra boost of encouragement or just want to feel inspired, these quotes are the perfect way to start anew.