There is nothing quite like the peace and quiet of being alone. In today's fast-paced world, it can be hard to find time to be alone with our thoughts. But as these Solitude Sayings show, there are many benefits to spending time alone.
Whether you're taking a solo vacation or simply spending some time alone at home, these quotes about solitude will inspire you to appreciate your own company. From famous authors to everyday people, everyone can benefit from a little time alone. So next time you're feeling antsy, remember these sayings and take some time for yourself.
Looking for some words of wisdom on the topic of solitude? Check out this collection of Solitude Sayings from some of history's most celebrated thinkers.
Solitude Sayings
"Solitude is about making a choice to be alone with your thoughts" – Amy Morin; 
"Solitude does not necessarily mean living apart from others; rather, it means never living apart from one's self" – Parker J. Palmer
"Time was passing like a hand waving from a train I wanted to be on.
I hope you never have to think about anything as much as I think about you."
― jonathan safran foer
"Solitude is the soil in which genius is planted, creativity grows, and legends bloom" – Mike Norton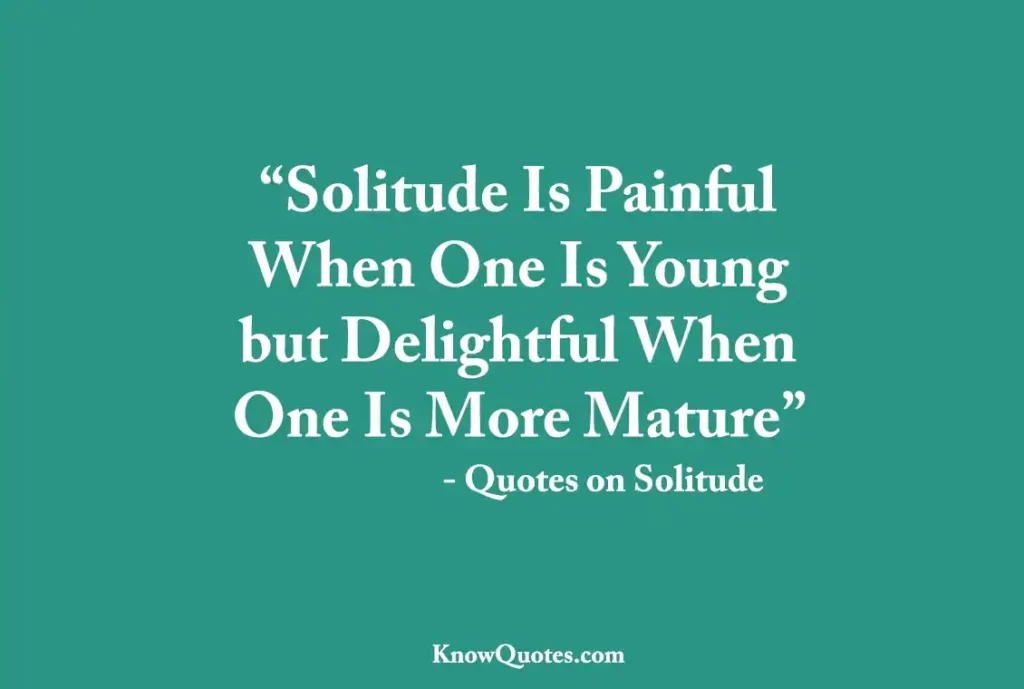 Solitude Sayings Quotes
"Solitude is where one discovers one is not alone" – Marty Rubin
"I care for myself. The more solitary, the more friendless, the more unsustained I am, the more I will respect myself."
― Charlotte Brontë, Jane Eyre
"I had already found that it was not good to be alone, and so made companionship with what there was around me, sometimes with the universe and sometimes with my own insignificant self; but my books were always my friends, let fail all else."
― Joshua Slocum, Sailing Alone around the World
Related: Inspirational Sayings Parents
Quotes About Solitude
"Solitude is an unmarked place beyond the borders of the map, a place where most fear to tread. It's no surprise, then, that this is where the greatest secrets and most valuable treasures are hidden" – Cristen Rodgers
"Solitude is the soul's holiday" – Katrina Kenison
"One can be instructed in society, one is inspired only in solitude" – Johann Wolfgang von Goethe
Peace Solitude Quotes
"Solitude is painful when one is young, but delightful when one is more mature." ~ Quotes on Solitude
"Let me tell you this: if you meet a loner, no matter what they tell you, it's not because they enjoy solitude. It's because they have tried to blend into the world before, and people continue to disappoint them."
― Jodi Picoult, My Sister's Keeper
"Solitude has its own very strange beauty to it" – Liv Tyler
"Solitude is where you find yourself" – Robert Celner
"Solitude is richness of self" – May Sarton
Related: Real Man Quotes and Sayings
Deep Inspirational Solitude Quotes
"Solitude is the house of peace" – T.F. Hodge
"I live in that solitude which is painful in youth, but delicious in the years of maturity."
"The monotony and solitude of a quiet life stimulates the creative mind." ~ Quotes on Solitude
"My passionate interest in social justice and social responsibility has always stood in curious contrast to a marked lack of desire for direct association with men and women."
"In solitude we realize that nothing human is alien to us" – Henri J.M. Nouwen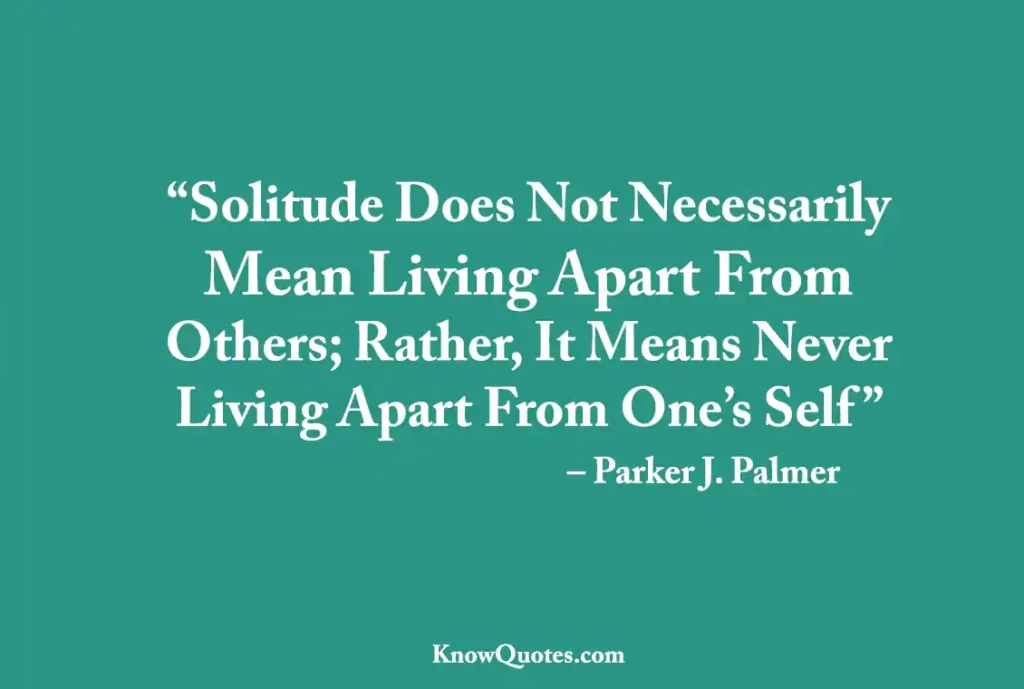 Solitude Short Quotes
"Solitude is independence" – Beth Buelow
"Solitude sometimes is the best society" – John Milton
"There are days when solitude is a heady wine that intoxicates you with freedom, others when it is a bitter tonic, and still others when it is a poison that makes you beat your head against the wall." – Sidonie Gabrielle Colette
"Solitude is the soil in which genius is planted, creativity grows, and legends bloom; faith in oneself is the rain that cultivates a hero to endure the storm, and bare the genesis of a new world, a new forest." – Mike Norton
Related: Keep Going Quotes and Sayings
Solitude Quotes in English
"Solitude would be ideal if you could pick the people to avoid" – Karl Kraus
"Conversation enriches the understanding, but solitude is the school of genius." – Edward Gibbon
"In solitude the mind gains strength and learns to lean upon itself." – Laurence Sterne
"In solitude the mind gains strength and learns to lean upon itself." – Laurence Sterne
"A man can be himself only so long as he is alone, and if he does not love solitude, he will not love freedom, for it is only when he is alone that he is really free." – Arthur Schopenhauer
Solitude Thoreau Quotes
"Solitude isn't loneliness. Solitude is when the entire serene universe seems to surround and hold you quietly." — Victoria Erickson
"Close in a room, my imagination becomes the universe, and the rest of the world is missing out." – Criss Jami
"Solitude vivifies; isolation kills." – Joseph Roux
"Solitude, isolation, are painful things and beyond human endurance." – Jules Verne
"To go out with the setting sun on an empty beach is to truly embrace your solitude." – Jeanne Moreau
Sayings About Solitude
"A happy life must be to a great extent a quiet life, for it is only in an atmosphere of quiet that true joy can live." – Bertrand Russell
"Loneliness is the poverty of self; Solitude is the richness of self." – May Sarton
"In solitude there is healing. Speak to your soul. Listen to your heart. Sometimes in the absence of noise we find the answers." – Dodinsky
"Loneliness expresses the pain of being alone and solitude expresses the glory of being alone." – Paul Tillich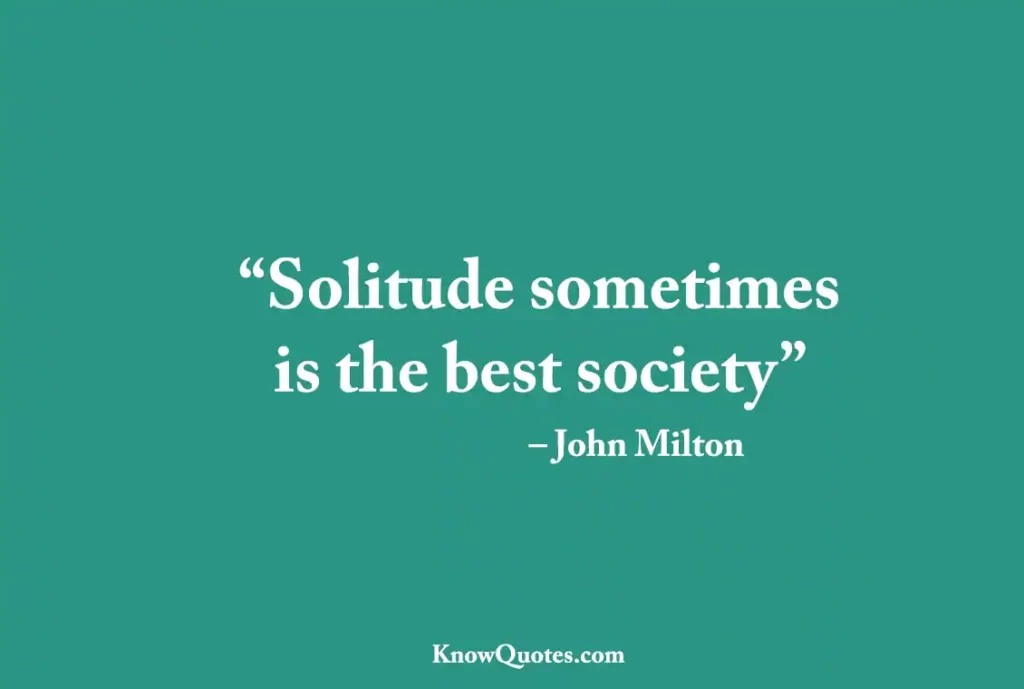 Solitude Is Dangerous Quote
"We live in a world starved for solitude and silence and therefore starved for meditation and true friendship." – C.S. Lewis
"Violent passions are formed in solitude. In the busy world no object has time to make a deep impression." – Henry Home
"Solitude is strength; to depend on the presence of the crowd is weakness. The man who needs a mob to nerve him is much more alone than he imagines." – Paul Brunton
Is Good to Be Alone Quotes?
There is no one–size–fits–all answer to this question, as everyone's definition of "good" and "alone" will be different. However, there are many quotes about the benefits of loneliness and solitude that may provide some perspective. For example, Henry David Thoreau famously wrote, "I never found a companion that was so companionable as solitude." This suggests that Thoreau saw the value in being alone and found companionship in solitude. Other notable figures like Mahatma Gandhi and Eleanor Roosevelt have also spoken about the importance of spending time alone, emphasizing that it can be a source of strength and self–reflection. While being alone may not be everyone's cup of tea, it can certainly offer some benefits.
What Is a Lonely Quote?
A lonely quote is a quote that is either sad or relatable in some way. People often use lonely quotes to express their feelings or to try and find comfort in knowing that other people feel the same way.
What Are Emptiness Quotes?
There is a popular saying that "life is what you make it." This is especially true when it comes to happiness. While some people may find happiness in material possessions, others may find it in more ethereal things like love, nature, or a sense of accomplishment. The following emptiness quotes explore the idea that happiness comes from within and that chasing after external things will only lead to disappointment.
What Solitude Is Not?
The word "solitude" is often used to describe a state of being alone, but it is not always accurate. While being alone can be a form of solitude, it is not the only one. Solitude can also refer to a state of being in nature, or a state of being with oneself.
Solitude Sayings is a collection of quotes about the importance of being alone. The quotes emphasize the joy that can be found in solitude, the peace that comes with being alone, and the power of introspection. These quotes offer a refreshing perspective on the value of loneliness, and remind us that sometimes the best company is no company at all.